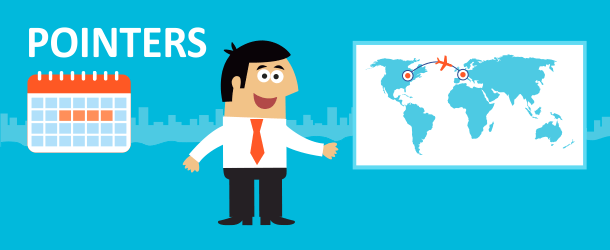 One of the most common gripes about frequent flyer programs is that the miles you earn are hard to redeem when you need them. It's not that airlines want to upset you; it's just that they don't want to give away seats they hope to sell. They want to let go only those seats that according to their calculations are going to fly empty anyway. An airline is a commercial enterprise that would rather make money than fly us for free no matter how much we think we deserve it. But if you are flexible, you can make the most of your miles.
There are two ways to be flexible: time and destination.
How to Be Flexible With Your Time
If you have miles from a few programs you can always find a spot on a plane, even to the most desired destination and in peak season. Want to travel to Paris in the summer? You can. Now, if you have to travel to Paris on July 15 and need to come back on July 22 for example well, then you might have a problem.
Of course, we are talking about Saver award levels. Almost all airlines will allow you to travel whenever you want, if you are prepared to pay an exorbitant amount of miles for the privilege. But the point is not to overpay. Just as we tend to look for the best cash deal, we must treat our frequent flyer currency the same way. There is really no difference.
If you are flexible with time, that's great. But not everyone has discretion over when they can travel. So, what is the next best thing?  Being flexible with the destination.
How to Be Flexible With Where You Are Going
I know this suggestion will raise quite a few eyebrows, but let's think about it for a moment. Is Paris (or Rome, or Amsterdam, or wherever) the only European city you have never been to but would like to see? Is Saint Lucia the only Caribbean island you have never visited? Is Buenos Aires the only Latin American city you are dying to go to? I'm pretty sure your answer will be no to all three questions.
How to Be Truly Flexible and Have the Vacation of Your Lifetime
American Airlines has a fantastic tool called Award Map Feature, which allows you to visualize your dream trip and book it right then and there. Let's say you want to go away for a week from New York to somewhere in Europe in the beginning of May, and you are flexible about where you want to go.
Just fill out the information, and let the tool work it out for you:
From: NYC
To: Europe
Departure Date: May 1
Return Date: May 8
Passengers: 2
Total Miles to Use: 80,000
Note: It is useful to know how much your award seat should cost. In our example, AA has a terrific off-peak season from mid-October until mid-May where you can redeem an award seat to Europe for 40,000 miles (instead of 60,000).
Here is your result: 40 cities. You can visit 40 cities in Europe for a mere 40,000 miles per person. You're sure to find at least one destination that will strike your fancy, especially since you can fly there for nearly free.
Alicante, Spain (ALC)
Amsterdam, Netherlands (AMS)
Bilbao, Spain (BIO)
Billund, Denmark (BLL)
Bologna, Italy (BLQ)
Brussels, Belgium (BRU)
Bucharest, Romania (OTP)
Budapest, Hungary (BUD)
Copenhagen, Denmark (CPH)
Dresden, Germany (DRS)
Dublin, Ireland (DUB)
Dusseldorf, Germany (DUS)
Edinburgh, United Kingdom (EDI)
Faro, Portugal (FAO)
Florence, Italy (FLR)
Geneva, Switzerland (GVA)
Glasgow, United Kingdom (GLA)
Gothenburg, Sweden (GOT)
Hanover, Germany (HAJ)
Helsinki, Finland (HEL)
Istanbul, Turkey (IST)
Kiev, Ukraine (KBP)
Leeds, United Kingdom (LBA)
London, United Kingdom (LHR)
Madrid, Spain (MAD)
Manchester, United Kingdom (MAN)
Milan, Italy (LIN)
Moscow, Russia (DME)
Newcastle, United Kingdom (NCL)
Nice, France (NCE)
Nuremberg, Germany (NUE)
Olbia, Italy (OLB)
Oslo, Norway (OSL)
Prague, Czech Republic (PRG)
Reykjavik, Iceland (KEF)
Riga, Latvia (RIX)
Rovaniemi, Finland (RVN)
Sofia, Bulgaria (SOF)
St. Petersburg, Russia (LED)
Stavanger, Norway (SVG)
Stockholm, Sweden (ARN)
Stockholm, Sweden (BMA)
Tampere, Finland (TMP)
Tenerife, Spain (TFS)
Thira, Greece (JTR)
Vaasa, Finland (VAA)
Valencia, Spain (VLC)
Vienna, Austria (VIE)
Warsaw, Poland (WAW)
Zagreb, Croatia (ZAG)
And you can even enhance your search and narrow down the results. Give it a try.