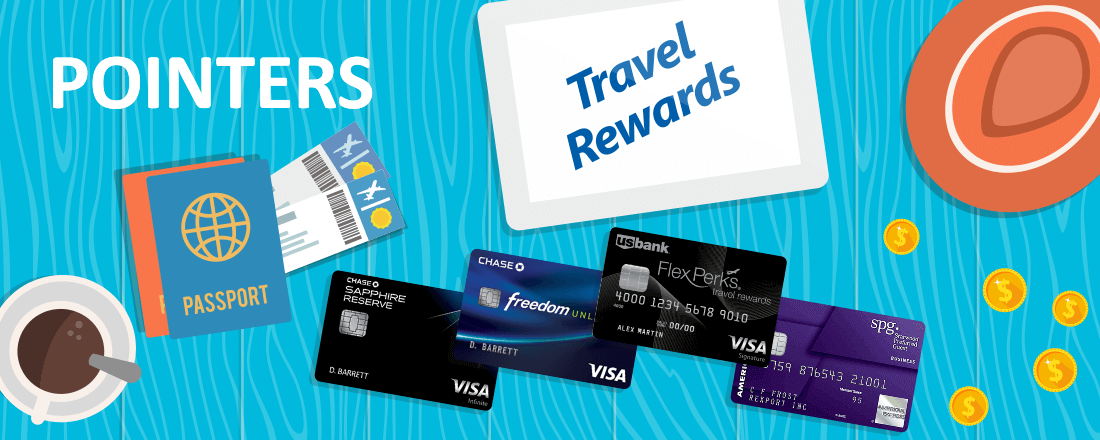 With so many travel rewards credit cards on the market, it can be difficult to decide which ones are worth getting and which should be ignored. If you get too many cards, you may end up paying more in annual fees than the value you get out of the cards. On the other hand, if you have too few cards you might miss out on programs and points that fit your travel needs.
If you focus all your travel in one or two programs, this might not be the best strategy for you. Or you might want to switch your game when you see how it works. If you are just starting to collect credit card rewards, read on.
Here are the most important attributes a traveler should seek in their credit card portfolio and four cards that will help you build your wallet:
What's in a well-rounded wallet?
Travelers should seek the following attributes for their travel rewards portfolio:
1. Diversification: Anyone who has been in the travel rewards game for at least a year or two has been witness to devaluations from numerous award programs. This includes the three major legacy airlines (American, Delta, and United) as well as plenty of hotel chains. A traveler who has all their miles in one program may fall victim to a massive devaluation and be left with a significantly reduced ability to book award travel. Diversification helps protect against this possibility.
2.Transferability: Goal number two is closely related to number one. Accruing points in transferable programs is the easiest way to achieve a significant amount of diversification. Instead of accruing miles in a bunch of different frequent flyer programs, you can simply accrue points in a few transferable points programs and gain the ability to transfer your points to dozens of airlines. Sometimes the banks will add new transfer partners, thereby actually increasing the value of your points, as we saw earlier this year when Chase added Flying Blue as transfer partner of Ultimate Rewards (see previous post).
The other great aspect of transferable points programs is that is lessens the need to plan travel in advance. If you have miles in a specific frequent flyer program with plans to go to a specific destination, your dreams could be spoiled by a lack of award availability or a devaluation. With transferable points programs, you can analyze the award options available in a variety of programs before deciding which one best meets your needs when the time comes to book your ticket.

3. Points-Earning Power: You will want to ensure the cards in your wallet allow you to accrue enough points and miles to book the award tickets you seek. Some of the premium cards on the market have nice benefits like lounge access and point transferability, but don't have very high earning rates.
4. Flexibility: Make sure your portfolio of points is flexible enough to be able to book any travel you desire.
5.Value: This one may sound like a no-brainer, but there are significant differences in the values of different points and miles and you want to make sure your portfolio is concentrated in the best programs.
Which cards should you get?
With our goals laid out, we can now suggest a well-diversified wallet to meet the objectives.
1. Chase Sapphire Reserve Card: The Sapphire Reserve card is a great foundation for a travel rewards wallet. It helps us meet every single objective laid out above. Chase's Ultimate Rewards is a great program and the points are one of the top two most valuable currencies in the industry, right after SPG Starpoints.
The Sapphire Reserve card comes with the ability to transfer points to Chase's network of transfer partners. You can redeem points for travel at a fixed rate of 1.5 cents per point through Chase's portal, which puts a floor under the value of your points and adds flexibility to book travel for cases in which no award tickets are available.
This card has a 100K point sign-up bonus and earns 3x points on travel and dining, so it also helps rack up points quickly. While the card has a hefty $450 annual fee, this is offset by a $300 annual travel credit, a Priority Pass membership, and a TSA PreCheck or Global Entry application fee credit.
2. Chase Freedom Unlimited Card: This a simple card that doesn't have any benefits beyond points-earning, but also has no annual fee and therefore is a free addition to our suggested wallet. The Freedom Unlimited card earns an unlimited 1.5 points per dollar on all spending.

3. SPG Card from American Express: SPG Starpoints are the most valuable currency in the entire travel rewards industry. SPG allows you to transfer points to over 30 airlines which presents tons of opportunity to find the cheapest award ticket no matter where you want to go.
The merger between SPG and Marriott has also opened up additional opportunities that have further increased the value of these points. Although this card only earns one point per dollar spent, you receive a 5k mile bonus for every increment of 20k points transferred, so it's effectively 1.25 miles on all spend assuming you transfer points to frequent flyer programs.

4. FlexPerks Travel Rewards Visa from US Bank: FlexPerks is an overlooked and underrated program. While we all enjoy booking an extravagant first class award to Asia and getting a massive amount of value out of our miles, the truth is award tickets simply aren't available every time we want to book and some travel needs like domestic economy tickets don't offer such great value.
FlexPerks can be redeemed for air travel for up to 2 cents/point and these bookings are treated like paid tickets, meaning you can accrue both redeemable and elite qualifying miles in the corresponding frequent flier program. You don't need to worry about award availability, so you have nearly unlimited flexibility. The card also has solid earnings rates, with 2x on airline, gas, or grocery purchases (whichever is highest), plus 2x on cellular phone service, and 3x on charity.