Conde Nest Traveler has come up with the Reader's Choice Awards for 20 best ski resorts in Europe. Skiing in Europe has always been associated with the Alps, and the 2015 list includes resorts located in four countries that include them:
France – 8
Switzerland – 6
Austria – 4
Italy – 2
Best Austrian Ski Resort
The best ski resort in Austria, Lech Zürs am Alberg, also took home first place for the best ski resort in Europe, according to CN Traveler. If $400 to $600 hotel nights don't scare you away, then flying there for free is doable. Although it won't be entirely free, as the closest "miles-friendly" Innsbruck Airport is located 75 miles away.
You can fly to Innsbruck on the following airlines.
American Airlines AAdvantage miles on OneWorld Partners
Air Berlin seasonally: via Berlin, Düsseldorf, and Hamburg
British Airways seasonally: via London (Gatwick)
Finnair seasonally: via Helsinki
Niki seasonally: via Copenhagen, Moscow (Domodedovo), Stockholm, Vienna
S7 Airlines seasonally: via Moscow (Domodedovo)
Please note that British Airways charges huge fuel surcharges on the routes between North America and U.K. Solution: fly the transoceanic portion of your flight on American Airlines, and continue with British Airways from London.
United MileagePlus Miles on Star Partners
Austrian Airlines: Via

Frankfurt, Vienna, seasonally Copenhagen, Kiev, London (Stansted), Manchester, Oslo, among others

Scandinavian Airlines seasonally: via

Copenhagen, Stockholm
Delta SkyMiles on SkyTeam Partners
Best Swiss Ski Resort
Rated third best Swiss resort on the CNT list, Zermatt, an idyllic Alpine village, has a feature you haven't probably seen before on your skiing vacations: lack of cars! Horse-drawn sleighs gliding the streets of Zermatt aren't there for romantic rides; they are actual means of transportation.
The closest (and easiest to get on miles) airport from Zermatt is Zurich airport, which is located within a 3.5-hour drive from Zermatt, although Geneva Airport is not much farther away.
For air and ground transportation to Zermatt via Zurich and Geneva check this post on the Matterhorn.
Best French Ski Resort
Courchevel is rated sixth by CNT, and it's easy to see why. In addition to fantastic slopes, the village is stylish, glitzy, popular with celebrities, and nine out of 50 France's 5-star hotels are there.
There is an actual airport in Courchevel, but it's for small planes only, and you probably wouldn't want to land there anyway, as it was ranked the seventh Most Extreme Airport in the world by History Channel. The closest commercial airport to Courchevel is Geneva Airport, which is about 85 miles away. Please see the above link for Zermatt, which discusses in details how you can use mile to fly to Geneva Airport.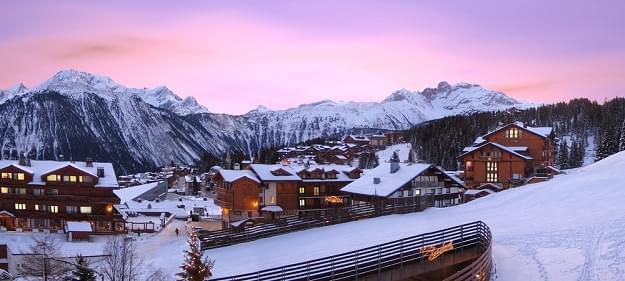 Best Italian Ski Resort
Ranked #14, Courmayeur is a beautiful, upscale town at the foot of Mont Blanc. This town might be a budget-friendlier option than many of its French, Swiss, and Austrian cousins. The town offers dozens of small hotels and vacation rentals, so you won't feel like a $500 room is the only game in town.
The closest airport to Courmayeur is not in Italy – it's the same international airport of Geneva, that we mentioned a couple of times before. Courmayeur is located 70 miles from the airport.
The Cost of the Award Ticket
Round-trip tickets purchased with American miles (booked before 03.23.16) cost:
40,000 miles off-peak in economy (from October 15 to May 15)
60,000 in economy
100,000 in business
125,000 in first
Tickets purchased with American miles (booked on or after 03.22.16) cost:
45,000 miles off-peak in economy (from Jan 10 – Mar 14, Nov 1 – Dec 14)
60,000 in economy
115,000 in business
170,000 in first
Round-trip tickets purchased with United miles cost:
70,000 miles in economy
140,000 to 160,000 in business
160,000 to 240,000 in first
Round-trip tickets purchased with Delta miles cost:
62,500 miles in economy
125,000 in business
First class tickets can't be purchased with SkyMiles