The Atlantis Resort on Paradise Island in the Bahamas is not a budget trip by any stretch of the imagination. The least expensive room will set you back at least $200 a night. These rooms are very basic. But you're not going there to stay in your room. You are there to play in the water park or swim the private beaches and lagoons filled with tropical fish.
Here's how you can get there using miles.
Oneworld Alliance
• American Airlines flies to Nassau from Miami and Dallas seasonally.
• US Airways flies from Charlotte, Philadelphia, and Washington, D.C.
• British Airways flies from Grand Cayman and the Turks and Caicos Islands, so if you want to island hop you can use British Avios.
If you are flying on American or US Airways, look into using British Airways Avios. It is a distance-based program and offers the best value if your flight to the Bahamas is nonstop and short (Miami, Dallas, or Charlotte). It takes 20,000 Avios roundtrip from Dallas or just 9,000 from Miami for example.
If you use the American Airlines AAdvantage program, it will cost 25,000 miles from anywhere in the U.S. for a roundtrip during off-peak season, September 7 to November 14 or 35,000 miles the rest of the year.
US Airways will set you back the same 25,000 miles off-peak, but that's just the month of September for Caribbean travel on this carrier so its a limited window.
Star Alliance
United flies to Nassau from New York Newark-,and seasonally from Houston, Chicago, Cleveland, and Washington starting June 5.
Air Canada flies from Toronto and Montreal.
Copa Airlines flies from Panama City.
United will cost you 35,000 miles. There are no off-peak discounts. Availability, however, is pretty good so if you're planning to travel during peak season start with this carrier.
One benefit United allows that American does not, is an international stopover on the way to or from your destination. So if you want to spend some time in Panama in addition to the Bahamas, book a flight with Copa via Panama City.
SkyTeam Alliance
Delta flies to Nassau from Atlanta, New York, Orlando, Raleigh-Durham, and seasonally from Detroit, Minneapolis, Indianapolis, Boston, and Pittsburgh. But it charges 35,000 miles for a Saver award and doesn't have off-peak discounts.
Think Outside the Box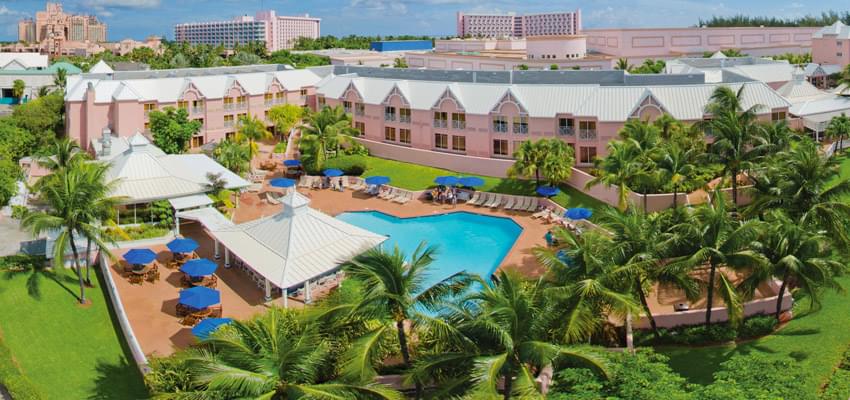 You may have just saved up to $500 per a ticket, but there are still a lot of expenses on the ground. Rather than staying at the Atlantis, consider its sister property, Comfort Inn Paradise Island. Its located right next to the Atlantis, and offers the same access and privileges to the beaches and water park that Atlantis guests have. There is also a free breakfast and Internet access. You might find the rates at the Comfort Inn are a good alternative to the Atlantis, and will give you the same experience while perhaps saving you even more.