Nobody likes long security lines at airports, but luckily, there are ways to skip the crowds. Federal trusted traveler programs like TSA Pre✓® and Global Entry were created for travels to help them speed through security and make screening less intrusive.
Applying for either TSA PreCheck or Global Entry can be a good move, but which one is best for you? Here we compare these expedited entry programs to show you the difference between Global Entry vs. TRA PreCheck. Once you know all the details of the two programs, it should be easier for you to decide whether or not to sign up and which trusted traveler program to choose.
What is Global Entry?
Provided by the U.S. Customs and Border Protection (CBP), Global Entry "allows expedited clearance for pre-approved, low-risk travelers upon arrival in the United States." As a member, you don't have to line up at customs and immigration. You can simply proceed to Global Entry kiosks to scan your passport (or U.S. permanent resident card) and fingerprints. When the check-in is over and you have your transaction receipt, you can head to baggage claim and exit.
Global Entry also includes TSA PreCheck eligibility in participating airports. After completing the Global Entry application and going through the interview, enrolled consumers will receive their Global Entry card and Known Traveler Number (KTN). You don't have to carry your Global Entry card with you to use the Global Entry kiosks. However, you can use it as a legal alternative ID. As for the KTN, you can enter it in your frequent flyer profiles to be eligible for TSA PreCheck.
What is TSA PreCheck?
TSA PreCheck is offered by the Transportation Security Administration (TSA). Members receive a smoother screening process when they depart from a U.S. airport to a foreign country, travel domestically, or use connecting flights after they return to the United States. TSA PreCheck screening is usually separate from the standard screening security lane. But even if the dedicated TSA PreCheck screening is not available, members won't need to remove their shoes, belts, light jackets, laptop, or TSA-approved liquids.
After submitting your application for TSA PreCheck, getting conditional approval, and going through the interview, you will be approved or denied for the program. If accepted to TSA PreCheck, you will be given a Known Traveler Number (KTN). Add this number to your frequent flyer account profiles or when entering your personal information while purchasing tickets so as to attach it to your reservation and have it noted on your boarding pass.
Here's a quick review of the two trusted traveler programs: TSA PreCheck and Global Entry.
TSA Pre✓®
Global Entry
Agency
Transportation Security Administration (TSA)
U.S. Customs and Border Protection (CBP)
Expedited screening
Domestic flights and for departures from select US airports & with eligible airlines
Upon arrival in the U.S.
Line Expedited
Security
Customs
Airports
200+ airports
75 airports
Additional Programs
No
TSA PreCheck
Fees
$85 application fee
$100 application fee
Membership
5 years
5 years
Online Application
Yes
Yes
Personal Appointment
Background check and fingerprinting at an enrollment center
Background check, interview, fingerprinting
Eligibility
U.S. citizens, U.S. nationals, and lawful permanent residents
US citizens, US lawful permanent residents, Mexican nationals, and citizens of Argentina, India, Colombia, United Kingdom, Germany, Panama, Singapore, South Korea, Switzerland,
Taiwan
Children Eligibility
Children ages 12 and younger can use the TSA PreCheck lane when traveling with a parent or guardian who has TSA PreCheck
Children should have their own membership
What are the benefits and how to use them?
Travelers, who have TSA PreCheck, can use specially designated security lanes at participating airports. These dedicated lines often move much faster than standard lines. Also, TSA PreCheck passengers do not have to remove shoes, belts, liquids, food, laptops, or light jackets. Plus, they are usually screened with walk-through X-ray machines rather than full-body scanners.
As for Global Entry, it allows members to clear U.S. Customs in a matter of minutes. Upon arrival in the U.S., members simply head towards the automated Global Entry kiosk, bypassing passport control lines and paper customs declarations. Plus, being a Global Entry member means you also receive TSA PreCheck.
Where can I use Global Entry and TSA PreCheck?
TSA PreCheck is available at more than 200 U.S. airports with 79 participating airlines. This program is designed for domestic use only, so international airport locations are not included. Also, since the pandemic is impacting airports and airlines, we would recommend checking with your airline before each flight for the most up-to-date information.
Global Entry is available at 75 airports in the U.S. and around the world. There, travelers can use Global Entry kiosks to speed through the clearance process. The airline you fly with does not affect whether or not you can use Global Entry.
Eligibility for Global Entry and TSA PreCheck
Global Entry is available to U.S. citizens and permanent residents (except for New York residents) and to citizens of some other countries. Thus, citizens of Argentina, Colombia, Germany, Switzerland, Panama, South Korea, India, Singapore, United Kingdom, Taiwan, and Mexican nationals are also eligible for Global Entry membership.
Canadian citizens and residents are eligible for Global Entry benefits through membership in the NEXUS program.
Children should have their own membership. Anyone under age 18 must have their parent or legal guardian's consent to participate in the program.
TSA PreCheck, on the contrary, is geared to domestic travel, and therefore, it is available to U.S. citizens, U.S. nationals, and lawful permanent residents only. Children ages 12 and under do not need to have their own membership. If they travel with an eligible parent or guardian with a TSA PreCheck indicator on their boarding pass, they can participate in expedited screening.
How much do Global Entry and TSA PreCheck cost?
TSA PreCheck is cheaper than Global Entry, but both are valid for five years. TSA PreCheck membership fee is $85, and Global Entry costs $100, which is not a big difference especially when compared on a per-year basis – $17 for TSA PreCheck vs. $20 for Global Entry.
Considering that Global Entry includes TSA PreCheck, those extra $15 seem well worth it. However, there is a proposed rule that would increase Global Entry fees to $120 per five years if approved. Luckily, this hasn't happened yet and you still have a chance to apply now before the price increases.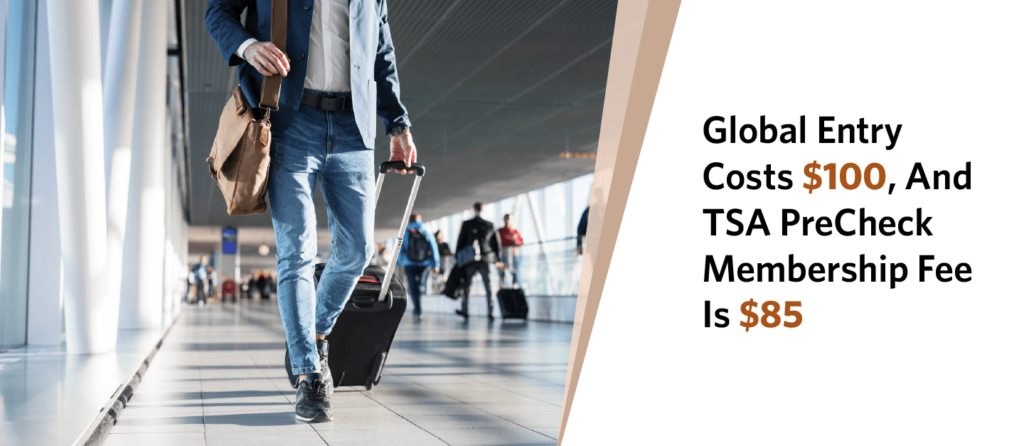 Can I get a discount or get Global Entry and TSA PreCheck fees reimbursed?
While the government itself does not offer discounts or reimbursements for the fees associated with TSA PreCheck and Global Entry programs, some credit cards and loyalty programs do. Credit cards usually allow cardholders to choose whether they want to reimburse TSA PreCheck or Global Entry application fees. The benefit usually gives up to $100 credit every 4-5 years to cover the membership fee for either of the programs.
Here are some of the popular travel credit cards that offer free credit for Global Entry or TSA PreCheck:
Luxury Card™ Mastercard® Black Card™
Bank of America® Premium Rewards® Credit Card
Platinum Card American Express® Interjet
Which program should I apply for?
Global Entry will be of great help to those who travel internationally at least once a year and for those who do not qualify for TSA PreCheck but are eligible for Global Entry.
However, Global Entry is slightly more expensive, and the application process a bit trickier as there are not many enrolment centers and booking an appointment can be troublesome. Plus, Global Entry tends to be more selective with who it approves, than TSA PreCheck. So, if you do not travel abroad often or prefer domestic travel only, you may prefer TSA PreCheck.
If you have a credit card that will reimburse your TSA PreCheck or Global Entry fee, and you are eligible to apply for either of the programs, you should apply. As for which program is better, we would recommend Global Entry since it also provides TSA PreCheck benefits. However, it's totally up to you which program to apply for.