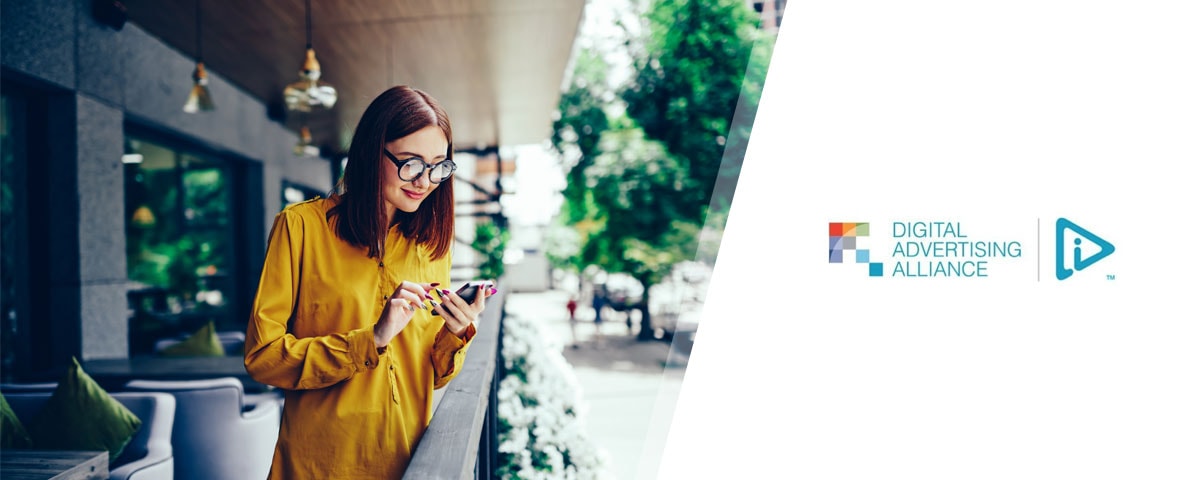 If you visit a website, chances are you will be shown an ad for a site you visited previously. Did you ever notice that little blue triangle in the corner of internet ads? That's the AdChoices symbol, and it means that the advertiser is part of the AdChoices program – a program set up by the non-profit Digital Advertising Alliance (DAA) to help companies self-regulate internet ads. Lou Mastria is the DAA's executive director. He spoke to RewardExpert about the organization, which was set up to help enforce privacy practices and provide consumers with enhanced transparency and control over internet ads.
Helping Internet Advertisers Police Themselves
The DAA was started at the end of the last decade, right when mobile was just beginning to take off. In addition, the Federal Trade Commission (FTC) had been hinting about a need for the industry to police itself. Mastria described that the biggest challenge was to level the playing field, so consumers knew exactly what was happening with their information and data. "Companies and consumers needed a standardized way to be able to do this in real time and be able to do it in a routine and reliable way. So that's where the DAA really came in and approached this by laying down these rules of the road for privacy, which in effect created a routine way for consumers to see that data is being collected and act on it if they choose," he stated. Today, the organization is comprised of seven associations, involving everything from digital marketing to trade and retail.
One Trillion Times a Month
The centerpiece of the DAA is the AdChoices icon, that blue triangular icon that appears in various internet ads, which means that advertisers have signed on to certain safeguards. "It was a real marked step forward for the industry to be able to do this for consumers in real time, and for consumers to be able to interact with it," said Mastria. He points out that the icon is now being served at a rate of more than a trillion times each month. "The reality is that consumers will have an opportunity to see whether data is being collected about them and then do something about it – either just find out more or find out more and opt out," he said. By clicking on the icon, consumers can see which company placed the ad, why it was served, their opt-out and privacy rights and more
Guided by Principles
The DAA is guided by a number of principles that are rooted in privacy best practices that date back to the 1970s. Mastria pointed out that a lot of those practices (Fair Information Practice Principles or FIPPs) were able to be successfully applied to the online environment. These include real time information and disclosure about advertising practices to consumers, as well as security, education and accountability, all adapted to the internet age. "We've done this in ways that we hope will make the consumer feel more comfortable in using the Internet in their daily lives," he said. The DAA also offers a graduated privacy program that allows users to escalate their privacy protection based on data sensitivity.
Staying Ahead of the Curve
As technology changes, the DAA changes its practices with it. The organization is now averaging one update every two years. "That's really one of the neat things about self-regulation and co-regulation. Unlike legislation just by itself, these industry led efforts of responsibility really can iterate at a much quicker pace," said Mastria.
Helping Businesses Build Trust
One of the chief ways DAA benefits businesses is through the establishment of trust with the consumer. Mastria noted that many surveys show that trust is a key issue for online consumers, and DAA's AdChoices icon helps build that bond. "Seeing the icon in an ad increases their trust of the advertiser because they see the icon. They see this as a validation because they associate the safeguards of the program with that advertiser," he explained.
Benefiting the Consumer
The principles of the DAA can also greatly benefit consumers. Mastria pointed said, "At the end of the day, consumers want the kind of convenience and the smart ads that are available to them via the use of this data. But they want it in a way that's kind of responsible, too." For example, the AdChoices tool for the web allows you to scan your browser, so you can see and control which companies are using cookies for interest-based advertising.
To find out more about how the DAA can benefit both consumers and businesses, check out www.digitaladvertisingalliance.org.