Southwest Airlines is my favorite domestic airline due to their awesome customer service, no-frills approach and great benefits, like the Southwest Companion Pass. But did you know that there are 14 Southwest international destinations to choose from?
That's right, you can get the same excellent service and low prices when flying to select international destinations as you do when flying on a domestic Southwest flight. It's no wonder that Southwest credit cards are among the most popular credit cards to have in your wallet.
Where Does Southwest Fly Internationally?
So, where does Southwest fly internationally? According to the Southwest route map, you can choose from 14 Southwest international destinations. I like to call their service "international light" because flights are limited to the U.S., Mexico, Costa Rica and the Caribbean.
Here are the 14 Southwest international destinations to choose from:
Aruba
Belize City, Belize
Cabo San Lucas/Los Cabos, Mexico
Cancun, Mexico
Grand Cayman
Havana, Cuba
Liberia, Costa Rica
Mexico City, Mexico
Montego Bay, Jamaica
Nassau, Bahamas
Puerto Vallarta, Mexico
Punta Cana, Dominican Republic
San Jose, Costa Rica
Turks and Caicos
Although Hawaii isn't an international destination, it is one of the Southwest destinations that people love because of the tropical weather and lush environment. It will be one of the most popular Southwest locations once service begins.


Southwest Flights to Mexico
When I lived in Orange County, one of my favorite Southwest international flights was to Cabo San Lucas, Mexico. The flight was only 2.5 hours long, and we could be transported to another world where we could lounge by the pool and sip margaritas all day.
In Mexico, Southwest locations include Cabo San Lucas, Puerto Vallarta, Mexico City and Cancun.
Southwest nonstop flights to Cabo depart from Houston, Chicago, Denver, San Diego, Orange County, Los Angeles, Oakland, San Jose and Sacramento.
Southwest airports that offer nonstop service to Puerto Vallarta include Houston, Denver, San Diego, Los Angeles and Oakland.
Houston is the only city on the Southwest flight map that offers nonstop service to Mexico City.
Cancun offers the most Southwest locations with nonstop flights from 13 different cities. These Southwest nonstop flights depart from Fort Lauderdale, Baltimore, Atlanta, Nashville, Columbus, Indianapolis, Chicago, St. Louis, Houston, Austin, San Antonio, Denver and Los Angeles.
Southwest Flights to Central America
Southwest airports in Central America include Belize City in Belize and Liberia and San Jose in Costa Rica. My son, Timothy, and I flew to Costa Rica when he was 5 to stay at the Hyatt Andaz Papagayo, and we had an amazing father-son trip.
Belize City offers three Southwest nonstop flight destinations, including Denver, Houston and Fort Lauderdale.
You can fly to Liberia from two Southwest airports—Houston and Baltimore. The three Southwest Airlines cities that fly to San Jose are Houston, Fort Lauderdale and Baltimore.
Southwest Flights to the Caribbean
In the Caribbean, there are eight different Southwest destinations to choose from. And you can take Southwest nonstop flights from multiple Southwest Airlines cities within the United States to get there.
Nassau, Bahamas, offers two Southwest nonstop cities—Fort Lauderdale and Baltimore.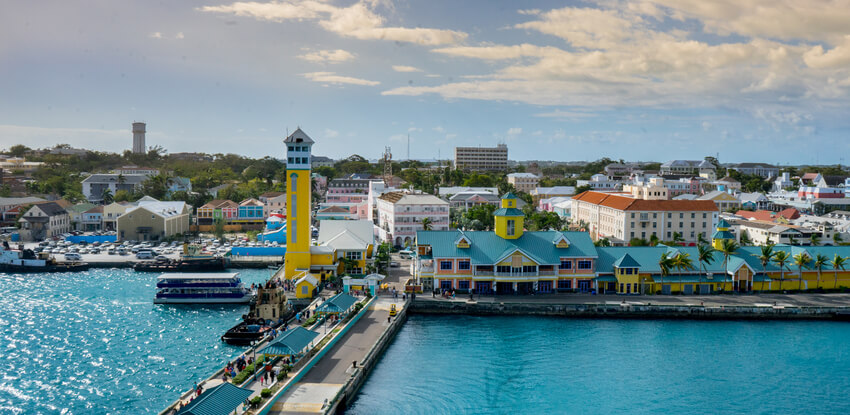 When service to Cuba was announced, there were multiple cities that flew to Cuba and there were three airports in Cuba you could fly to. Now nonstop service has been reduced to flights to Havana from two Southwest locations – Fort Lauderdale and Tampa Bay.
Grand Cayman is a beautiful island that I took Timothy to for his Spring Break when he was 6 years old. Swimming with the stingrays at Stingray City is a must-do. Nonstop service is only available from Fort Lauderdale.
Montego Bay, Jamaica, offers more nonstop flights on the Southwest flight map. You can fly nonstop from Houston, Chicago, Baltimore, Orlando or Fort Lauderdale.
The Turks and Caicos has nonstop service from Fort Lauderdale.
Punta Cana, Dominican Republic, is served by four airports—Fort Lauderdale, Atlanta, Chicago and Baltimore.
San Juan, Puerto Rico, was the first Caribbean flight I took on Southwest when they acquired AirTran. San Juan is now serviced by six Southwest locations—Houston, Tampa, Fort Lauderdale, Orlando, Chicago and Baltimore.
Aruba is the Southwest international destination that is the furthest away from the continental United States. Houston, Fort Lauderdale and Baltimore are the three Southwest airlines cities that offer nonstop flights to Aruba.
How to Book Southwest International Flights
When you book a Southwest international flight online, it is the same process as booking a domestic flight. If you need to call to book your Southwest international destination, then customer service will transfer you to a different department that has access to those systems.
Keep in mind that most international Southwest locations will charge higher taxes than the $5.60 we pay for domestic airfare when redeeming points for flights. For example, when I book tickets for my family to travel to Mexico, we pay around $90 per person in taxes for the round-trip.
"…most international Southwest locations will charge higher taxes than the $5.60 we pay for domestic airfare when redeeming points for flights."
Although you don't need to enter your passport information when booking a Southwest international flight, it is a good idea. This way, when it is time to check in for your flight, you don't need to waste time searching for your passport and entering your information.
During check-in, time is precious due to Southwest's boarding process. Although, you can pay for Southwest Early Bird Check-in and not have to worry about it.
The Best Way to Pay for a Southwest International Flight
I'm a big fan of travel rewards, so most of my flights are paid for with the points I've earned from the Chase Southwest Rapid Rewards Premier Visa or the Chase Southwest Rapid Rewards Business Visa cards that I have. Although, I am waiting for an opportunity to upgrade to the Chase Southwest Rapid Rewards Priority Visa. It's a no-brainer when you factor in the additional perks that it offers.
If you don't have any Rapid Rewards points, I would use a card like the Capital One Venture because there are no blackout dates and the points are so flexible.
Future Southwest International Destinations
The current focus for Southwest is to launch the long-awaited service to Hawaii in late 2018 or early 2019. Once those flights start, the attention will turn to which international destinations Southwest should expand to next.
Southwest European Expansion
During the May 2018 annual shareholders' meeting, Southwest Airlines CEO Gary Kelly said that the Baltimore/Washington International Thurgood Marshall Airport could become a hub for Southwest's expansion to Canada or Europe.
Flights would most likely be launched under a code-sharing agreement where Southwest would book flights on other airlines' flights and vice-versa. With the switch to the Boeing 737-MAX aircraft, flights of longer distances are safer and much more likely to be announced.
One of the factors slowing down this process is the implementation of systems, processes and employee training to handle foreign currency, foreign language and code-sharing.
Southwest Airlines Flights to North and South America
There are as many as 50 North and South American route expansions under consideration over the next 25 years. That may seem like a long time, but consider that it has been almost a decade since Southwest announced the acquisition of AirTran. Time flies when you're having fun.
Flights to Canada would be one of the most logical announcements. However, due to Canadian laws that require everything to be available in both French and English, Southwest again faces the stumbling block of factoring in the foreign language.
Which Southwest International Destination Is Right for You?
With 14 Southwest international destinations to choose from, I'm confident that there is one that will meet your needs. I love being able to escape the craziness of daily life (and the winter cold) by traveling to one of these tropical destinations. Every so often, you just need to get away from it all, lounge on the beach and create some wonderful memories with the people who are special to you.
Here are the best travel credit cards that can help make your next international flights more affordable. Are you ready to book your Southwest international flight?