When you fly Southwest Airlines, you know you're getting an Economy seat at an affordable price. Southwest consistently ranks among the best airlines for customer service, but the one complaint people have is not getting a good seat because they checked in too late.

If you don't have the new Southwest Rapid Rewards Priority credit card that gives you free boarding upgrades, you can pay an extra $15 (or more, depends on popularity and length of each one-way flight) to check in earlier than everyone else. But should you buy Southwest Early Bird check-in?
Why Southwest Airlines?
Southwest Airlines is one of the most popular airlines for domestic flights. Southwest's Rapid Rewards program has won their sixth consecutive Program of the Year award at the 2022 Freddie Awards.
They have an entire fleet of Boeing 737 airplanes designed to quickly get you from Point A to Point B. And Southwest continues to expand to new destinations. Southwest now flies to the Caribbean, Mexico, Costa Rica, and long-awaited Hawaii. Recently added destinations include Miami, Bellingham, Syracuse, Santa Barbara, and many more.
Southwest Airlines has an open-seating policy, which means that there are no assigned seats. This is great for families because some airlines charge to sit together. But it can be frustrating when you are one of the last to check in and you get stuck in a middle seat. Especially when you would have gladly paid extra for a coveted window or aisle seat.
When Can You Check Into Your Southwest Flight?
With Southwest, you can check into your flight up to 24 hours in advance. It is first come, first served. So, whoever has the fastest fingers will win.
However, for priority boarding assignments, whoever bought their ticket first gets their number assigned first. We'll explain the priority boarding options below.
How Does the Southwest Seating Process Work?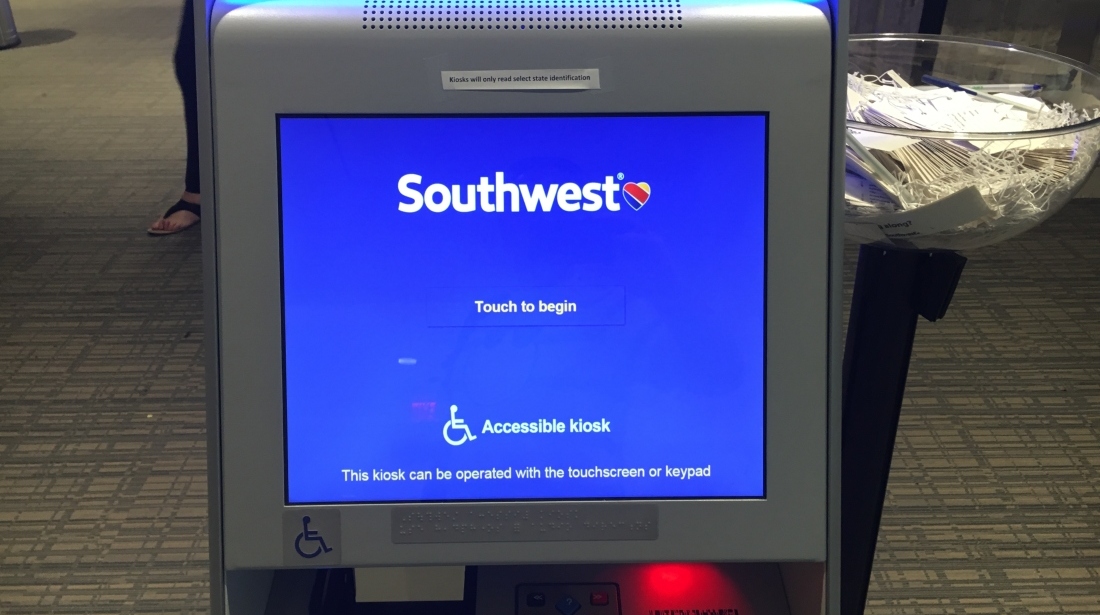 Unlike other airlines that board based on seat assignments and loyalty status, Southwest Airlines boards based on numbers that are assigned to each passenger. Southwest separates the passengers into three groups—A, B and C—and there are 60 numbers in each group.
The first passenger to board has assignment A1, and the last passenger is C60.
What Is Southwest Early Bird Check-In?
Southwest Early Bird check-in is a way for you to be automatically checked into your flight 36 hours before departure. Even if you don't have elite status with Southwest, you will board before the rest of the passengers and improve your boarding position.
Early Bird check-in does not have to be purchased for both directions of a round-trip flight. It can be purchased for the departure, the return flight, or both.
Southwest Early Bird check-in can be purchased when buying your flight or you can decide to add it on to your reservation at a later date. You can purchase Southwest Early Bird up to 36 hours before your flight's departure.
Once boarding numbers are assigned to A-List and other Early Bird passengers at 36 hours before departure, you can no longer buy Southwest Early Bird check-in.
How much does Southwest Early Bird check-in cost?
When Southwest Early Bird was first introduced in 2009, the fee was $10 each way per person. A couple years later, the fee was increased by 25% to $12.50. And then it increased by another 20% to $15 in March 2016.
In January 2018, Southwest CEO Gary Kelly hinted at the potential for price increases. I contacted Southwest Airlines and confirmed Southwest Early Bird prices were to increase effective August 29, 2018. The good news was that, if you bought before this date, your fee would not increase.
Early Bird check-in now has three price points – $15, $20, and $25 – instead of one. The pricing will vary based upon the length of flight and the demand for Early Bird check-in. In the future, the popularity of the route may also play a factor in how Early Bird check-in is priced.
The message is clear… if you want the best pricing (and best seat assignment) on Southwest Early Bird check-in, buy it early.
Is the Southwest Early Bird Check-In Fee Refundable?
No, the Southwest Early Bird check-in fee is not refundable. If you cancel your flight, the $15 fee you paid for early check-in is lost.
A better option is to wait until closer to your departure date before you buy it. Just keep in mind that boarding pass assignments are based upon when you bought your ticket and Early Bird check-in. Someone who purchased theirs a month, day or even minute before you will get a lower number than you will.
If you need to change your ticket to a different flight, then you're safe. Your Early Bird check-in will follow to your next flight because it is tied to your reservation number.
Southwest will refund your $15 for Early Bird check-in if the flight is canceled by Southwest.
How Is My Boarding Number Assigned?
Boarding numbers are assigned based on several criteria, including fare type. Business Select passengers receive A1 through A15. Then A-List members are assigned next. Early Bird check-in passengers are assigned after that. Then there's everyone else.
For travelers who purchased Early Bird check-in, Anytime Fares get priority over the lower cost Wanna Get Away Fares. Assignments are based on the timestamp of when you purchased Early Bird check-in compared to other passengers in the same fare class.
There is no limit to the number of passengers that can purchase Early Bird check-in. Based on the rules for assigning boarding passes, if there are enough A-List travelers and people buying Early Bird check-in, you could still end up in Boarding Group C. That situation is highly unlikely, but it is possible.
How Else Can I Board Early With Southwest Airlines?
Aside from paying the $15 for Early Bird boarding, there are a few other ways you can board before everyone else during General Boarding.
Check-In Exactly 24 Hours in Advance
The earlier that you check-in to your flight, the earlier you get to board the plane. That's been a simple rule that Southwest has followed for years. When you check-in exactly 24 hours in advance of your flight, you increase the odds that you'll get an earlier boarding number.
I used to set alarms for 2 to 3 minutes before my check-in time so I could be fully prepared to check in as early as possible. This trick worked great for many years. And I was consistently one of the first 30 people to board my Southwest flights.
However, this trick hasn't worked well lately. Even when checking in as soon as it becomes available, I've been getting boarding passes in the B1 to B30 range.
Lend a Helping Hand
When you travel with someone who has a disability, you can board the plane early as their travel companion. Being a travel partner will allow you to help them board the plane and get their bags stowed to help the crew with the boarding process. These passengers usually board first.
Buy a Business Select Ticket
The first 15 boarding slots are designated for people who purchase Business Select tickets. You can purchase Business Select tickets with cash or Southwest points and still get priority boarding.
Your ticket will be marked from A1 to A15. The next boarding pass assigned will be A16 whether 15 Business Select tickets are sold or not.
Purchase A1 to A15 Boarding
Instead of paying substantially more for a Business Select ticket compared to a Wanna Get Away, there's a cheaper way to board early. When you're at the gate, ask the gate agent if you can purchase A1 to A15 boarding.
It will usually run $30 to $50, which is a steal compared to the increase in price for a Business Select fare. Still, I would rather save the money, buy Early Bird check-in and take my chances that I can find the seats I want.
Be on the A-List
Southwest Airlines rewards their most frequent travelers with A-List and A-List Preferred status. To earn A-List status, you'll need to fly at least 25 one-way flights or earn at least 35,000 tier qualifying points in a calendar year.
Not only do these passengers receive priority check-in and security lane access, they are among the first to board. A-Listers will start receiving boarding passes with A16. The gate crew will also call out asking if there are any A-List travelers who would like to board before moving on to the next group.
Depending upon how many people are on the A-List, people who purchase Early Bird check-in could find themselves in the B group.
Bring the Kids
Unlike other airlines that allow young children to board first, Southwest Airlines' Family Boarding is offered between the A and B groups. When you travel with children age 6 or younger, you can board during Family Boarding. And it doesn't matter what number is on your boarding pass, so there's no need to rush to check in for your flight.
Get the Chase Southwest Rapid Rewards Priority Credit Card
When you have the Chase Southwest Rapid Rewards Priority credit card, you get four A1 to A15 priority boarding passes each year. When you're at the departure gate, ask if there are any boarding upgrades available. Use your Southwest Priority card to pay for it, and you'll receive a statement credit for the charge.
Do I Still Need to Check in to My Flight?
Although the system checks you in automatically, you must still either print your boarding passes at home or when you get to the airport. This allows you to move through security and board the plane.
Alternatively, you can use your phone as your boarding pass when checking in via the Southwest Airlines app. I tend to rely on the paper boarding pass because I don't trust my phone's battery life and am fearful that I won't have a connection when I need it. Also, I just don't like handing my phone over to someone to scan.
Should You Buy Southwest Early Bird Check-In?
If you have the Southwest Rapid Rewards Priority credit card or have some other way to qualify for one of the early boarding groups, I wouldn't spend the $15 on Early Bird check-in. If you are concerned about getting stuck with a middle seat, I would say $15 for Southwest Early Bird check-in is a good investment to improve your travel experience.
Having the option to grab a window seat so you can sleep better or ensure that your family sits together on your flight is well worth the small fee.
Some people frown upon this approach, but here's what I do. Since everyone on the reservation has to buy Early Bird check-in if one person does, I book my reservation separately from my family's. This allows me to purchase Early Bird check-in for myself so I can grab seats for me and my family. Then my wife boards with the kids during Family Boarding and joins me.
What is your strategy to get the best seats on a Southwest flight? Do you buy Early Bird check-in or do you do something else?