There's change in the air this fall, as Air China is expanding its reach with a new route between Newark and Beijing. The route will include four nonstop flights a week, starting on October 26. Air China is not new to the New York City area, and already flies twice a day from JFK to Beijing.
This new route is a way for the airline to capitalize on an upswing in both business and pleasure trips to China from New York. Whether looking to stroll on the Great Wall of China, experience the Forbidden City or attend a business meeting in downtown Beijing, travelers can catch a flight leaving Newark on Monday, Tuesday, Thursday or Saturday afternoons at 1:35 p.m. Return flights leave on the same days at 9:35 a.m.
Air China also flies to Beijing from Houston, Los Angeles, New York, Honolulu, Washington, D.C., and San Francisco. The airline is part of the Star Alliance.
Flying the Boeing 777-300ER
The airline will be flying its three-cabin Boeing 777-300ER on the new route, arriving and departing from terminal B3 at Newark Liberty International Airport. These aircraft are not new, but they do have some new features, such as green technology for better fuel performance and a quieter cabin.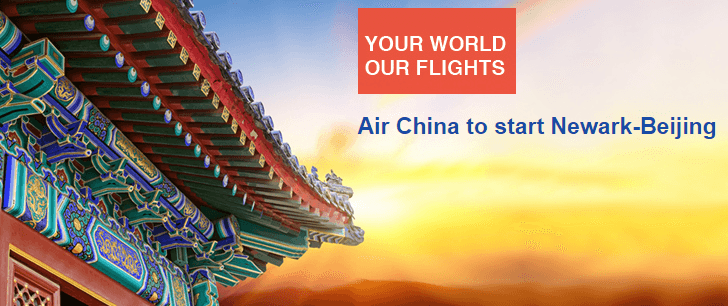 The aircraft will also offer ambient lightening and entertainment in all classes for the nearly 14-hour flight. The first class cabin will have eight suites that offer fully reclining seats for a good night's sleep, along with private space and catering services. There will be 41 business class seats that recline up to 180 degrees.
Though the 259 economy seats do not recline, some of them have a family couch feature. If two or three family members purchase adjacent seats, the armrests can go up and the bottom of the seat rises, effectively creating a couch or bed where people can lie down during the flight. There are 30 of these seats on each flight, all located in the first 10 rows of economy. All coach seats include seat-back TVs, along with video on demand.
More New Routes for Air China
This new route comes on the heels of Air China's new Montreal-Beijing service, which began on September 29 and was the first direct trans-Pacific connection between Montreal and Asia. In early December, Air China will also launch a new Beijing-Montreal-Havana round-trip service.