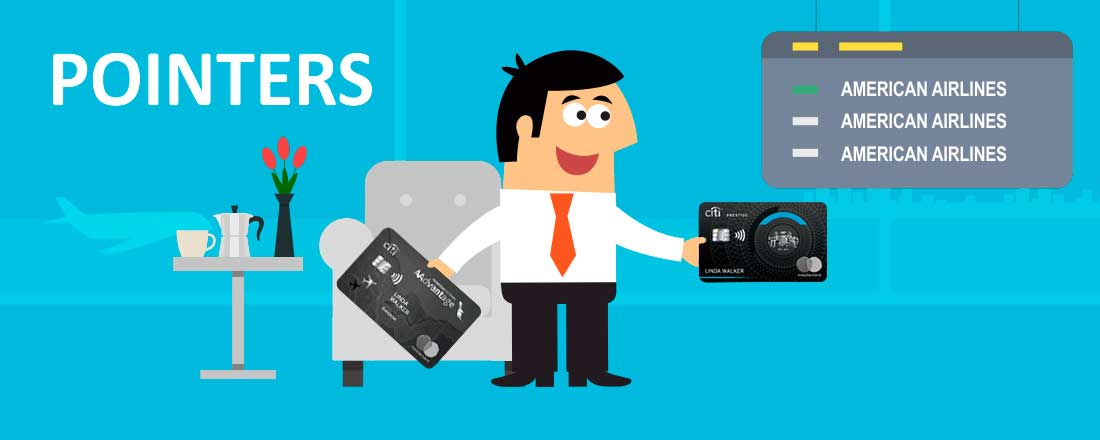 Citi offers two premium travel cards, the Prestige and the Citi® / AAdvantage® Executive World Elite Mastercard®. If you travel often and are considering a high-end rewards card, they're both great options.
These cards both come with plenty of benefits that can make them worthy additions to your wallet. With fees that high, though, you'll probably only want to get one.
The American Airlines co-branded card is designed for travelers that often fly on American. If you don't, it seems obvious that the Prestige card, with its access to the flexible ThankYou program, would be the better choice.

But what if you fly a lot on American? Does that mean that the AAdvantage card is necessarily the better choice? And maybe the AAdvantage card is so good that you'd change you flying habits if you had it and book more flights on American. There's even a chance that it'd be worth getting even if you often fly on other carriers.
It's worth taking a closer look before making a decision. Let's find out what these cards are all about and which one is right for you.
Here's a summary of what you get:
| | Prestige | AAdvantage Executive World Elite |
| --- | --- | --- |
| Sign-Up Bonus | 50,000 ThankYou points | 50,000 AAdvantage miles |
| Earning Potential | 3x on air travel and and hotels; dining and entertainment; 1x all other purchases | 2x on American; 1x all other purchases |
| Annual Fee | $495 | $450 |
| Other Perks | Admirals Club and Priority Pass lounge access; Global Entry fee credit; free fifth consecutive night at any hotel; 60% bonus on American flights and 33% on other airlines when booked through ThankYou | Admirals Club access; Global Entry/TSA PreCheck fee credit; free checked bag; inflight discounts; priority boarding; reduced mileage awards; 10,000 elite-qualifying miles annually w/ minimum spend |
Sign-Up Bonus
At first glance, these cards appear even in this category. They both offer 50,000 points or miles. But the Prestige card requires you to make only $3,000 in purchases in the first three months of having the card. The AAdvantage card, on the other hand, has a minimum spend is $5,000.
That means you'd have to spend $667 more a month, or $1,667 total, to get the bonus with the American Airlines' card. That may not be a big deal, particularly if you plan your purchases wisely, but it's something to keep in mind.
Though not technically a sign-up bonus, one of the best perks of the AAdvantage card is the ability to earn Elite Qualifying Miles (EQMs) without flying. You'll get 10,000 EQMs every year that you spend at least $40,000 on the card.
That's a little less than half the EQMs you need to achieve Gold status with AAdvantage. With status, you'll get a number of benefits, such as free and discounted upgrades and increased mileage earning on flights.
Flexibility
Since it's not tied to one airline, there's no doubt that the Prestige card offers more flexibility in terms of how you can spend points. As part of the ThankYou program, you can transfer points to 12 different carriers.
Though the program does not have a partnership with any of the three major domestic carriers, you do have access to the three big alliances thanks to strategic partnering. So you can book flights to just about anywhere in the world with the Star Alliance, oneworld and SkyTeam.
Transferring points to frequent flyer programs will often get you more value, but if you like the flexibility of purchasing travel through a major rewards program, the Prestige card offers that too.
Not only can you buy airfare from any airline through the ThankYou Travel Center, but you'll get an impressive 60 percent bonus points on American flights and a 33 percent bonus on all other airlines. That means you'll get 1.6 cents per point for American and 1.33 cents per point for other carriers, which is the biggest bonus Citi offers on any of its ThankYou cards.
Though the AAdvantage card is tied to one airline, it's important to remember that American is a member of the oneworld alliance. That means you can book flights on 15 airlines through American with AAdvantage miles.
Earning Potential
Prestige is the clear winner here. You'll get triple points for all air travel and hotels, and double points on dining and entertainment. The AAdvantage card offers a maximum double-point bonus, and that's only for American Airlines' purchases.
What Else Do You Get?
Airport lounge access is typically one of the big benefits cardholders want from their premium travel cards. Both Prestige and AAdvantage cards give you, your family and two guests free access to Admirals Club lounges. Interestingly, you have to fly on American to get access with the Prestige card, but with the full membership the AAdvantage card offers, you can use the Admirals Club at anytime.
Prestige, though, also offers a Priority Pass Select membership which gives you, your family and two guests access to over 850 lounges around the world when you fly on any airline.
With the AAdvantage card you get one free checked bag on American flights, priority boarding and in-flight discounts. The Prestige card, on the other hand, gives you a $250 credit for airline fees and incidentals. That should cover baggage fees and in-flight snacks for quite a few flights.
Both cards offer credit for pre-screening services to help you get through airport security lines a little faster. With Prestige, you need to get Global Entry to qualify for reimbursement, but the AAdvantage card lets you choose between TSA PreCheck and Global Entry.
The AAdvantage card does not offer a companion ticket like Delta's Reserve card.
Cardholder Perks
Both cards come with the typical cardholder benefits you'd expect from a premium travel card, such as no foreign transaction fees, personal concierge service, a global assistance hotline, car rental loss and damage insurance, return and purchase protection, roadside assistance and travel accident insurance.
The Prestige card comes with one unique and potentially valuable perk. Instead of offering a credit towards hotel-related activities like some American Express cards, you'll get a free fourth consecutive night at any hotel. You have to book the hotel through MasterCard's designated travel service.
Annual Fee
Citi Prestige® Card comes with a $495 annual fee. And the Citi® / AAdvantage® Executive World Elite™ Mastercard® comes with a $450 annual fee. But if you travel often, the benefits can be worth the cost.
Which Card Do You Get?
The Prestige card is, without a doubt, more flexible. You can transfer points to 12 carriers and purchase travel on the ThankYou website. Plus all airfare purchased through the ThankYou Travel Center receives up to a 60 percent bonus. Most of the benefits you get with the AAdvantage card are tied to Ameircan.
You'll also earn more with the Prestige card. The AAdvantage card offers a maximum of double points, and that's for American Airlines purchases only. Prestige gives you triple points on all airfare and hotels, plus double points on dining and entertainment.
The AAdvantage card is really best for someone who often flies on American and is looking to get or maintain elite status. It's hard to earn EQMs, and this card is one of the few ways you can earn them without flying.
If I often flew on American and I was chasing or maintaining status, I'd definitely consider AAdvantage Executive card. Otherwise I really like the flexibility and earning potential of the Prestige card.