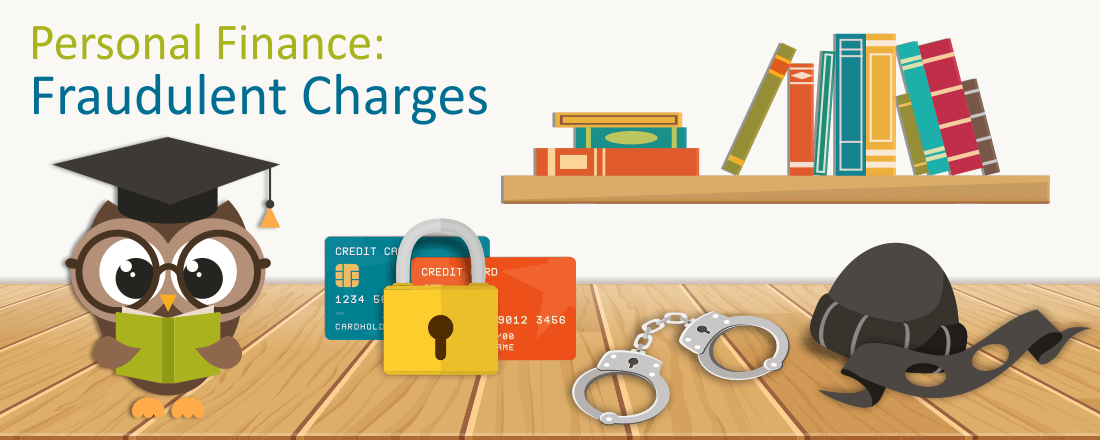 If you discover a fraudulent charge on one of your credit accounts, you should act fast to avoid further damage. By taking immediate action, almost any fraudulent purchase made with a credit card can be disputed and resolved. Many credit issuers have zero liability policies when it comes to fraud and some offer credit monitoring services at no charge. There are also federal laws that limit the liability of consumers when it comes to fraudulent charges.
Over 15 million Americans were affected by credit fraud and other forms of identity theft in the year 2016, according to the 2017 Identity Fraud Study done by Javelin Strategy and Research.  Even though it may never happen to you, there is always the looming possibility that you or someone you know could become a victim of fraud. Becoming a victim of fraud or any other form of identity theft can ruin a person's credit score, which can negatively affect a person's life in many ways. However, there are several things you can do to reduce your chances of becoming a victim of fraud.
Ensure the Charge is Fraudulent
When managing an account or viewing a monthly statement, you may see a charge that doesn't look familiar to you. Before going straight to the phone to report an unrecognized transaction to your bank, the first thing you need to do is ensure the charge was actually a fraudulent one.
There may be instances where a person makes a purchase on their card and forgets about it. A couple of weeks later, when their monthly statement is received, they see the forgotten charge and don't recognize it. Before panicking and assuming the purchase was made by an unauthorized user, it's best to ensure that the charge isn't yours.
This can be done by looking into the name that appears in the description for the purchase. Sometimes, it's the name of the store where the purchase was made, making it easy to identify. However, in some cases the charge will appear under a strange name or some type of acronym, making it harder to identify. By searching the name online or contacting your credit issuer and asking them about it, you can figure out where the mysterious charge was from.
Another good thing to do before assuming the charge was fraudulent is to remember if you have any authorized users who are on the same account. In addition to this, it's a good idea to ask any immediate family members who may have access to the card if the purchase was made by them.
Contact Your Card Issuer
Once you've ensured that the charge on your account was made with stolen information, the bank or credit issuer associated with your card should be contacted immediately. Many credit issuers will require the charge to be reported within about 60 days of it being made. The faster you report the charge after discovering it, the better it is for your overall security.
When contacting your credit issuer, there are a few things that should be done. First off, the credit card in question will have to be canceled, in order to prevent any future fraud. After your card has been canceled, your issuer will send you a replacement. Although your credit issuer will automatically cancel your card and issue you a new one, it may take a few days or weeks for the fraudulent charge to be removed.
Most banks have zero liability fraud policies. Which means that if you did not make the charge you will not be responsible. However, no matter which bank or credit issuer you are associated with, you can not be held liable for the full value of any fraudulent purchases made on your account. As long as the charge is reported within two days of it coming to your attention, federal law limits your liability to only $50. However, if you wait longer than two days to report it, the maximum liability will increase to $500.
Update Account You Pay With the Card
If you've ever been issued a new credit card, then you've probably gone through the experience where you try to either make a purchase on Amazon or log in to your Netflix account and for whatever reason, it keeps telling you that your payment information is invalid. This happens when you forget to update your payment information after receiving a new card.
After you've canceled a card and received a new one, updating your payment information is a very important step to take to avoid any further imbalances in life. Although forgetting to pay for your Netflix subscription wouldn't be the end of the world, they would just cancel your subscription until you paid again. But missing a monthly phone, internet, cable or gym membership payment can get sent to collections, which can negatively affect your credit score.
For all of these reasons, it's a good idea to put a little bit of time aside to update any payment information that your old card was associated with, once your new card is received.
Avoid Future Fraud
After you've resolved a fraudulent purchase made on your account, the best thing that you can do is take additional action to avoid having your information stolen in the future. One good way to avoid becoming a victim of credit fraud is to use credit monitoring and identity theft services. There are several credit monitoring services that are provided free of charge. Credit monitoring services will keep track of your credit activity, inform you when a purchase is made and sometimes ask you to confirm whether you made a specific purchase. Identity theft firms will not only monitor your credit, but will work to fix the problem if identity theft occurs.
To avoid the theft of credit card information, many wallets and handbags are being made with RFID-blocking technology. Additional ways of protecting your identity include keeping your wallet/handbag secure and only carrying credit cards that you will actually be using. When shopping online, only make purchases from verified retailers and only shop on secure sites. The easiest way to avoid becoming a victim of identity theft is to practice safe general habits that can avoid your information from being taken.
Best Secured Credit Cards