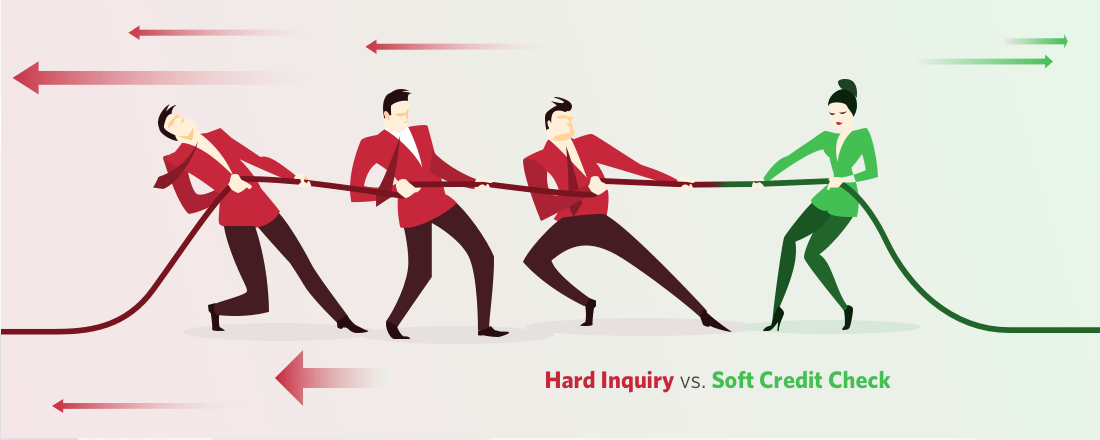 I don't know about you, but I'm very protective of my credit. When I learned that allowing credit card issuers and businesses to simply look at my credit could ding my score, I became a lot more protective of who gets access.

This whole idea of a soft credit check vs. a hard inquiry was something that I felt like I needed to know all about. Once I really understood the difference, I was more protective of my score in some ways but not as worried in others.
Take some time to learn the difference between the two, and how you can protect your score. It's particularly important if you're interested in getting the best rewards or cashback credit cards.
What's a FICO Score?
Your FICO score is considered the gold standard for credit reporting. There are others out there, like VantageScore. But most lenders use your FICO Score as the standard when you apply for credit cards or anything else, like car loans and mortgages.
FICO is a company, and as such it is constantly trying to stay competitive and improve its product. Some of those innovations center around becoming smarter. Their scoring model can look at your credit reports from the three major bureaus and, most of the time, know which entries represent positive credit activity and which should penalize your score.
Unlike past versions of FICO, you don't have to worry about smart financial activity adversely affecting your score for a long time.
For example, most financial experts would say that purchasing a home is positive use of credit. FICO agrees, so you're not going to see much negative impact to your credit score when you're taking steps toward that purchase. You'll see more about how it works as we dive in to all of this.
What's a Hard Inquiry?
First, understand that some of these credit terms have multiple names that mean the same thing. A hard inquiry is also referred to as a:
Hard Pull
Hard Credit Check
Hard Credit Inquiry
Let's set the stage for a minute: It took years to get to where you are financially, but you got there. You can finally shop for your very first home. Congratulations! After working with a realtor for a while you found the home of your dreams.
If you shopped the right way, you first found a lender or two (or even three) and talked to them about mortgage loan types, rates and terms. And when you found the one you liked, you went through a pre-qualification process to know how much home the lender believes you can afford.
Once you were approved, you went house hunting. Or you might have applied for the loan after you found the home. Either way, the process works the same.
To get approved for the loan, the lender had to check your credit. You completed some paperwork and signed a document giving your approval for the lender to check your credit. When you signed the document, you were giving the lender permission to do a hard inquiry (or hard pull) of your credit.
The problem with hard inquiries is that they temporarily ding your score. Experts agree that it's hard to know how much of a hit you'll suffer, but the good news is that it's probably only a few points. As long as your credit is otherwise healthy, those couple of points shouldn't matter.
Is It the Same With Credit Card Companies?
Remember, your FICO score is smart. It will likely see applying for a mortgage loan as a positive activity. The same might be true for a credit card as long as you haven't applied for multiple cards over a few months.
But with credit cards, and some other activities, there's something else that happens without you even knowing—the soft credit check.
What's a Soft Credit Check?
A soft credit check may also be called a:
Soft pull
Soft inquiry
Soft credit inquiry
Let's set up another scenario: You head to the mailbox hoping to see that surprise check that you forgot about. Don't you love when that happens? Instead you see bills and yes, a bunch of envelopes congratulating you for qualifying for a credit card.
Great news, maybe. But how did they know that you didn't just go through a bankruptcy or have a dozen other maxed-out cards already without checking your credit reports? Did they do a hard inquiry on your credit without asking?
The answer is no. First, you aren't actually qualified for that credit card. There's a chance that you could apply and get turned down. The issuer did a soft credit check to decide if it's worth their time to send you a credit application.
The fact that surprised me the most about these types of inquiries is that they reveal similar information to the hard pull. Some articles say that the hard and soft pull reveal the same information, but that's not true. What is true is that the information is actually very similar.
Don't worry, not just anybody can do a soft credit check. But financial companies, insurance companies and even potential employers can run a soft credit check without first asking for your permission.
Although the information is the similar in both hard or soft inquiries, the soft inquiry doesn't hurt your credit score because nobody asked you if they were allowed. You can't be expected to keep a high score if anybody can pull your information and cause your score to go down. That would be unfair.
Other Facts About Credit Pulls
Don't forget—FICO is smart. The company understands that in some cases you might do some loan shopping to get the best rates. That's why you get a grace period. If you complete two mortgage applications in the same month, your credit score will only take a hit one time.
However, multiple hard pulls in a short amount of time might make you look like you're in financial distress or that you're trying to game the system somehow.
That's why you have to be careful if you're applying for a bunch of credit cards just to get those sign-up bonuses. Also, if you know you have an upcoming big purchase, you probably want to leave your credit alone for awhile just to be safe.
Soft credit checks may or may not appear on your credit report. Depending on the bureau, they may stay on your credit report for two years. Remember, the data on your report related to inquiries is only one data point. If your report is otherwise strong, you likely don't have anything to worry about.
Recap
1. A hard inquiry dings your credit so stay away from those unless absolutely necessary. Hard credit pulls occur when you apply for credit cards and loans, among other things.
2. A soft credit check doesn't hurt your score and companies may run one on you without you knowing. This is what card companies do when they pre-approve you for a card. Nothing to worry about.
3. You can have multiple hard inquiries for the same activity in the same month. If you're shopping for a home, you might let two or three mortgage companies do a hard inquiry. That's okay.
4. If you have plans to purchase a home or car and your credit isn't really, really good, don't allow any hard pulls until it has recovered enough to make it really, really good. Mortgage companies will advise you not to touch your credit while in the process of purchasing a home, and you should stay away from getting multiple credit cards in a short period of time.
Bottom Line
When an institution makes a hard inquiry on your credit, it can hurt your credit score. But it's a minor hit and something that has to happen if you're applying for that fancy new travel credit card or a new auto loan or mortgage, among other things.
However, a soft inquiry won't hurt your score at all. Yet they give lending institutions quite a bit of information that they can use to determine if you're likely to qualify for a loan or credit card. That's why getting pre-approved or pre-qualified for a credit card is so useful. It'll tell you if you're likely to get that premium card without taking a hit to your credit score for no reason.