Pottery Barn brings an interesting twist to the loyalty credit card: cash back or, if your purchase is big enough, special financing.
But as interesting as it is, this card is still a hard pass unless you're such a Pottery Barn fan that you're decking out your whole house in the retailer's goods. There are much better credit cards on offer, particularly when it comes the "special financing."
I mean, really: Why would you pay special financing when you can pay no financing with something like the Capital One Quicksilver Cash Rewards card? But we will come back to that in a moment.
Is the Pottery Barn Credit Card Good for Me?
The short answer is, "No." While the Pottery Barn card offers substantial cashback (and I'll get to that in just a moment), the cashback is only useful when buying more Pottery Barn stuff. And, honestly, at some point, you have to ask, "How much Pottery Barn stuff can I have in one house?"
The longer answer is, "Maybe." If Pottery Barn truly is your interior-decoration jam, then you will likely be happy with the cashback you receive for your Pottery Barn purchases. Though, if you buy so much Pottery Barn gear that you need to finance the purchase, you are much better off using a different credit card that offers 0% financing.
Benefits and Features of the Pottery Barn Credit Card: All You Need to Know
First – the cashback feature. As I said, it's definitely generous. Spend $250 and Pottery Barn sends you a $25 reward certificate that you can use on a future Pottery Barn purchase.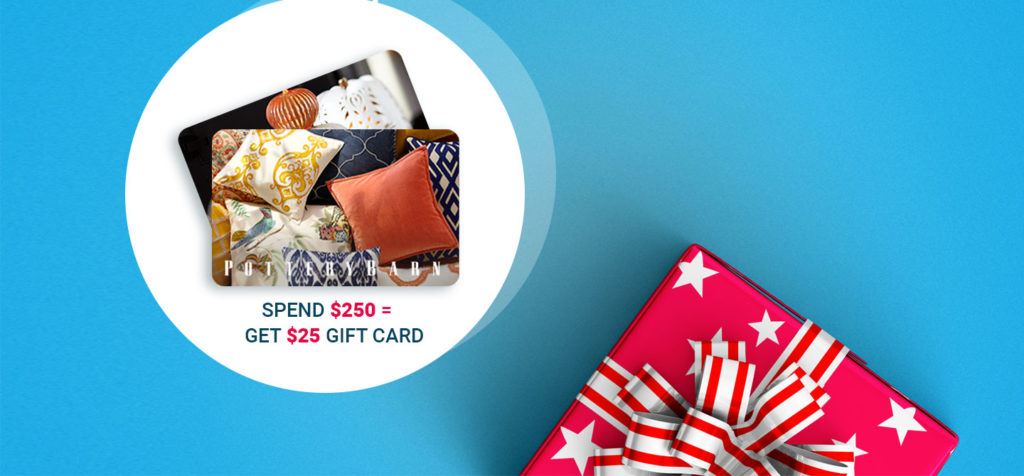 Or, if you spend at least $750 on a single purchase, Pottery Barn will offer you "special financing" for 12 months on that purchase.
And to be clear, you cannot double-dip with a large purchase. You can't get special financing on a $750 purchase and get $75 in reward certificates. This is an either/or offer. You can choose one or the other – not both.
Pottery Barn doesn't say what the "special" financing rate is. I've seen reports elsewhere that claim the Pottery Barn credit card is offering 0% for 12 months. I can't say if that's true or not, since neither Pottery Barn nor Comenity Bank, which issues the card, defines the rate beyond the word "special."
And, honestly, I found that to be hugely problematic. If you're running a special financing rate that is supposedly 0%, then highlight that rate! Otherwise, it's a missed opportunity to attract a consumer who might be enticed by that offer.
That said, even if the Pottery Barn credit card rate is 0% for 12 months, you can still better by getting 0% for 15 months with these credit cards.
Beyond the cashback or special financing, the Pottery Barn credit card will give you access to exclusive events and offers; double reward opportunities throughout the year; and the ability to earn rewards by shopping at Pottery Barn, Pottery Barn Kids or PBteen. And there's no annual fee.
That's it for rewards.
So, honestly, beyond the 10% cash back, there's not a whole lot to get excited about with the Pottery Barn credit card.
What Credit Score You Need to be Considered
This is a store-branded credit card, meaning you should have no problem obtaining this card if you have good credit, which implies a credit score north of 670.
What if I don't Qualify for a Pottery Barn Credit Card?
If you have subpar credit and Comenity Bank declines your application, then you need to consider a credit card that will help you build or repair your credit. As I regularly report, the Capital One Platinum card is one of the absolute best options for that.
Capital One Platinum charges no annual fee and offers an automatic credit-limit increase after five, consecutive on-time payments. Those two features will bump up your credit score because of the way scores are calculated, which will help you build or repair your credit in less than half a year.
Capital One Platinum won't earn airline miles or cash-back or rewards points, but when you have no credit or bad credit, perks won't help you. You need a card that increases your credit score.
Which Credit Cards Do a Better Job Than a Pottery Barn Credit Card?
Well, right off the bat I'll go back to what I mentioned earlier: the Capital One Quicksilver Cash Rewards Credit Card.
Let's assume you know you're going on buying spree at Pottery Barn and you will spend more than $750. You have a choice:
Option A (Preferred): Apply for a Capital One Quicksilver Cash Rewards card before you go …
Option B: Apply for the Pottery Barn credit card at the register in order to take advantage of the amorphous "special financing," which we will assume is 0% for 12 months.
The best option is easily the Capital One card.
With Capital One Quicksilver Cash Rewards you will get:
0% financing on all new purchases in the first 15 months;
You will get 1.5% cash back on every purchase you make, so that's $11.25 on a $750 Pottery Barn purchase;
And you will get $150 cash back bonus after you spend $500 in the first three months, which you will meet with your single, Pottery Barn purchase.
With the Pottery Barn card, you will spend $750 and you will owe $750, and you will (theoretically) pay it back over 12 months at 0% interest.
With Capital One Quicksilver Cash Rewards, the effective cost of your $750 Pottery Barn splurge is actually just $588.75 after accounting for the 1.5% cashback and the one-time sign-up bonus.
Obviously, Capital One Quicksilver Cash Rewards wins on a new-purchase basis.
On an ongoing basis – meaning after the one-sign up bonus and 0% financing for 15 months expires – I would argue the Capital One card is still a better bet. You have to do a lot of spending at Pottery Barn to benefit, and you have to wait until you spend $250 before you see a reward certificate … and then you are forced to go back to Pottery Barn to use that reward, otherwise it's just a worthless piece of paper.
With a Capital One Quicksilver you can redeem any amount of cash in your account at any time, with no expiration date as long as you're account is open.
You can apply the cash balance to your credit card account, meaning you're cashback is useful for any purchase you make, not just on Pottery Barn fare. Or have the money sent to your bank account … or request a gift card.
The point is, Capital One Quicksilver Cash Rewards gives you unending options for how you use your cashback. The Pottery Barn credit card gives you one option, so you have to really like spending at Pottery Barn.
I'll also point out the Citi Double Cash Card is a better option than the Pottery Barn credit card.
This card will give you 1% when you spend and 1% when you repay your outstanding balance, for a total benefit of 2% on every purchase. And, as with Capital One Quicksilver Cash Reward, you're cashback money is applicable to any other purchase you make in life, so you get total financial freedom to use your cashback on whatever you want.
There's no signup bonus with the Citi Double Cash card, but there's also no annual fee. And you are eligible for 0% financing for 18 months on balance transfers. So, if you want a year and a half to repay your Pottery Barn purchase with no interest charges, then you can pay for your Pottery Barn spending with an existing credit card, then apply for Citi Double Cash Card and immediately initiate a balance transfer to your new Citi Double Cash Card.
The Wrap Up: Should I Apply for the Pottery Barn Credit Card?
If you totally geek out over Pottery Barn and want your house to look like a Pottery Barn store, then you will probably find some value in a Pottery Barn credit card, since you will get 10% cash back that you can then use to go geek out at Pottery Barn some more.
However, if you never, rarely, or only occasionally wander into a Pottery Barn, then this is a 100% completely useless credit card. The benefits will give you very little / nothing of value.
And if you do happen to find furnishings you like at Pottery Barn and you want to finance them over many months, then apply for a Capital One Quicksilver Cash Rewards card first.
You'll get better financing terms, and the cashback and one-time bonus features will actually reduce the cost of your purchase.