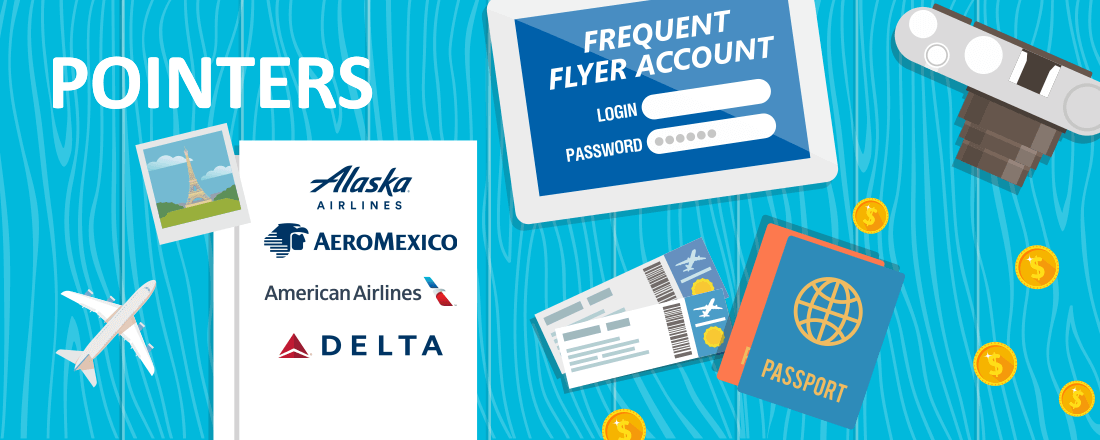 You've heard about them before. Mileage runs–the holy grail of scoring tons of miles by using cheap fares to fly a long distance. Since airlines have largely adjusted the way they award miles (based upon price of the ticket versus distance flown), mileage runs have lost much of their appeal.
There are some bright spots though. First, Alaska Airlines still awards miles based upon distance flown making mileage runs on the carrier still productive. Plus, foreign carriers like Singapore Airlines do the same offering miles based upon distance flown.
Second, airlines award miles differently when flying on tickets issued by their partners. For example, Delta flyers can score big miles when traveling long distances with partners like Air France or Aeromexico meaning they can earn one mile for every mile flown.
This is not completely uniform though as airlines do reward miles based upon the type of ticket purchased with some of their partners. American only awards a small percentage of miles for some of the cheapest British Airways or Iberia tickets. Delta and United do the same with some of their partners, but the key is to fly on partners that still give 100% of distance flown.
Mileage runs are still worth it for earning elite status miles as those are still doled out based upon distance flown. And when business class mileage runs are available on partner airlines, the earnings can be exceptional.
How to find a good mileage run
The key to finding a good mileage run is to know what to look for. Often, these deals are actually mistake fares where the airline perhaps put the decimal point in the wrong place or forgot to add on various surcharges. These are noticed quickly and adjusted, but if you can take advantage of them during the few hours they are live, that's fantastic.
This means that there is no point in searching for them, but position yourself so that you can be notified of them when they pop up. Websites like TheFlightDeal.com or SecretFlying.com often post great fare deals (some of them are not mistakes and are intentionally low to compete with other airlines in the marketplace). Also follow them on social media to receive faster alerts.
Once you find one, act quickly. Since most airlines have 24-hour cancelation policies, you can book tickets quickly and then reconsider later. Keep in mind though, if you make any changes to the itinerary after it is ticketed, it would be subject to the new, corrected fare.
A good mileage run should cost you anywhere between two to three cents per mile. You would need to add up the costs you will incur to determine the actual value ratio of the points you receive.
A few caveats
If you book a mistake fare, not all airlines may choose to honor it. This means it is wise to avoid making hotel reservations or other non-refundable plans until a few days have passed. You might want to avoid calling the airline right away too as they might be likely to cancel it if they catch the mistake. After a few days have passed, the ticket is more likely to be honored.
Also, chances are the great deal you find won't be from your home airport. While you can wait to get lucky to see if something becomes available locally or you can consider buying a separate ticket (or using miles) to position yourself to the airport where the good deal is. While flying around for no reason might sound crazy, it can be worth it if you are yearning for elite status or want to rack up miles cheaply. Just make sure to determine the actual cost per mile to make sure it makes sense.
For example, Aeromexico recently had a mistake business class fare from Orlando to Santo Domingo via Mexico City for around $100 (essentially just the taxes). This led to hundreds (if not more) Delta SkyMiles fans jumping on the deal, which would net thousands of redeemable and elite-qualifying miles for close to nothing. The option to spend some time in Santo Domingo for rest and relaxation on a shoestring is pretty awesome. If the cost of getting to Orlando and the mileage run deal still make economic sense when it comes to the mileage earning, then it is a good deal.
It's not only airlines
Hotel companies have the same type of mistake deals, and it can be worth following sites like ExtremeHotelDeals.com to take advantage. Occasional deals like the recent $50 rate for the Ritz-Carlton Bal Harbour can be quite popular and book up quickly. Some hotels honor them in good faith while others may notify you that they must adjust the price. Just be sure not to book flights until a few days have passed to make sure the deal will be honored.
It is best to sign up for deal alerts to be notified by email or on social media when they pop up. Loyalty programs are meant to reward those that are loyal and support a travel company with their business. Mileage runs are not necessarily perfect examples of that, but if you need more miles and want to get them without overspending, the occasional run can be worth it!