The Philippines is comprised of over 7,000 islands, some of which are among the most magnificent in the world. Almost 90 percent of the islands are uninhabited, making the Philippines a hotbed of Asia's ecotourism in its most pure and unadulterated form.

The Philippines is also an easy place for Americans to travel to. Not only are the people welcoming hosts, but almost all Filipinos can speak some English. So, aside from Hong Kong and Singapore, it's one of the easiest Asian countries to communicate with the locals. It's also one of the most affordable places to visit. It's even cheaper than Thailand, and on par with Vietnam.
Getting There
Flying to Manila on miles is very easy, though none of the usual suspects fly there non-stop from North America. The only airline that does is Philippine Airlines, but they are not a member of any major alliances. You can only get an award seat on Philippine Airlines by flying the airline itself, or through its partners, Etihad and All Nippon Airways (ANA).
But if you don't mind connecting flights, there are a lot of choices. The three major domestic carriers and their alliances offer some great options for getting to the Philippines on miles.
United Airlines Mileage Plus and the Star Alliance
Using United is the easiest way to find and book an award seat to the Philippines. There are a number of member airlines that fly to Manila:
ANA

Air China

Asiana Airlines


EVA Air

Turkish Airlines

Singapore Airlines


Thai Airways
Although you can fly on United to the Philippines out of Guam, it's hard to find a flight to Manila originating in the Continental U.S. However, there's no reason to worry since every airline listed above beats United in service and amenities.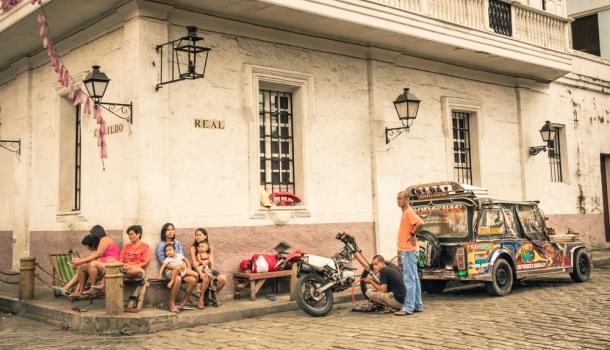 Using Mileage Plus miles and flying with Star Alliance one-way to the Philippines will cost you:
40,000 miles in economy

70,000 miles in business

130,000 miles in first

American Airlines AAdvantage and the oneworld alliance
Although fewer oneworld partners fly to the Philippines, availability is usually still good. These are the oneworld and American Airlines partners that fly to Manila from the U.S.:
Cathay

Pacific

Japan

Airlines

Malaysia

Airlines

Qatar

Airways

Etihad Airways

Most of American Airlines partners are not listed on their website. Your best bet is to call the AAdvantage desk. Since they are partners, you can check availability through British Airways website before calling. Fortunately, American has recently decided to waive the $25 call fee if you can't book a flight online.
This is what you will pay using AAdvantage miles to the Philippines:
35,000 in economy

55,000 in business


67,500 in first
As you can see, American's rates for premium cabins are much better than United's, but because you have to call, it takes more time and effort to find and book a flight.
Delta Airlines Skymiles and the SkyTeam Alliance
Unless you can find an award seat on Delta or Korean Air, it's best to avoid booking through SkyTeam since Delta adds fuel surcharges to most of its other partners. Luckily, availability is pretty good on those airlines if you can plan ahead. And if you book a Delta or Korean Air flight, it's as good a deal as American in economy or United in business.

You can't book first class tickets to the Philippines using SkyMiles. Below are the rates in miles for economy and business class flights:
35,000 in economy

70,000 in business
As you can see, there are many options for getting to the Philippines on miles. Each airline and its alliance has its own quirks, so you'll need to decide which is best for you. American offers the best deals all around, but can be more difficult to book. Delta offers comparable economy rates, but no first class option. United might cost the most, but it has the most partner airlines flying to the Philippines and really great availability.