Delta Air Lines has taken delivery of its first Airbus A350becoming the first North American operator of Airbus' new long-haul aircraft, and on August 5, the airplane was flown from the Airbus factory in Toulouse, France to Delta's main hub in Atlanta. The aircraft is the first one to feature Delta's new Premium Select cabin (premium economy), as well as their new Delta One Suite with a fully flat bed, a full-height sliding privacy door, and customizable ambient light. The airline's goal is to offer an entirely new travel experience on ultra-long-haul flights.
However, Delta's suite is still pretty compact. Qatar Airways' Qsuite, JetBlue's Mint suite, and of course Etihad's Apartment are all more spacious.
This new product really puts Delta more on par with many international carriers that offer truly luxury premium cabin hard products and service offerings. It's definitely a step in the right direction for a carrier that wants to remain relevant on the international level.
The A350's first home will be Detroit, Michigan (DTW), Northwest's former hub, and the plane will be initially serving Asian routes: Tokyo-Narita as of October 30, Seoul-Incheon as of December 16, and Beijing as of February 23.
So, how do we get to experience this fantastic new product? Well, unfortunately, it will cost you. To/from Detroit, Delta One suites are not available to partners at all and are priced at a remarkable 200,000 Skymiles each way (as a comparison, you can fly on other planes for as low as 80,000 Skymiles one-way in business class). As Delta applies married segments logic to award tickets, it is not impossible that some itineraries with a connection in Detroit instead of originating/terminating there would be offered for a smaller amount of Skymiles but I haven't found an example of lower pricing when testing out other city pairs in this case.
Considering the mileage price to fly Delta's A350 in business class, maybe it's worth just ponying up the cash for the ticket instead. But, you might want to think again. In addition to the regular business class airfare cost, Delta is actually adding a surcharge to fly this specific plane. If you book in discounted business class fare classes Z or I, there will be a $500 surcharge in each direction. If you book in full business class fare classes C, D, or J, you'll pay a $250 surcharge each way. Remember, this is on top of the business class fare that often costs several thousands of dollars each way between Detroit and select Asian cities.
If you wanted to fly on the inaugural flight from DTW to Tokyo NRT on October 30, things get even crazier! Delta is currently charing $13,005.10 to fly this one-way flight in the Delta One cabin. You can save a bit if you book outbound in Delta One and the return in coach; this roundtrip would run you $10,285.46. An outbound in Delta One with a return in Premium Select will run $10,588.46. Or heck, just book a round trip in Delta One for only 12,797.46!
Think you'll do better with miles? In this case, maybe. The mileage cost is 240,000 Delta Skymiles for a one-way flight. While that sounds like a ton of miles, it's even more cash. Spending the miles for this specific flight offers a value of 5.42 cents per Skymile, which really is incredible value for Delta Skymiles if you're set on flying the A350's inaugural in the Delta One cabin. Premium Select for the inaugural flight costs a much more reasonable 90,000 Skymiles or $1,181.10 each way.
Now, the new Premium Select cabin could also be a great way to discover the A350 – not only in a new aircraft, but in a new cabin, as Delta did not offer an actual premium economy cabin until they took delivery of the A350.
Award pricing is much more reasonable for premium economy, with certain dates pricing at 65,000 Skymiles one-way between Detroit and Seoul, Tokyo or Beijing – or even better: 99,000 Skymiles roundtrip for these 3 routes, with great availability. For some reason, Delta seems to price round-trips in Premium Select much more reasonably than one-ways for awards on the A350.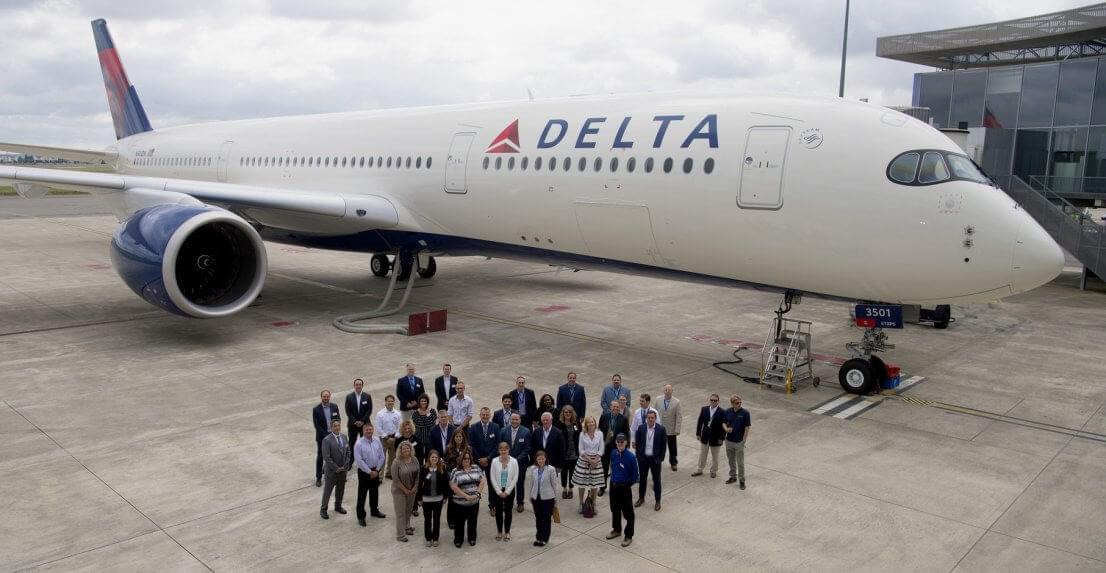 No such luck however for Delta One – a round-trip is double the price of a one way, or more… and can cost between 400,000 and 480,000 Skymiles. While the new product looks great, I think it would be hard to justify spending half a million miles on a round-trip to Asia.
Finally, Main Cabin awards start at 70,000 Skymiles round-trip but can frequently reach 85,000 Skymiles or more – so the difference to book Premium Select seems to be minimal and well worth it.
There is some availability released to partners, but unfortunately only in Main Cabin – although I would imagine Premium Select will eventually be bookable using Air France/KLM Flying Blue miles after the new Premium Select cabin and the A350 are introduced on transatlantic routes. For now, you can fly the A350 for 40,000 Flying Blue miles one-way in economy (but 35,000 Skymiles still seems like a better deal). They do not seem available to all partners however, as some seats available with Flying Blue were not with Korean Air.
Overall, Delta's A350 is certainly exciting, but the cash and mileage prices put it well out of reach of most fliers, at least for the time being. Hopefully after some of the initial fanfare dies off, the award and cash prices for Delta One on the A350 will come down to the level of flying Delta One on any other aircraft.