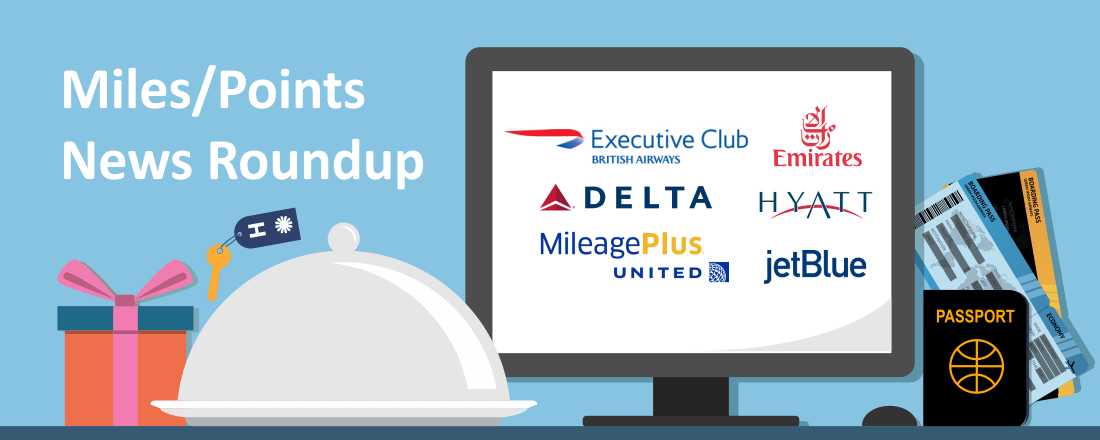 There's a lot going on in the travel world this week. Delta nixes Virgin Atlantic Clubhouse access for some, but rewards sports fans in Washington. JetBlue puts up boxing mitts with Delta in Atlanta, again. And lots more.
Bonus points for buying or sharing Avios points
Buying or sharing points is not the best value proposition, but when an airline offers to throw in some bonus miles, it could make sense if you're close to having enough miles to spend on an award ticket. Avios is offering bonus points if you buy or share points between now and Sept. 27. Earn up to 35% more points based on the total number of points you buy or share. Log into your account to see the amount you have been targeted for and decide if it makes sense for you.
Delta cuts benefits for elites departing Heathrow
Delta SkyTeam Elite Plus passengers flying in economy are accustomed to enjoying special lounge access in the alliance's lounge in terminal four. But, now that all Delta flights are moving to terminal three, which is dominated by Virgin Atlantic, Delta is putting some new restrictions in place for those sitting in the back of the plane. Perhaps to stem the crowds, Virgin Atlantic will only permit travelers in a premium cabin to access its lounge. Everyone else will be sent to a contract lounge, which is perfectly acceptable, but lacks some of the perks like the complimentary spa.
Seattle Seahawks fan can score big with Delta
In the ongoing competition for fliers between Delta and Alaska Airlines in the Seattle area, Delta is pulling out the big guns. It is offering special bonuses for fans of the Seahawks, a team for which Delta is the official airline sponsor. Dubbed 12status, the sports program will offer SkyMiles members one mile for each passing yard at home games and 500 bonus miles for every 12,000 people that sign up for the program. Bonus miles for joining SkyMiles or other special events are also in the works. Surprise seat upgrades at games and priority boarding (among other perks) when boarding Delta flights at Sea-Tac during football season are part of the program. To be eligible, SkyMiles members must have a residential address in Washington.
Bonus United miles when transferring IHG points
Want more United miles? Try moving some of your IHG points over during this promotion, which lasts between now and Oct. 10. For each 10,000 points transferred, you can score a 50% bonus. It translates into 3,000 miles for each 10,000 IHG points you move over. For those with some IHG points, but not enough to redeem for a redemption, this could be a great way to score some extra miles and clean out any "orphan" accounts you might have otherwise let expire.
Buy JetBlue points and earn a big bonus
Maybe the airlines are catching onto this money-earning trend of selling miles and points. JetBlue will tack on a bonus depending upon how many TrueBlue points you purchase between now and Oct. 14. You could earn as many as 75% extra points for buying 20,000 points.
JetBlue returns to Atlanta with low fares
Speaking of JetBlue, the airline is getting its second wind in Atlanta and reintroducing flights into the Delta fortress hub. Service to Boston, Fort Lauderdale, New York JFK, and Orlando is planned. This means that there can be some great low fares as the airlines duke it out, and there might also be the possibility for loyalty program promotions. Keep following RewardExpert for the latest in program news.
Emirates wants more of your cash for seat assignments
If you plan on booking the cheapest economy class tickets on Emirates, don't plan on requesting specific seats until check-in time. Recently, the Middle Eastern airline announced that it will start charging passengers to request a seat in advance if booking its Economy Saver and Economy Special fares beginning Oct. 3. The price might be as high as $40 per segment although the airline says it might vary depending upon the route. This could mean a couple hundred extra dollars for those with long-haul connecting itineraries.
Delta gets fancy in economy class
For Japan-bound fliers aboard Delta, it doesn't matter where you are seated. Delta will be gifting you disposable slippers to wear aboard the plane. No more traipsing around in your socks to the bathroom (yuck!). This moves gives Delta top status among U.S. carriers traversing the Pacific when it comes to onboard amenities. It's rare that one would recommend choosing Delta over an Asian airline, but in economy class to Japan, Delta is now the leader. Fliers receive three separate meal services, complimentary bar service, bottled water, and amenity kits among other bonuses.
Stock up on FlexPerks points with free offer
If you have a US Bank FlexPerks Visa credit card, you can earn 500 free FlexPerks points by activating your Real-Time Rewards account. The process is simple to sign up, and who can say no to free points?
Bonus Hyatt points for using app
Make hotel reservations via Hyatt's iPhone or Android app and receive 500 bonus points for each hotel booked. For those with travel plans between now and Nov. 30, this could be a lucrative way to stock up on extra points for that holiday vacation.