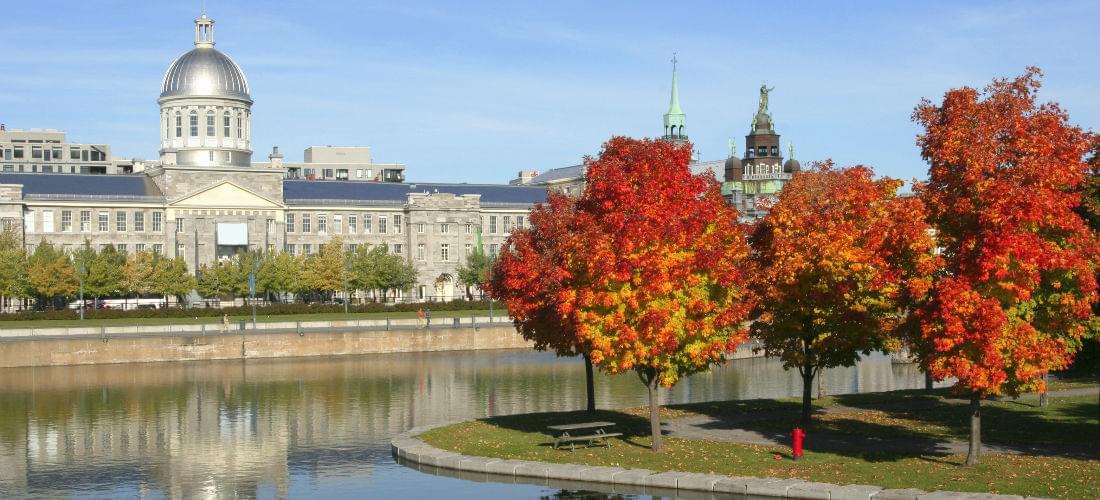 Quebec's cultural center, Montreal, and the nearby capital, Quebec City, are some of the chilliest urban areas you can find in North America during this time of year. But that's part of the reason why it's a great time to visit.
With the French joie de vivre that makes these two cities some of Canada's most fascinating, the Quebecois have turned the winter chill into something to celebrate with seasonal festivals and culinary specialties.
Montreal is packed with festivals all season, including the two-week-long Festival en Lumiere. It's one of the world's largest winter festivals, drawing 1.3 million people annually. Running from February 19 to March 1, it features an all-night event on the final evening. Quebec City's Winter Carnival takes place from January 30 to February 15. It dates back to 1894 and features the world's largest snowball fight, night parades, ice canoeing and the International Snow Sculpture Competition.
While countless airlines fly into Montreal, giving you plenty of options for award flights in this "low" season, you'll get the best bang for your mile with distance-based awards from British Airways and Air Canada.
Montreal for Just 9,000 to 15,000 Miles Roundtrip
With British Airways, which operates a distance-based award chart, flights to Montreal can start as low as 9,000 miles roundtrip, depending on where you are based.
This low-fare category on British Airways is for flights up to 650 miles, so you can fly to Montreal for 9,000 miles roundtrip from anywhere between Cleveland, Ohio and Richmond, Virginia.
After you cross the 651-mile threshold, you'll pay 15,000 miles for roundtrip flights up to 1,150 miles. That can get you to Montreal from most places in America and is the same rate as Air Canada's short-haul flights. Air Canada offers an even better deal for business class, at just 25,000 Aeroplan miles roundtrip.
Air Canada's short-haul rate has a greater range than British Airways, and you can get to Montreal on this rate from any of the following states and territories:
Connecticut
Georgia
Illinois
Indiana
Maryland
Massachusetts
Michigan
Minnesota
Missouri
New Jersey
New Hampshire
New York
North Carolina
Ohio
Pennsylvania
Rhode Island
Tennessee
Virginia
Washington, D.C.
Wisconsin
New Brunswick
Newfoundland
Nova Scotia
Ontario
Prince Edward Island
Quebec
Nunavut
An 8+ Cent-Per-Mile Value for Montreal in the Winter
A quick Kayak search turned up Friday evening post-work departures and Monday morning pre-work returns starting at $538 for the dates we were interested in.
Sitting on a pile of Chase points from the recent 70,000 point Chase Ink sign-on bonus, and 50,000 Avios we transferred to British Airways as part of our Nights and Flights award with Starwood Preferred Guest, I was considering Amtrak or American and US Airways via British Airways instead of Air Canada.
With Amtrak, you can travel anywhere within one zone (the entire eastern part of North America is one zone) for 5,500 miles each way, and anywhere in the Northeast, including Montreal, for 4,000 miles each way. When you factor in the time it takes to physically go to the airport and get through security, any destination that's only around four hours away by car or train becomes attractive. In this case, the rates were so close that I looked at flights first to see if there was availability, even though I'd spend more miles than points.
Since British Airways always prices partner flights at just one rate, regardless of demand, we found flights for 9,000 Avios roundtrip on American Eagle. The fees were a bit higher at $56.78 per person than booking domestic flights through British Airways, which usually prices out to $2.50.
Since I hadn't originally checked for flights on American, I popped over to their website to see what the price would be in cash, and it was a shock—$808 per person!
If you give airline miles an intrinsic value of one cent per mile, we saved $661 per person booking with Avios, giving us a 8.3 cent-per-mile value on this trip.
Beyond the trip, that kind of savings is its own holiday treat.