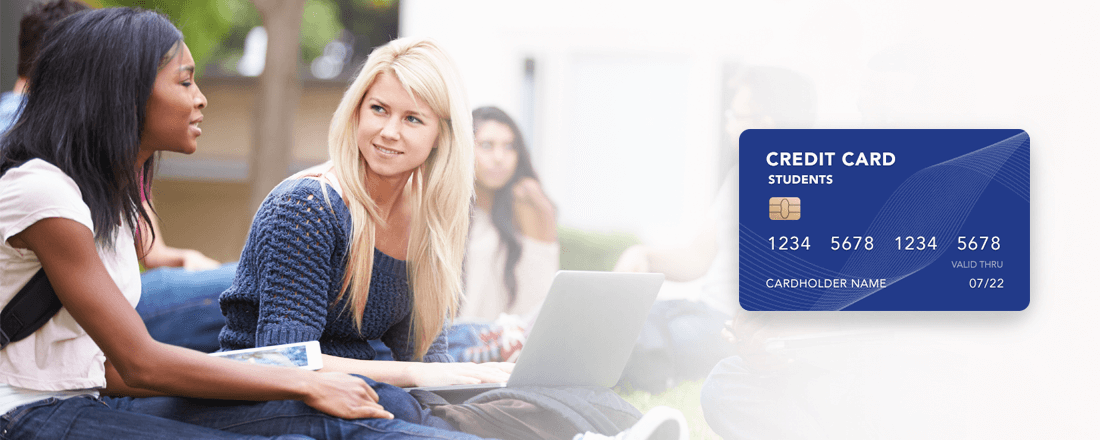 When you are in college, you're preparing for both your career and your financial future. On campus or during Spring Break, you may be tempted by the allure of a free frisbee or t-shirt, but don't fall for these tired marketing tricks. Instead, get one of the best credit cards for students to build your credit so you can eventually qualify for the cards with the best rewards and benefits.

How to Build Your Credit Score
Because you are a student and have not started your full-time career yet, your credit card choices may be limited. You can ask a parent or trusted friend to add your name as an authorized user on their credit card, but this can be a risky decision. If they get into financial trouble causing them to miss a payment, max out their credit card or default on their debts (aka, not pay back the money they borrowed), this could negatively affect your credit score for years.
Get Your Own Student Card
Instead, you should build your credit slowly by getting approved for one of the best credit cards for students. Be sure to make regular payments to build your history and show that you can responsibly manage your credit cards. Your credit score will improve!
Once you get approved for a card, set up automatic payment of the minimum due from your checking account so that you never have a late payment. Then use the credit card for daily expenses, making sure not to charge more than you can pay back in full each month.
Over time, this will build your credit history and credit score, increasing your chances of getting approved for the best rewards credit cards. Good credit is important for so many other reasons, too. It will help you rent an apartment, receive favorable rates on car loans and mortgages, secure lower insurance premiums and more.
Keep in mind that there are federal restrictions on banks for people who are under 21 years of age. If you're between the ages of 18 and 20, you'll either need to have a co-signer or proof of regular income in order to open a credit card.
Build Your Credit With the Best Credit Cards for Students
There are many credit card choices for students, but below are our picks for the best credit cards for students. Many of these credit cards are focused on receiving cash back from your daily purchases because what student couldn't use a little more cash in their wallet.
Other cards offer valuable rewards to improve your travel experiences. And we've even included a few that offer low interest rates when emergencies pop up and you need to carry a balance for a short period of time.
Keep in mind that the credit limits for student credit cards often start out low because most college students don't make much money. As you handle your new credit card responsibly by paying on time and not going over the limit, your available credit will grow.
The Best Student Cashback Credit Cards
Getting more cash in your pocket is usually priority one for college students. These credit cards for college students provide great cashback opportunities to earn money every time you make a purchase.
Discover Cards
The Discover it Student Cash Back card offers rotating categories where you can earn up to 5% cash back each quarter, such as gas, groceries and dining. And you'll earn 1% cash back on everything else, making this a solid choice for a no annual fee credit card.
As an added perk for good students, if you maintain a 3.0 or higher GPA, you'll receive a $20 bonus each year.
The sister card from Discover is the Discover it Chrome for Students. The Chrome version doesn't have 5% rotating categories, but it does give you 2% cash back on dining and gas on the first $1,000 each quarter.
What college student doesn't spend a good chunk of their cash on fueling their vehicle and going out to eat? This card also has no annual fee and provides the $20 annual bonus for good grades.
Bank of America Cash Rewards
The Bank of America Cash Rewards Credit Card for Students offers high rewards comparable to credit cards your parents have. With 3% on gas, 2% on groceries and wholesale clubs, and 1% cash back on everything else for no annual fee, this may be the best cash back credit card for students.
If you have a Bank of America checking or savings account in additional to your Bank of America Student credit card, you'll get a 10% bonus every time you redeem rewards for cash back. And when you add in a $150 bonus for making $500 in purchases within the first 90 days, this offer is a slam dunk.
The Best Travel Credit Cards for College Students
The Journey Student Rewards from Capital One is a no annual fee credit card that rewards responsibility. You'll earn 1% cash back on all of your purchases, which will increase to 1.25% cash back when you make five consecutive on-time payments.
The Capital One student credit card is great for travelers because there are no foreign transaction fees when used internationally.
Another great card for travelers is the Bank of America Travel Rewards Card for Students. It offers 1.5 points for every dollar that you spend on the card. And if you have a linked checking or savings account, you'll receive a 10% bonus, increasing the rewards to 1.65 points per $1 spent.
Best of all, you'll receive 20,000 bonus points if you spend at least $1,000 within the first 90 days. All of these points will make that Spring Break trip you've been planning so much more affordable.
The Best Low-Interest Credit Credit Cards for Students
The Citi ThankYou Preferred card for College Students is another solid no annual fee rewards credit card. It earns 2x points on dining and entertainment, while still providing 1 point per $1 spent on everything else. And you'll receive 2,500 bonus points after spending $500 within the first 3 months.
These points can be redeemed for gift cards, electronics and other goodies from the ThankYou Rewards collection.
Best of all, there's no interest on purchases for the first 7 months! Just enough time to earn some extra money during Winter or Summer break to pay off all those late-night pizzas and drinks from Finals Week.
The Bank of America credit card for Students was discussed above, but it is also worth noting that there is an introductory offer of 0% for all purchases and balance transfers made within the first 60 days of opening the credit card. Keep in mind that you'll have 12 months of no interest from the date of opening, not from the date of purchase or when the balance was transferred.
Best Secured Credit Cards for Students
Just in case you aren't eligible for one of the cashback or rewards credit cards we talked about, a secured credit card might be your best option to build your credit. Some secured credit cards will charge massive fees to open your account, but we wouldn't do that to you.
Our options have no annual fees or crazy hoops you need to jump through.
The Secured Mastercard from Capital One starts you out with a $200 credit limit, which can be higher if you deposit additional money. Your security deposit will be $49, $99 or $200, depending on your credit and information on your application.
Make 5 on-time payments and your credit line will increase! We recommend signing up for automatic payment of the minimum amount due to eliminate the chance for late fees and to ensure you receive this higher credit limit.
The Citi Secured MasterCard is another good choice for secured credit cards for college students. With no annual fee, all of your security deposit goes into a Collateral Holding Account for 18 months. And if you've handled your card responsibly, you may be eligible for an unsecured credit card from Citibank.
Conclusion
Because college students usually have a limited credit history, these credit cards are the best options to build your credit score. The credit limits may start out low, but they will grow over time as you use the credit card responsibly. The cards listed above offer the best cashback and rewards you can earn as a college student while building your credit.