Airline ticket and hotel prices go through the roof for the host city during big events like the upcoming Super Bowl, which is being held in Houston on Sunday, February 5.
One way to cut costs if you want to see it in person is to use points and miles where the price in miles is fixed regardless of the cash price of the ticket. Because tickets will be costly. You can expect to use 25,000 miles to get to Texas for the game though some airlines will cost more and at least one route is less.

You can get a ton of value from your miles assuming you can find award availability. Finding seats can be extremely difficult of course, but we do the legwork for you on a search for award availability.
If you are interested in actually booking an award ticket to the Super Bowl, we strongly recommend booking as soon as possible. Award space will not last, so if you find a flight that meets your needs it is best to jump on it. We will focus on major hubs, especially those that are home to an NFL team with a legitimate chance of making it to the Super Bowl.
In each case, we will assume the most desirable itinerary is to depart the Friday before the game, and return on Monday, the day after the game. Given tight award availability, flexibility around these dates will likely be required.
New York City
New York is a good place to start since it's the most populous city in the country and is home to the Giants, who are highly likely to make the playoffs.
Roundtrip saver level awards cost 25K miles on this route. There is saver level space available in economy, although it does require some flexibility with dates as there is no space available on Friday. There is space available on Thursday, routing through Orlando. The first leg is the same on both options with saver availability, so there is really only one choice, departing from Newark.
There is a little more variety departing on Saturday, with an afternoon option routing through Austin, and a late morning option routing through Fort Meyers.
For the return flight, there is no saver availability on Monday. But if you are willing to stay an extra day, there is saver availability on Tuesday. The second option below has a long connection and both flights return to La Guardia instead of Newark. There is no premium cabin availability for any of these days, in either direction.
There is no saver level award availability on American on the four days preceding the game, or the three days following the game for the return flight. No surprise given recent American award availability. Look elsewhere.
Roundtrip awards on Delta for any reasonable set of dates start at 45K miles and go up from there. There is saver space available if you are willing to leave by February 1 and return no earlier than February 9.
Boston
With the New England Patriots looking as good as ever, and a prime candidate to represent the AFC in the Super Bowl, we took a look at flights out of Boston.
There is no saver level award availability from Boston on either the Thursday or Friday before the game. There is availability on Saturday; however we dug a little deeper and found that each of the three available options is a ridiculous routing through San Francisco and then back to Houston, each over 11 hours in duration. No thanks. If you are willing to leave on the Wednesday before the game, there is saver availability in both economy and first class. The first-class flights have respectable routings via Chicago and Washington DC, while the awards available in economy are again ridiculous routing via SFO.
Award availability on American from Boston is nearly as bad as it was from NYC. There are no saver level awards in the four days preceding the game and no saver level availability on return flights until the Wednesday following the game. Again, better to look elsewhere.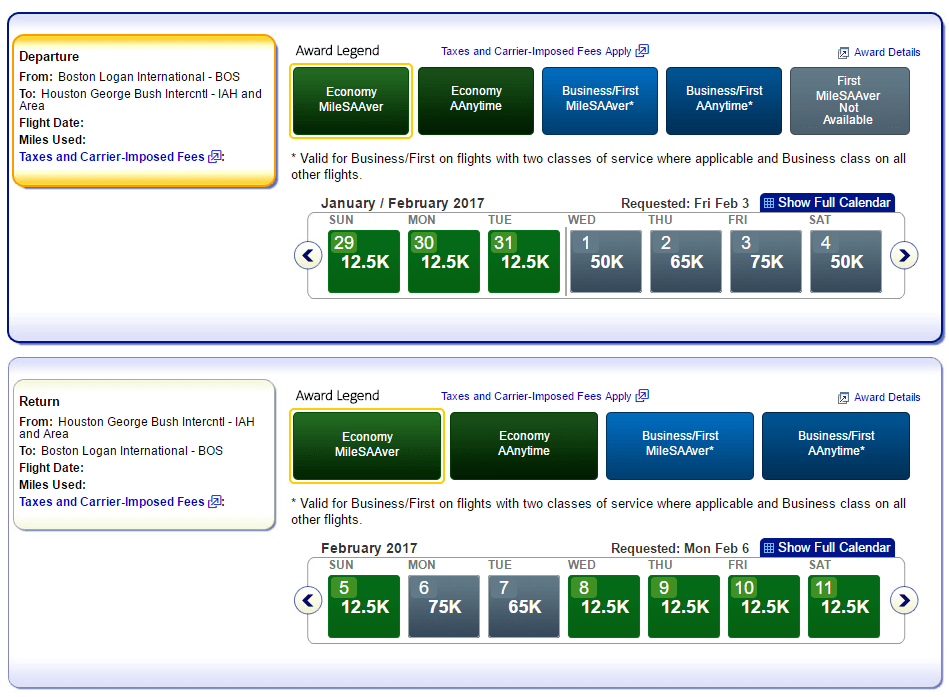 Saver availability from Boston on Delta is also very similar to that from NYC. The best flights are all 65K miles, and getting a saver level award for 25K miles requires at least a nine-day trip from February 1 to 9.
San Francisco Bay Area
Moving over to the west coast, the Oakland Raiders are another top Super Bowl contender this year. The Bay area has two major airports, one in San Francisco and one in Oakland. While the Raiders are located in Oakland, we focused our award searches on SFO since it is a much higher volume traffic airport than the one in Oakland.
United saver level award availability from SFO is the best we've seen so far in our research. There are six unique economy saver level award flights available on the Friday before the game. To make things even better, three of these flights are non-stop options. There is availability for all the days immediately surrounding game day, so if you prefer other days you should be in luck.
Options for the return flight aren't quite as good, as there are no saver awards available on the Monday after the game. However, if you can wait until Tuesday to come home, there is a plethora of options (more than we show here) many of which are nonstop.
At the risk of sounding like a broken record, there are no saver level awards available on American for four days preceding the game, or until the Wednesday after the game. For flyers with a choice of airlines, United's offerings are clearly superior.
Search results were a bit more interesting for a change on Delta. While the best flights are still 65K miles and many others are 45K miles, there are also flights available for only 18K miles for those that have the flexibility for the 9+ day trip that we mentioned above.