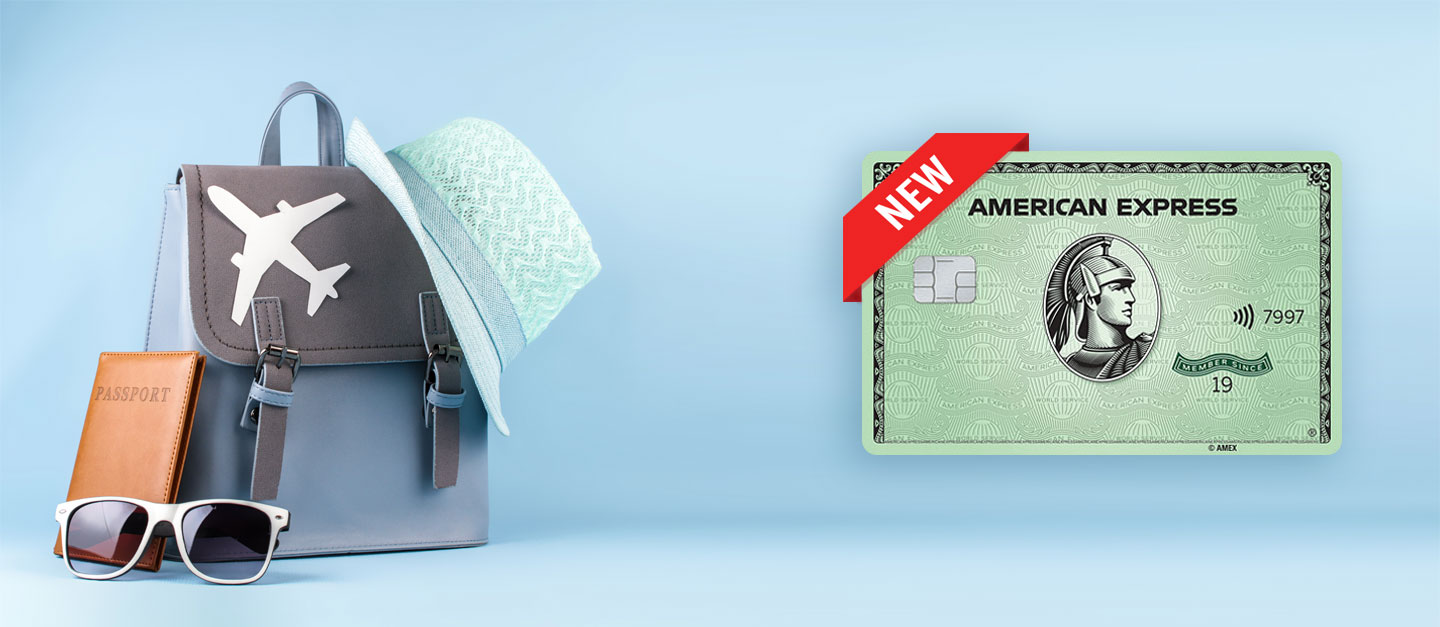 After 50 years as the most well-known charge-card on the planet, the iconic American Express Green Card is getting a makeover … and it's a makeover that makes the card much more useful for travel-minded consumers.
What Changes Is American Express Making to Green Card?
Amex has announced several changes to the Green Card – some of them cosmetic and operationally meaningless, others of them much more meaningful to consumers seeking a card with decent travel-reward benefits.
Amex Green Card Cosmetic Changes
The three most significant cosmetic changes are all visual.
Change #1. The card is getting a new name: Green from Amex.
Change #2. The numbers the Amex once embossed on the front of the card are now printed on the back, following the trend of many higher-end credit cards these days that are aiming for a sleeker, modern look.
Change #3. Green from Amex will, in reality, be green. Not just the color (the card has always been green in color) but in substance. The physical card is printed from recycled plastics collected from beaches, islands and coastal communities, part of the broader, global effort to clean up plastics in the oceans and along shorelines.
Amex Green Card Operational Changes
This is where the Green card begins to make more sense for consumers.
Change #1. Green card from Amex is fundamentally changing how it works. It is now a true "credit card." Now you can roll your balance from month to month, paying it off over time, as you do with a Mastercard or Visa.
From its birth half a century ago, the Green card was always a "charge card," meaning Amex wasn't providing you credit … it was proving you convenience.
You could whip out card to pay for a purchase, but you generally owed Amex the full amount of that purchase at the end of the month.
Change #2. Amex Green Card will now offer 3 membership points for every $1 spent on travel, transit and dining, up from 2 points previously. That makes the card substantially more valuable to consumers who want to accumulate points for additional free travel. Most cards top out at 2x points/miles for travel (though Amex Platinum offers 5x points for travel booked directly through AMEXTravel, but you'll pay $550 for that card annually).
Change #3. The new Green offers $100 annual credit for Clear security membership, which uses biometrics to help speed you through a variety of US airports. You also get a $100 in LoungeBuddy credits, which allows you to gain access to various airport lounges when traveling.
That makes the new version of the Green card more like higher-end premium credit cards that offers Global Entry and TSA PreCheck statement credits, as well as access to airports lounges, be it specific airline lounges or Priority Pass and American Express' on Centurion Lounges.
What Will All of These New Benefits Cost Me?
Amex is raising the price of its revamped Green card.
Now, annual membership is $150, up from $95 previously. But the additional benefits now attached to Green from Amex outweigh the extra $55, assuming you are a frequent traveler who wants airport conveniences such as easier security clearance and lounge access.
Will I Earn A Sign-up Bonus?
Yes. Spend $2,000 in the first three months, and Amex will drop 30,000 Membership Rewards Points into your account.
At a penny per point, that's the equivalent of $300, or 15% back on the $2,000 you must spend.
Who is the Green Card from American Express Good For?
If you're a frequent traveler – this card will work for you. With the Green Card, you'll gain access to Membership Rewards, which is an excellent and flexible rewards program. You can redeem points in many ways, including for gift cards, shopping, travel and Uber rides, and on Amazon. Most importantly, though, you can transfer points to a variety of airline frequent flyer programs.

AMEX AIRLINE TRANSFER PARTNERS
Aeromexico
Air Canada
Alitalia
Ana
British Airways
Cathay Pacific
Delta
Emirates
Etihad Guest
Flying Blue
Hawaian Airlines
Iberia
jetBlue
Singapore Airlines
Virgin Ameirica
Virgin Atlantic
Points Earned with Amex Green Card:
3 membership points for every $1 spent on travel, transit and dining
1 membership point per dollar for all other purchases
What Do Your Amex Membership Points Get You?
The best way to use your Membership Rewards points is to transfer them to an airline frequent flyer program. You'll easily get more value per point than if you redeem them for other rewards. Here's a rundown of your options:

Redeeming for merchandise offers the worst value, at about half a penny per point
Shopping on Amazon is a little better, at about 0.7 cents per point
Uber and gift card redemptions give you a penny per point
Transferring to a frequent flyer program and then redeeming those miles for an expensive flight can be worth 2 cents per point or more
Amex Green Card Usage Perks:
Ability to transfer points to frequent flyer programs
Flights booked with points earn miles
$100 annual credit for Clear security membership
Amex Green Card Usage Quirks:
No sign-up bonus
A small fee for transferring miles to domestic airline programs
Poor value for nontravel redemptions
How Far Do Your Amex Green Card Points Go?
Redeeming for last-minute flights, instead of paying cash, will often get you an excellent value for your points. For example, a last-minute booking for a flight between Cincinnati and New York can cost as much as $805 on Delta, an Amex transfer partner.

The same flight can be purchased for only 32,500 miles:
That results in a value of nearly 2.5 cents per point, which is much better than redeeming for a gift card. And since the transfer is typically simultaneous, you can keep your points in the program until you find availability.

Are There Better Credit Card Options?
Absolutely. The credit-card world today is jammed with an abundance of travel-oriented credit cards. It really depends on what you want to pay and what benefits and perks mean the most to you as a traveler.

Alternative #1 – Chase Sapphire Preferred
If you want to go high end, you the Chase Sapphire Preferred might well be the best travel-rewards card on the market today.
Through Chase, you can use the points you collect to fly on a variety of airlines or pay for rooms at scores of hotel chains. Or, you can transfer you points to a number of airlines, generally at a 1:1 ratio (though sometimes Chase offers bonuses that increase the value of points you might transfer to an airline).
Partner airlines include United Airlines, Jet Blue, Southwest Airlines, British Airways, Virgin Atlantic and several others.
Alternative #2 – Capital One Venture Card
Also a Capital One Venture Card, as well. With Capital One Venture you can also transfer miles to a variety of airline travel partners, including JetBlue, Air Canada, Aeromexico, Emirates and several others.
The Wrap Up
American Express' revamp of its iconic Green card goes a long way toward making the card much more useful for travelers.
You're basically picking up premium-level perks at a mid-level card fee. (Some will call this an entry-card fee, but I will disagree with the assessment since there are a variety of $0 fee cards that are obvious entry-card candidates … and $150, even with the perks, is somewhere between $0, $95 and the $450 to $550 charged by other cards.)
I won't go so far as the say the Green from Amex shifts the playing field dramatically, but it does makes this new version of the Green card a much better option for travelers who want to accumulate miles and points faster.