Flying Blue, the frequent flyer program for Air France and KLM, is offering three ways to earn bonus miles when you stay at hotels around the world. So if you're planning a holiday getaway, make your reservations count for a little more, and earn enough miles to take another trip in 2016.

If you haven't tried PointsHound to book a hotel room, now's the time. It's offering new members 2,000 bonus miles for signing up and making a hotel reservation. Plus, you'll earn up to 10,000 points for every two nights you stay at an eligible property.
Here's how it works: Create an account, book a room at one of more than 150,000 participating hotels, enter your Flying Blue membership number and automatically receive your miles when you check out of your room. Make sure you stay for at least two nights to get the bonus.
Radisson Blu Hotel and Resorts has new properties in Mauritius and Marrakesh, and it's celebrating by offering double miles to Flying Blue members. Spend a minimum of two nights before December 15 at the Radisson Blu Azuri Resort & Spa or the Radisson Blu Poste Lafayette Resort & Spa, both in Mauritius, or the Radisson Blu Hotel Carré Eden in Marrakesh, and you'll get twice the usual miles award.
Looking for a little more adventure? You've got two extra weeks to take advantage of this offer if you stay at the Park Inn by Radisson Istanbul Ataturk Airport; Radisson Blu Hotel in Lomé; or the Radisson Blu Plaza Hotel, in Jeddah.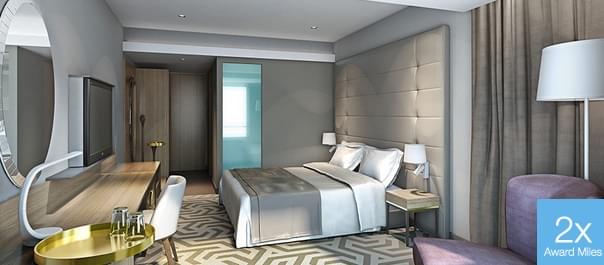 Not ready to go anywhere quite that soon? Folks who stay at a Golden Tulip Hotels Suites & Resort between December 1, 2015, and February 29, 2016, will earn double miles from Flying Blue. There are more than 240 Golden Tulip properties around the world, and this offer is good at Tulip Inns, Golden Tulips and Royal Tulip Luxury Hotels.
Wouldn't it be nice to lie on a warm beach during the dead of winter? Bangkok, Thailand, and São Paulo, Brazil, are two of the most popular destinations for Golden Tulip guests. Book your vacation to look forward to a sunny post-holiday getaway.