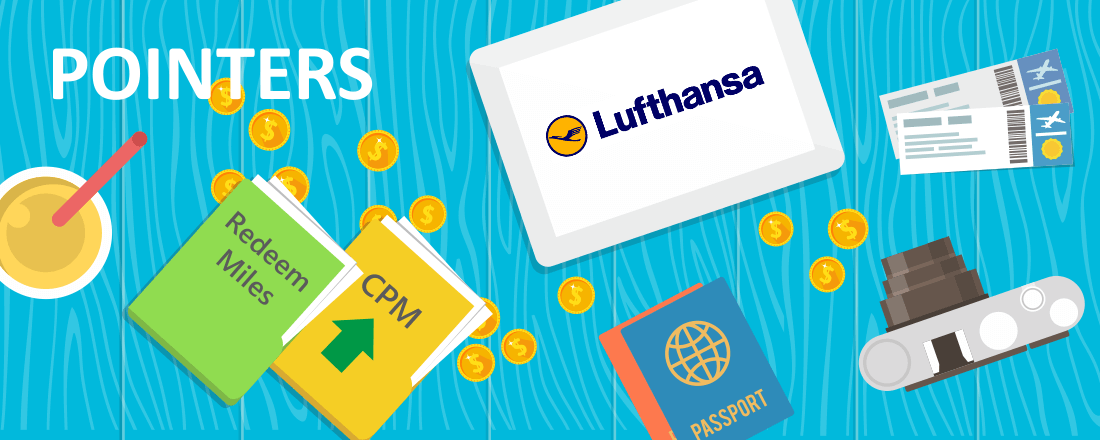 How much value you can you get with Lufthansa's Miles & More loyalty program? These miles don't have a big presence in North America, but it's still possible to accumulate them with Star Alliance carriers, by transferring points from Starwood Preferred Guest, or getting a credit card from Barclaycard. The program offers a few unique values despite collecting additional carrier surcharges on most international award tickets.
The aspirational awards presented here provide a chance to leverage Miles & More so you can take advantage of stopovers, round-the-world itineraries, and better access to exclusive award space. You might not actually be in a position to pay thousands of dollars for a ticket, but these ideas can still provide you with a sense of just how rewarding frequent flyer miles can be. You can usually travel to other cities in the same region without redeeming any additional miles.
We looked at real flights at least six months in the future to avoid the higher prices you might find just a few weeks before departure and deducted the cost of the carrier's fuel surcharges, if any. (You can avoid surcharges entirely on some domestic flights.) We then compared this to the number of miles required to book the same itinerary. Dividing these two numbers results in a metric called cents per mile (CPM), that reflects the value your miles provide.
Note: All sample itineraries were found using the Matrix search engine, a free service of ITA Software.
1. Round Trip Awards Include Two Stopovers, but One Way Awards Are Cheaper
Miles & More permits travelers to book two stopovers on any round trip award. This is among the most generous policies of any loyalty program and compares well with Air Canada's Aeroplan and Alaska Airlines' Mileage Plan. It can be useful to visit multiple cities for a tour of South America or Europe on a single award ticket, spending a few days or weeks in each city before continuing the trip. However, even better options are discussed below if you want to visit completely different geographic regions.
Two open jaws (one at each end) are also permitted on round trip awards. They allow you to return to a city other than the one where you started, or to return from a city other than the one you arrived in. If you can arrange your own transportation between these cities then an open jaw makes a good substitute for stopovers.
One advantage of booking one way flights is that they are priced at one-half of the round trip price and then rounded down to the nearest increment of 1,000 miles. If a round trip award costs 25,000 miles, then two one way flights booked separately will cost 12,000 miles each. You won't be able to book a stopover with one way awards but can still get two open jaws.
2. United Airlines p.s. First Class — San Francisco to Newark
The best value for using Miles & More within the United States is to book a first class ticket on United Airlines. It's actually coded as a business class award because these planes have only two cabins — even United's exclusive p.s. flights between New York and Los Angeles or San Francisco, which feature lie-flat seats. Remember that you can book one way flights and round down to save miles, redeeming only 17,000 each way for a total of 34,000 miles (or 35,000 miles if booked as a single round trip award). The value of this p.s. first class award is 3.7 CPM.
3. Lufthansa Economy Class — New York to Barcelona
Mileage Bargains are discounted awards between the U.S. and Europe that change on a regular basis and cost only 30,000 miles for round-trip travel in economy class. These are on select flights operated by Lufthansa, LOT, and Austrian, so availability and timing can be extremely limited.
The particular award used as an example has a carrier surcharge of $556, which suggests it's actually a poor value for your miles: just 0.9 CPM. However, at the time this article was published most awards were for travel in the off-peak winter season and all of them were for travel on Lufthansa. Check back in winter or spring to book Mileage Bargains for summer travel, which flights are more expensive even though the number of miles remains the same. Also look for awards on LOT, which charges very low fees.
4. United Airlines Economy Class — Chicago to St. Thomas
Miles & More is a great program for travel to other nearby parts of North America, too, not just the continental United States. Many of these flights do not have carrier surcharges, including this trip from Chicago to St. Thomas to escape the winter cold. You could book it for $409 or 35,000 miles, getting 1.2 CPM. If that sounds low then remember that you can go island hopping and add two more stopovers to a round-trip itinerary.
5. Lufthansa Business Class – New York to Barcelona
Mileage Bargains are also available in business class between the U.S. and Europe for 55,000 miles. As we cautioned in Example 3, the list of eligible flights changes regularly and isn't always a great deal for off-peak travel in economy class. This is the same itinerary in business class for $2,909 and has a carrier surcharge of $856. If it were available as a Mileage Bargain (there are currently no business class awards on sale), then it would represent a much better value over economy class, at close to 3.7 CPM.
Don't like the idea of paying such a high surcharge? Some people recommend thinking of it as like booking a paid ticket and then redeeming miles to upgrade to business class. It won't make your wallet any happier, but it may be easier to tolerate.
6. Three-Region Awards
Miles & More is unique in offering three-region awards, which allow you to visit any three regions for 100,000 miles in economy or 185,000 miles in business class. They are a good substitute for people who want to travel a long distance but maybe aren't interested in going around the world. Such complex tickets are normally very expensive and are one of the best ways to use frequent flyer miles.
This example includes travel between the United States, Europe, and South America for an advertised cost $17,613. Even though an award ticket is 185,000 miles, carrier surcharges are actually very reasonable at just $408, and the final redemption value is 9.3 CPM.
Be aware that award prices are fixed no matter which three regions you choose, and sometimes it may be cheaper to pay for three one-way award tickets instead.
7. Round-the-World Awards
Most airline loyalty programs have discontinued round-the-world awards or have significantly increased their price so that they are no longer affordable. Miles & More still offers some good value in economy class. Expect to pay 180,000 miles for an itinerary that includes seven stopovers and one crossing each over the Pacific and Atlantic Oceans.
This long trip requires still has opportunities to add more stops, perhaps in Tokyo and Bangkok, though we left them out due to the limits of ITA's airfare search tool. Even so, you can see that such round-the-world tickets are expensive. Even after paying $301 in carrier surcharges this award delivers 4.5 CPM.
One big caveat is that you're only permitted 10 flight segments, so to maximize all seven stopovers you will have to book mostly non-stop travel between cities. You'll also have to take your time, leaving at least 10 days between the first and last intercontinental flights.
8. Lufthansa or Swiss First Class

Finally, Lufthansa and Swiss are reputed to have some of the best first class cabins in Europe and offer exclusive access to their first class lounges — even an entire first class terminal at Lufthansa's Frankfurt hub!
Booking these awards is challenging when using miles with a Star Alliance partner since no space at all is released to other airlines until 15 days before departure. It's much easier to book these tickets through Lufthansa's own Miles & More program. There is not only more space in general but also earlier access, as much as 361 days before departure.
You will pay more, however, since there is typically a $900 carrier surcharge for round-trip travel when using Miles & More, but it actually requires fewer miles than if you had booked through United MileagePlus. This ticket, ordinarily $14,833, costs only 170,000 miles. That represents a great value of 8.2 CPM after adjusting for the surcharge.