In the world of travel credit card transfer programs, Chase Ultimate Rewards is still a relatively new kid on the block. Its made a name for itself, though, by offering key perks that travelers crave: extremely valuable partners, instant transfers, and an ability to use your points on any flight at any time even when award seats aren't available.

Chase has fewer partners than other transfer programs with just six airlines, but they go a long way. You have access to all three of the major airline alliances, one of the main quasi-alliances (Virgin), and a top independent American carrier (Southwest).
When Should You Use Chase Ultimate Rewards Redemptions?
There are two ways to redeem points through Chase Ultimate Rewards, and both offer great value depending on the situation.
When you transfer your points to airline partners, you can score incredibly low-cost domestic travel through British Airways, which offers 9,000 mile roundtrips on short flights, and Southwest, a perennial favorite for its great service.
Internationally, Chase Ultimate Rewards opens up some of the worlds best options for flying in style, including Virgin Atlantic's rock star clubhouses, Lufthansa's first class with a bed completely separate from your seat, and Singapore Airlines suites (only available when booked directly through Singapore).
When you want to book a flight on an airline Chase doesn't partner with, you can book through the Ultimate Rewards shopping portal, pay with points at a straight value of one cent per point and get a 20 percent discount off the cash value of your travel for going through Chase.
Well breakdown both ways to use your points below.
Partner transfers available online:
British Airways
Korean Air
Singapore Airlines
Southwest
United
Virgin Atlantic
Partner transfers available only by phone:
When to Book by Phone
Unlike airlines, which often have trouble booking certain types of awards through their online platform, everything you can do with your Chase Ultimate Rewards points can be done online.
How to Transfer Chase Ultimate Rewards Points to Partners
The main way many travelers use Chase Ultimate Rewards points is by transferring them directly to airline miles, so let's look at how to do that first. Log into your Chase account and navigate to Ultimate Rewards or sign-in directly through the rewards homepage.
Hover over the upper menu option, "use points," until you can see "transfer to travel partners," which is two items down. If you have already added some of your frequent flyer accounts to your Ultimate Rewards profile, they will be displayed first. Otherwise, you will see a list of airlines available for point transfers:
The newest Chase transfer partner Korean Air should be added to the booking options soon.
To get more information on any of the transfer partners, including the airlines' partners, click the button to the right of "transfer points."
Next, you will have to link your frequent flyer account to your Chase profile before transferring points:
Once your accounts are linked, you will see the transfer points screen. On that screen, you can specify the number of points to transfer in the top, large, blank, white box. In the smaller box below, choose which account within that frequent flyer program to transfer to. This is useful for those who have multiple family members or other individuals saved in their Chase profiles.
You have one more opportunity to double check the credit card account being used, the number of points being transferred, the individual receiving the miles, and the total miles to be received.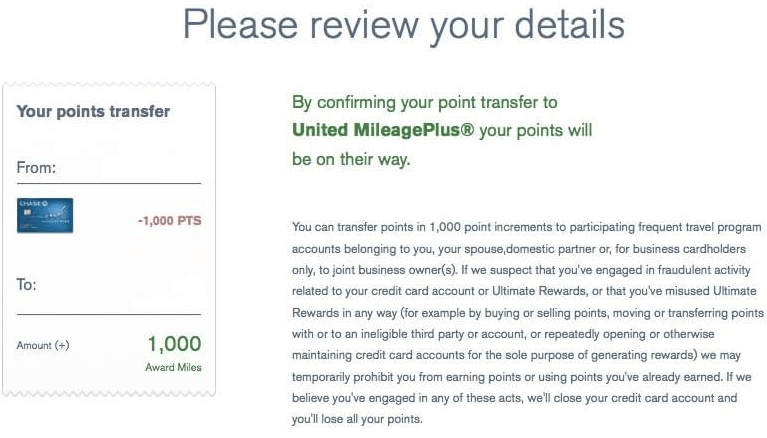 How to Book Travel Directly Through Chase Ultimate Rewards
To book travel through Chase and pay with points, or a combination of points and cash, you'll need to log into your Chase account through the Ultimate Rewards portal. Then scroll down past your point balances to the third section with the search boxes:


On the search results page, you'll see a side bar explaining how many points you currently have and how much they are worth with the Chase automatic 20 percent discount on travel booked through Chase.

The search results give you a price completely in points or cash:
But once you select the flight, cruise or hotel you're interested in, you have the option to choose how much you want to pay with cash and points respectively, with a convenient slider to adjust the split.

Once you have that set, hit checkout and Chase takes care of the rest.
Important Award Booking Considerations
Get double points on any travel booked through the Ultimate Rewards Mall paid for with money instead of points through the end of 2015
Receive a 20 percent discount on travel booked through the Ultimate Rewards Mall as long as it's partially paid for in points
You'll have access to all three major alliances (SkyTeam through Korean Air, oneworld through British Airways and Star Alliance through United) when transferring points to miles
Points transfer instantly