What if you didn't have to search for a good travel agency or company, because the agency or company could find you?
Zicasso connects luxury travelers with pre-qualified travel specialists. You identify the country you plan to visit, along with any special interests you have, and Zicasso matches you with top tour companies or agencies who can plan your ideal trip.

Company founder and CEO Brian Tan told RewardExpert that it's an everyday adventure curating Zicasso's network of the "top one percent" of travel specialists.
Finding the best fit
Tan said specialists compete for individual business, handcrafting complete itineraries that include accommodations, transportation, guides and tailor-made experiences. Once the choice of itinerary is made, all services are confirmed, including 24-7 support throughout the trip.
This has been the business model since the company's founding in 2008, when Tan and the chief operating officer — his wife, Yuchun Ku — decided they wanted to solve travel challenges. As professionals in Silicon Valley, they found it difficult to find the time to plan complex trips.
Two early solutions didn't work out: using online travel websites to plan trips, but sacrificing many hours in the process; or going to go to a traditional travel agency and risking "generalist" agents who couldn't provide specialized itineraries.
After the couple found a few destination specialists that delivered what they wanted, they founded Zicasso to make that kind of specialization more widely available, and to ensure reliability.
"Every agent who sells on Zicasso must go through a detailed interview, whereby his or her knowledge of destinations and access to unique experiences are evaluated," Tan said. "Additionally, they must maintain exceptional reviews from Zicasso travelers."
Now there are nearly 10,000 reviews from real travelers who booked with Zicasso's travel specialist partners, with an average rating of 4.83 out of 5 stars.
A new level of customization
Things that are not typically found on online travel sites can be found on Zicasso, Tan said. It's a referral service that is comparable to a travel marketplace.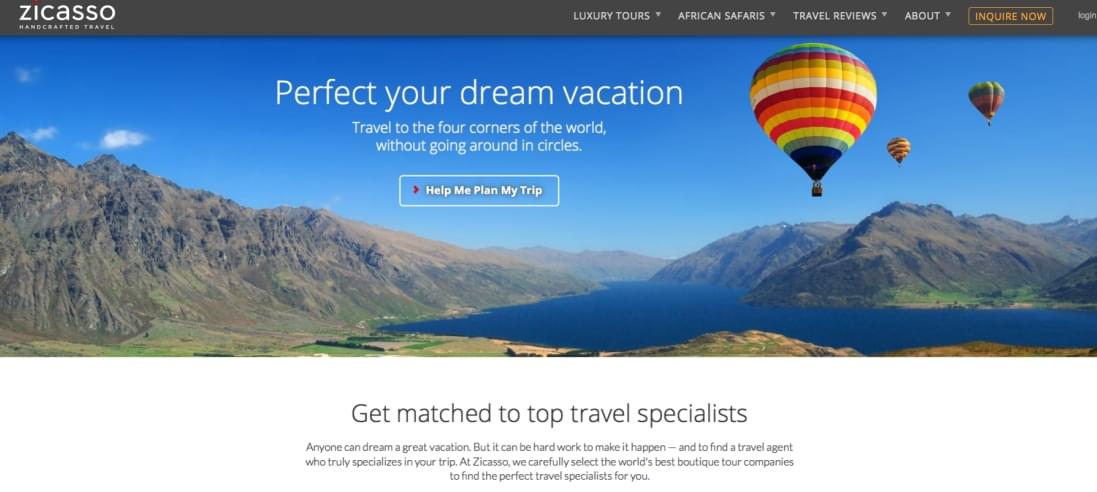 "For instance, if a client is interested in experiencing an in-depth culinary tour of Italy, and is also interested in learning more about Italian operas, we have just the right travel expert who has exceptional knowledge about these areas — and may even offer behind-the-scene access for our client to meet with professional opera singers during the tour," Tan said.
Whether you want to take a Game of Thrones-inspired tour through Spain, or follow in the footsteps of Martin Luther during the Protestant Reformation in Germany, as a Zicasso client you can find the experience you're looking for.
Appreciation for foreign fun
The company aims to please both four- and five-star travelers, and it recommends they travel during the "shoulder" season — between the peak and low seasons when weather is favorable, crowds are minimal and flights cost less.
There is one destination more popular than the rest.
"Italy is our most popular destination — our travelers just can't get enough of Italy." Tan said.
The company offers authentic Italian travel experiences, for occasions like honeymoons, anniversaries and family vacations. Or for people who want to eat and drink their way through places like Sicily and Tuscany.
Zicasso is getting more requests for family-friendly experiences in Latin America — such as coffee plantation visits in Costa Rica — along with tours that combine multiple experiences.
For example, the Spirits of Japan tour celebrates internationally acclaimed whiskey distilleries and sake and beer breweries in Japan, but also extends into areas like food and architecture. The tour ends at Jiro's, arguably one of the best sushi restaurants in the world.
Zicasso's clients include Academy Award winners snd CEOs, but its services are not limited to celebrities and executives. If you're looking for an immersive travel experience, it might be the right fit for you as well.