There's a statistic that's commonly bandied about in the business world and it goes something like this: a happy customer will tell three people about their experience and a dissatisfied one will tell 15. While they may do so in person, in this day and age it's more likely they'll be broadcasting those praises or laments online—where even more of your potential customers will see them.
What's a business owner to do? Trustpilot has the answer. It's a powerful review platform that helps companies proactively collect reviews so they can better understand their customers as well as use the feedback to enhance the reputation of their business.

RewardExpert recently spoke to Zach Pardes, North America Director of Advertising and Communications at Trustpilot, about the platform's history, service packages and plans for the future.
Inspired by Shopping Dilemmas
Launched by CEO Peter Holten Mühlmann in 2007, Trustpilot is headquartered in Copenhagen and has additional offices in London, New York, Denver, Vilnius, Berlin and Melbourne. The platform now houses more than 50 million reviews of more than 228,000 businesses, but it was inspired simply by a son's desire to help his mother with her shopping.
"Trustpilot got its start because our founder and CEO wanted to help his mom shop better online," Pardes explained. "His mom had a lot of questions about what to buy and from whom to buy, and she didn't have an easy way to decide in that early Internet landscape. That's how Trustpilot was born. Peter wanted to help people like his mom make better shopping decisions and then help businesses show off their customer-centric focus."
Collect Reviews and Build Trust in Your Business
Trustpilot will enable your business to collect reviews using a variety of methods including sending review invitations to past customers. For future customers, you can set up your Trustpilot account to send automatic review invitations after each purchase as well as embed a Trustpilot review form directly on your website.
Trustpilot even integrates with apps including Magento, WooCommerce, Shopify and BigCommerce to make it easy to collect reviews at point of sale. You can also merge your review invite and response process into your CRM or email software.
"Trustpilot is a great way to manage your reputation and a great feedback tool," Pardes explained. "You can engage your customers and respond to them when they've had a difficult or frustrating experience."
But Trustpilot doesn't just collect reviews; it also helps you use them to build trust and market your business. "We're a full marketing SAS platform," Pardes said. Because the company is a Google Review partner, the search engine will feature your Trustpilot company profile in search results, helping you stand out from the competition by highlighting your reputation to potential customers.
Pardes added that Trustpilot company profiles can include features like "rich snippets and Google seller ratings. These tend to increase the click through rate by as much as 10 percent according to Google."
Review all of Trustpilot's services and product features here.
Packages for Businesses of Any Size
Pardes noted that Trustpilot has packages suitable for businesses of any size but companies can also use the platform for free just by creating a Trustpilot company profile. "The free package allows you to collect and respond to reviews," he explained. "It includes a limited amount of invitations you send out to customers each month."
"We also have pro and enterprise packages depending on the size and scope of your business," he added. "With our Lite package, which is $299 per month, you get more review invitations and it makes it easier to showcase your stars and your TrustBox on your own website." Pardes said that Trustpilot TrustBoxes can draw a lot of attention, engagement and traffic to a business.
"Our Pro package is a comprehensive, ready-to-go solution that makes it easy to collect and respond to reviews as well as analyze those reviews more in-depth," Pardes said. The Pro package starts at $549 per month. Finally, "on the Enterprise side, you're getting a completely customizable solution," he added.
He noted that Trustpilot Enterprise packages are perfect for large business who want to make very educated business decisions based on customer feedback as well as companies in industries where security is a larger issue, such as finance and healthcare. "These companies flock to the Enterprise side because they can use business generated links," Pardes explained. "These links are essentially review invitations protected by military-grade encryption."
Respond to Negative Reviews and Retain Customers
Negative reviews are a natural danger of doing business in today's world of viral marketing and social influence. When Trustpilot surveyed over 1,000 European and North American consumers about their review habits, they found that more than half leave bad reviews to warn the online community. Other common reasons for negative feedback included helping others make better buying decisions, helping companies improve a product/service/policy, and to get a company to acknowledge their personal concerns.
What should business owners do if they receive a negative review through Trustpilot or any other review website? Pardes said the answer is simple: don't hide.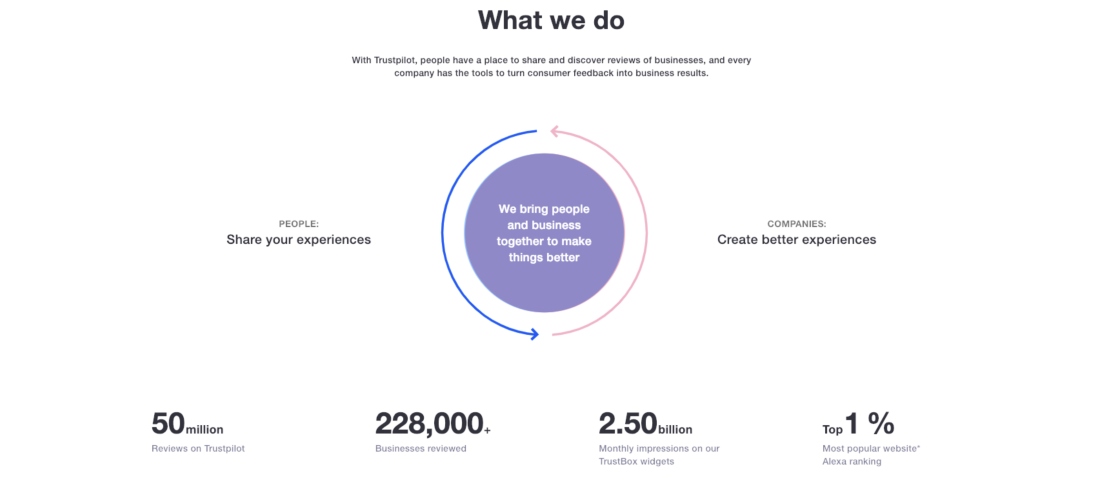 "The best way to deal with a negative review is to get on the platform and engage, be human, be a person," he explained. "Over 80 percent of the time, the companies that do that can salvage the relationship and bring that customer back for a second chance."
Pardes noted that preventing customers from leaving any type of review is impossible. "It's 2019, and people are going to speak about you whether you afford them a platform or not," he said. "Whether they do it on Twitter, Facebook or their blog, they're going to say what they have to say. My recommendation is to communicate with your customers, figure out a solution and make it right. Most consumers are just looking for a sign that you care. Companies that do that win."
Greater Transparency Ahead
Pardes says 2019 will be an exciting year for Trustpilot with new features that will yield greater transparency for consumers and businesses alike.
"We're an open review platform," he explained. "That means that invited or uninvited by a business, anyone can leave a review. To keep things fair and authentic, companies can flag reviews for investigation by our compliance team. This year, we're going to be giving consumers a direct window into how often businesses are flagging reviews, allowing more transparency in the process so consumers get the whole story."
To explore more of the Trustpilot review collection and marketing experience, visit www.trustpilot.com.