Students might think high school and college is only a time for classes and exams, but it's also an opportunity to explore the world. American students backpack through Europe, Japanese students adventure around the Outback, and along the way, all learn more about new places and cultures.

Travel-minded students benefit from StudentUniverse, the world's leading travel booking site for students and youth. Through negotiations with a network of global partners, StudentUniverse offers discounted pricing and terms on flights, hotels and tours.
RewardExpert.com spoke with Danielle Dougan, Public Relations Manager at StudentUniverse, to learn more about the website and how it aims to make travel more affordable and fun for students.
How StudentUniverse got its start
Espen Odegard founded StudentUniverse was in 2000. His experiences as an international student in the U.S. and traveler inspired him to promote youth travel. StudentUniverse has the core value that young people should explore — a mantra the company still holds near and dear.
"We want people out seeing the world while they have the schedule to do so," Dougan says. "We want to make global experiences possible."

Dougan reports that millions of students use the website every year and that many of the tickets sold are purchased by internatonal students who are studying in the United States and traveling back and forth frequently.
Helping students save
StudentUniverse works with 75 different airline carriers — both major and regional — to negotiate discounted fares for students. On top of that, the website offers a flexible booking feature that looks several days before and after a traveler's selected dates to find the best deals.
There are also more specific deals. The promo codes section of StudentUniverse is full of coupons that work with specific airlines, origins, and destinations. You can see all the discount codes on this page.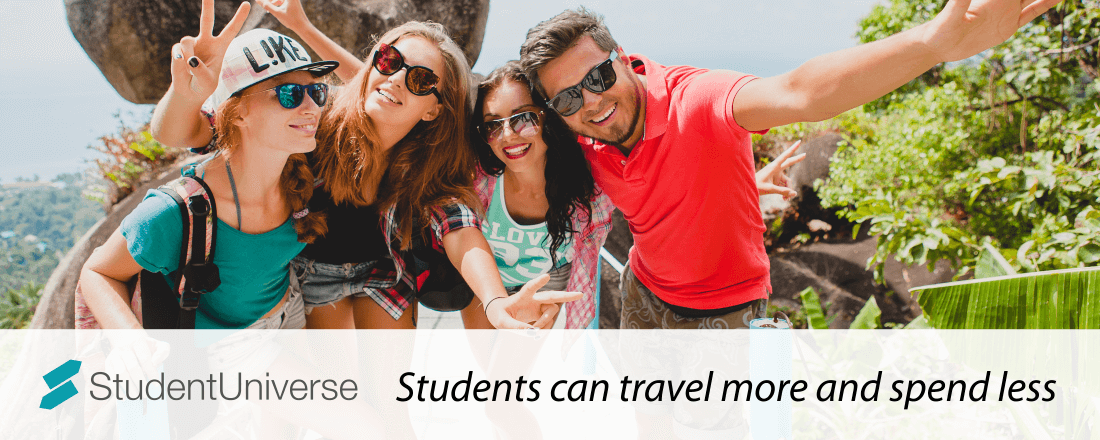 Furthering its desire to be a one-stop shop, StudentUniverse recently brought hotel listings back to its app after spending some time focusing on airfare. Student travelers can save up to 40 percent on hotel stays booked through the website or app.
Saving time is almost as important to young travelers as saving money. StudentUniverse helps travelers save time, by providing a library of travel guides for over 20 countries with information like packing tips, places to visit, and more.
Take a tour
For those who want a more planned experience, StudentUniverse offers discounted bundled tours. These tours range from four days hiking the Inca Trail to a package called "National Parks & Bright Lights," which starts in San Francisco and hits several big cities and national parks before ending in Joshua Tree National Park.
Of course, there are more exotic options.
"Bali is one of the most popular locations for spring break tours," says Dougan, alluding to the "Bali Island Hopper" that spends seven days bouncing among the Bali and the Gili Islands.
Travelers need to secure transportation to the destination itself, but the bundles include land transportation, night accommodations, meals, and in most cases, a tour guide.


For more information on promotions and booking travel, visit StudentUniverse's website. Or search for @studentuniverse and #studentuniverse on social media.