Being a dynamo salesperson is not necessarily something you're born with—it's a honed skill that can be taught. When companies need to boost their bottom line, RAIN Group is the leading global sales training and consulting firm that teaches how to convert leads into customers.

Their award-winning approach to sales education includes a full suite of training programs. The learning system encompasses key selling topics and advances overall sales behavior through assessments, customized workshops and many more result-driven tactics to restructure their clients' salesforce from within.
RAIN Group has been headquartered in Boston since 2014; they not only have offices domestically, but also a vast international reach of locations spanning to the UK, Canada, Australia, India, Columbia, Switzerland and South Africa. Collectively, their sales performance improvement services have been utilized in over 73 countries and rising.
RewardExpert recently had the pleasure of speaking with Erica Stritch, VP of Marketing at RAIN Group, on how the company continues to unleash sales potential by delivering transformational experiences.
Seller Development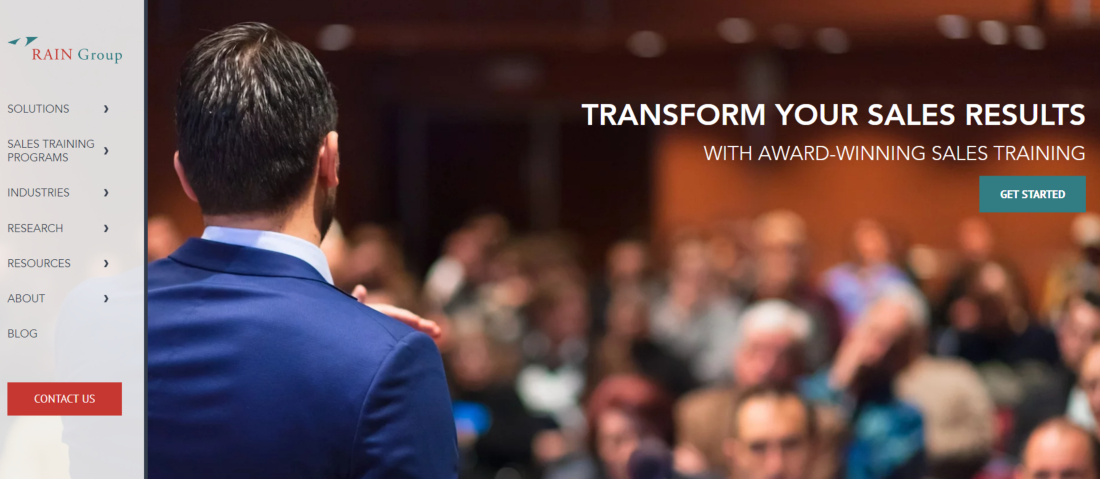 In order to achieve deal-making advancement for their clients, RAIN Group finds out the crux of the seller's requirements—and how to increase their productivity tenfold.
"First, we start with a needs discovery to better understand a company's situation," outlined Stritch. "Are sellers struggling with building their pipelines? Are sellers familiar with all the company's products and can they grow their existing accounts? Once we have a better understanding of their current sales environment and where they want to be, we can determine the most appropriate sales training solution to get them there."
RAIN Group's intellectual property is firmly reinforced by copious research and a proven track record of success. They strive to see their clients win in their field and have their statistics to attest their victory-oriented ideology. In a survey they conducted of more than 700 business-to-business purchases, their findings showed that veritable "winners" of sales opportunities sell drastically differently that those in second place.
"Sales winners educate buyers with new ideas and they are much more likely to collaborate with buyers," explained Stritch. "This is what today's buyers want and what makes for a top-performing seller."
Evaluating Efficiency
The ability to identify, hire and develop top sales performers is something RAIN Group takes personal pride in. To best measure their clients' needs, they employ their partnership with the top sales and marketing tool, Objective Management Group, to offer sales assessments based on skills rather than personality—as they staunchly believe that prowess alone attributes to accomplishment in sales.
"Prior to sales training, we use our assessment tools to develop a curriculum that is tailored to each company's needs," said Stritch. "We have seller, sales manager and sales organization assessment tools that help us understand where skills gaps exist, who on their teams is best suited for sales roles and where the greatest opportunities for growth are in a company."
"Our assessment tools allow us to hone in on the areas that are going to make the greatest difference and develop a roadmap for our clients to achieve sales growth."
Future Prospects
The forward momentum at RAIN Group is a true testament as to how the firm is consistently expanding, and universally pushing sales teams to their peak performance level. As of late, they have released the results of their research study, Top Performance in Sales Prospecting, that exposed hundreds of B2B buyers and sellers on the ins and outs of modern sales prospecting.
"The results were fascinating and debunked numerous myths," established Stritch. The company is also holding a gratis webinar on June 28 on the 9 Habits of Extreme Sales Productivity to which they will be releasing a posthumous eBook, How Anyone Can Achieve Extreme Productivity.
"This will be one of our most exciting projects to date," proclaimed Stritch. "Stay tuned for the results."
RAIN Groups sales education programs have been consecutively recognized on the esteemed list of Selling Power's Top 20 Sales Training Companies, as well as the Stevie Awards over the years. These credits reaffirm that their methods are as sound as they are relevant in today's modern salesforce.
"We have been honored with these accolades because of our program and our results," said Stritch. "It goes to show that our learning system works. All of this didn't happen overnight. We're continuing to grow rapidly both domestically and abroad, which is an indicator that what we're doing is working and we're excited about where we're headed."
To find out more on the award-winning sales training programs that RAIN Group offers, visit rainsalestraining.com.