"Wealth is the ability to fully experience life," according to Henry David Thoreau, an American essayist, poet and philosopher. It's a sentiment many people can relate to, for all the money in the world is next to useless if you don't have time to enjoy the opportunities that wealth can provide.

Fortunately, One Concierge, a global concierge and lifestyle management solution provider founded by Arman Motiwalla in 2008, can help high-net-worth individuals, corporations, and others make the most of their wealth.
Motiwalla recently spoke with RewardExpert about the inspiration behind his company, growth in the worldwide luxury market, and why One Concierge is a one stop shop for any lifestyle connoisseur.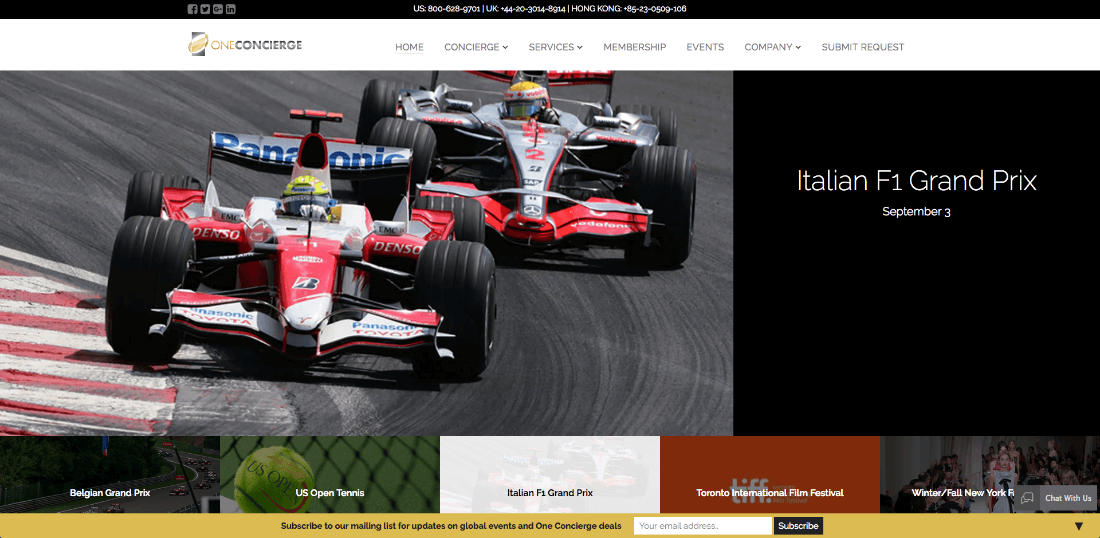 Specialized Services for the Luxury Lifestyle
Prior to founding One Concierge, Motiwalla worked in the private aviation industry.
"I had seen and experienced firsthand the pain points that some of my clients had and what constituted value to them," he explained. "In today's world, we often find that our most precious commodity is time. Regardless of net worth, we all only have 24 hours in a day."
Though his original focus was securing private jets, his clientele often requested assistance with other needs such as obtaining tickets and VIP access to events.
"We launched in Dubai and were privileged to be able to work with members of Middle Eastern royalty, which certainly helped to spur our growth and expansion," Motiwalla continued. "In 2011, we moved our headquarters to Boca Raton, Florida. At the time, there was no centralized source offering clients access to every corner of the lifestyle space on a global level."
"We now offer a variety of specialized services that cater to every aspect of the luxury and lifestyle industry to meet the ever-expanding needs of our global client base," Motiwalla said. "As a global lifestyle group, we now have departments that specialize specifically in private aviation, events and ticketing, travel, yachting, and real estate as well as commercial/corporate and enterprise solutions."
Today, One Concierge services clients in over 115 countries, from high-net-worth individuals to sports teams, automobile manufacturers, financial institutions, and Fortune 500 companies.
Continually Increasing Demand
"One of our biggest goals from the start was to expand our services to as wide of a client base as possible. In 2016, we were recognized by Inc. 5000 as one of the 5,000 fastest growing companies in North America and number 15 in the travel and hospitality space," Motiwalla said.
He sees global demand for both individual and enterprise-level solutions for concierge services continuing to expand rapidly.
"While companies can choose to reward their employees and clients with cash or other financial incentives, in today's competitive market, companies need to differentiate their offerings to retain talent and clients," he explained. "The need for alternative benefit solutions is sharply on the rise, and as such, we have seen much interest from the financial services, real estate, travel, and automobile industries."
One Concierge's individual clients are increasingly viewing concierge and lifestyle services as a necessity rather than a luxury.
"They need our services to maintain their lifestyle and remain productive and efficient," Motiwalla said. "The worldwide luxury market was in excess of $298 billion as of 2016, and we believe the luxury industry will continue to expand globally. Whether it is five-star hotels, fine dining, luxury vehicles, or putting together travel reservations, concierge and lifestyle services are at the center of the luxury industry."
On-Demand Services and Memberships Available
One Concierge offers clients on-demand concierge services as well as a selection of memberships.
"On-demand clients are non-members that utilize our services on an as-needed basis," Motiwalla explained. "We also serve thousands of others through our membership programs each year. When you offer everything from hotel arrangements to purchasing yachts, your average price point will vary greatly. For on-demand requests, the price point tends to be a few thousand U.S. dollars and includes our service fees. However, members pay a yearly membership fee—ranging from $3,000 to $25,000 per year—and no additional fees or charges."
Motiwalla added that One Concierge members also get the best negotiated rate or wholesale rate on any requested services thanks to the company's relationships with thousands of partners around the world, ranging from restaurants and hotels to fashion houses, entertainment conglomerates, and more. They also have 24/7 access 365 days a year via text, phone, WhatsApp, Skype, and email to One Concierge's dedicated lifestyle managers.
"Many of our clients started utilizing concierge and lifestyle services precisely because we are able to give them back their time," Motiwalla concluded. "We are vastly different from our competitors in the space and as a lifestyle group are committed to delivering value through proactive services that actually address our clients' needs and requirements."