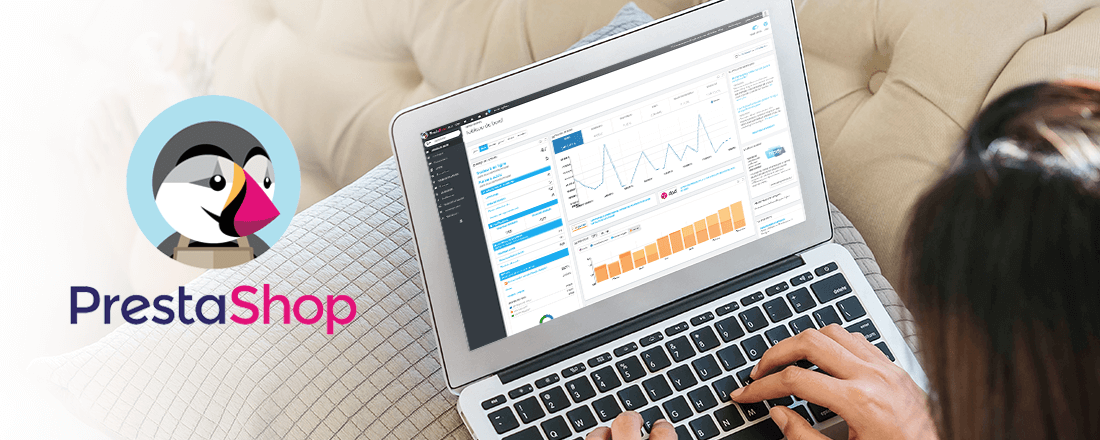 In 2017, retail ecommerce sales worldwide grew to $2.304 trillion, a nearly 25 percent increase over 2016's totals according to market research company eMarketer. This year, eMarketer estimates 62 percent of the world's internet users will purchase at least one item via a digital channel.

Many of the millions of companies selling goods through digital channels today choose PrestaShop as their ecommerce platform. Headquartered in Paris, France, and Miami, Florida, the ecommerce software company powers more than 270,000 ecommerce stores around the world.
RewardExpert spoke with Marine Roucheyrolle, PrestaShop's social media and communication coordinator, about the company's ecommerce platform and how simple it makes setting up an online store for any small business owner or entrepreneur.
Making Ecommerce More Accessible
Roucheyrolle said PrestaShop was founded in 2007 by Igor Schlumberger and Bruno Lévêque in order to make ecommerce more accessible for the world's businesses. "The company's mission is clear," she added. "It is to give anyone, in any country around the world, the ability to open up and run a successful online store."
Developed through open source innovation, PrestaShop offers a complete platform of tools to help businesses manage their ecommerce needs on a daily basis. "You can modify the software for your convenience," Roucheyrolle explained. "It's a complete, progressive and easily adaptable solution for online sale."
Thanks to that versatility, PrestaShop's customers run the gamut of small and big businesses. However, they all have one thing in common: their goals. "Everyone who opens an e-shop with PrestaShop is motivated by the idea of developing a successful online store and having all the keys necessary for that purpose," Roucheyrolle said.
Infinitely Customizable Online Stores
The PrestaShop community includes more than 1 million members—from merchants and developers to agencies and partners—working together to improve the software and make it better suited to the needs of the merchants who use it.
"PrestaShop is a constantly changing and improving solution for ecommerce," Roucheyrolle said. "We're often enriching the platform with new features and partner services." Despite this continuous evolution, getting started with PrestaShop remains very simple.
"There are only a few steps," said Roucheyrolle. "The first ones are to download the software, find a hosting service and choose a domain name. After that, you'll personalize your store by customizing the design, adding products to your catalogue, setting up payment methods and deliveries. Then you are good to go and ready to make your first sale."
PrestaShop Addons include 2,000 themes and more than 6,000 modules, making it easy to create an online storefront ideally suited to your business's products and customers. "A module is an extension that adds functionality to the PrestaShop software," Roucheyrolle explained. "Modules can also be referred to as integrations, plug-ins or widgets."
Some of PrestaShop's modules help businesses modify their store's design. "You can modify everything from your homepage banner to the content displayed in your menu bar," Roucheyrolle added. "The most popular module is our 'Theme Configurator.' It is built directly into the back office and lets you enable or disable many front office displays."
Other modules automate varies business tasks. "Do you want to reward customers for making purchases but find it difficult to keep track of who bought what?" Roucheyrolle asked. "With PrestaShop's built in loyalty and rewards module, you can automatically reward frequent customers for shopping on your website with a loyalty program."
There are also modules to help you connect your online store with other service providers, such as payment processors. "To help your PrestaShop store communicate with your payment provider, we partner with them to provide a free module which connects to their API. It contains a set of routines, protocols and tools that communicate data such as payment status, exchange rates and shipping costs to your PrestaShop store, which is then displayed back to the customer."
Improve Your Customer's Retail Experience
"PrestaShop is the best solution for people who are thinking about starting their own online stores as it is an open source software with infinite possibility for customization," Roucheyrolle concluded. "You can develop an online store that is 100 percent you and then dive into the PrestaShop Addons Marketplace to upgrade and improve the retail experience for your customers."
To learn more about PrestaShop's free platform and explore the ecommerce possibilities it presents for your business, visit prestashop.com.