According to a recent poll, getting a new job is once again among the top resolutions Americans have made for the new year. If you are among them, CreativeLive may be a great place to start. With over 1,500 curated courses by the world's top experts in a wide range of subjects, the online learning community is a valuable resource for professionals who want to enhance the skills used in their current careers as well as those who dream of turning their talents into viable businesses of their own.

RewardExpert spoke with Justin Barker, a CreativeLive channel head, about the community's history, courses offered and how you can use them to keep your New Year's resolution.
A Continuously Expanding Catalog of Courses
Co-founders Chase Jarvis and Craig Swanson launched CreativeLive in 2010 as an experiment in online education.
"Chase is actually a well-known photographer," Barker said, "and he became particularly well-known within the photography industry because he was always really generous in sharing his knowledge. While others were protective of what they knew about the skills needed in the field, Chase built a big audience by being transparent about his success."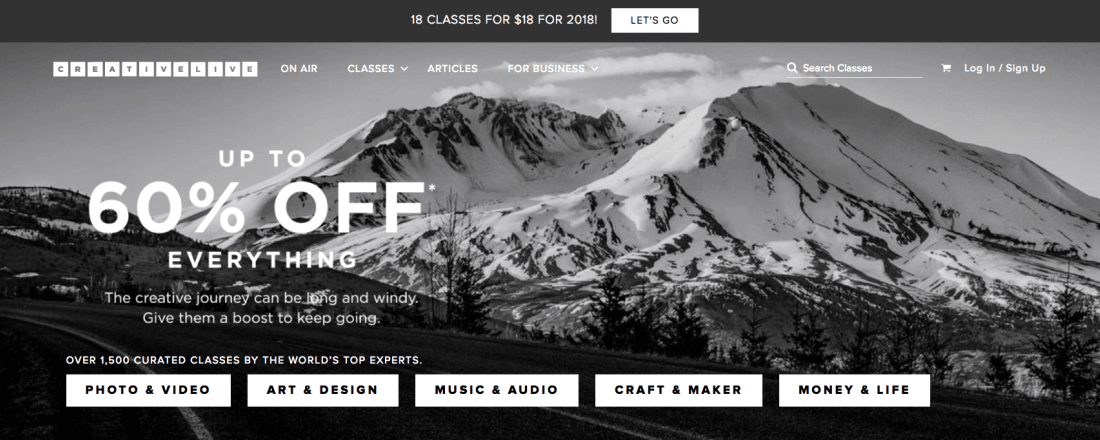 When Jarvis decided to leverage his reputation and turn blog posts into online courses for a much bigger audience, he wasn't sure how people would respond.
"It was kind of a test in the beginning to see if broadcasting live seminars would work," Barker continued. "But the early response was astounding, and the company has grown from there."
Though CreativeLive initially focused on subjects of interest to photographers and videographers, the community has since branched out into multiple channels including art and design, music and audio, craft and maker, and money and life.
"The list of classes available on our website grows every day," Barker enthused. "Our production calendar is always jam-packed."
More Than 10 Million Students Around the World
More than 10 million students from 25 to 65 worldwide have taken CreativeLive courses, said Barker. "Our typical students are people who are eager to continue to learn throughout their lives," he said. "They might be trying to advance their skills within a company they work for or as a creative entrepreneur."
Attending On Air classes—which are live broadcasts or rebroadcasts of previously aired courses—is completely free."If you tune into one of our live courses, you don't have to pay a single cent for it," Barker explained. "Just check out the schedule of upcoming courses online and RSVP to attend."
He noted that during live classes, students can submit questions that the instructor may answer on air. Some live classes also included bonus materials—such as study guides—that make it easy to follow along.
"Another way to use CreativeLive is to purchase access to courses in our catalog," Barker added. "You can search the catalog for subject matter that interests you or browse our topic channels."
While you will have to pay a fee—which varies by class—for catalog courses, Barker said that CreativeLive offers frequent discounts. Students can also save money when they purchase courses as bundles or as part of a curated learning path.
Leverage Your Talents to Launch a Business
CreativeLive's on-air schedule and catalog of courses is packed with learning opportunities for professionals who want to leverage their talents to create additional income streams or launch their own businesses as creative entrepreneurs.
"One of our major focuses is helping people create side businesses and turn their crafty projects into potential revenue earners," Barker said. "We really love to celebrate helping people earn more money than they're currently making in their freelance business as well as actually building a new business from scratch."
Just a few of CreativeLive's highly-rated courses for creative entrepreneurs include:
To learn more about the thousands of courses offered or to join the CreativeLive learning community, visit www.creativelive.com.