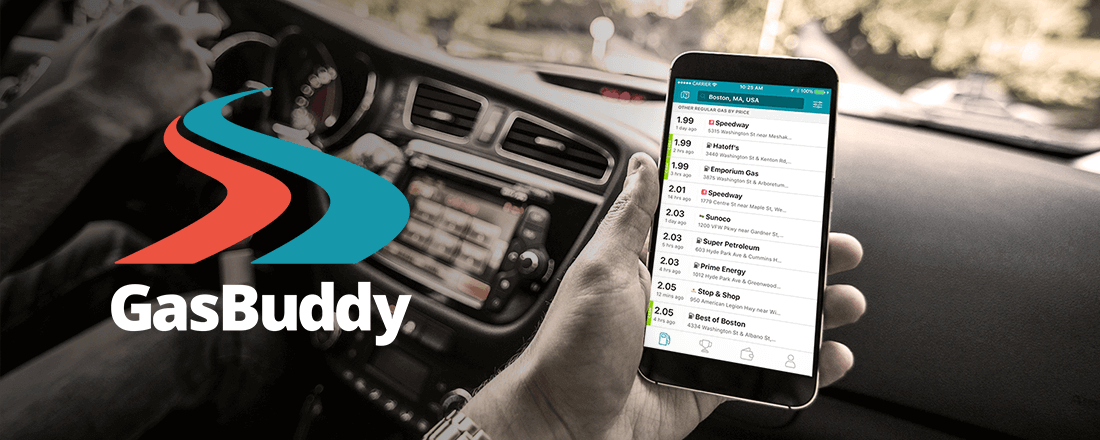 While keeping children entertained is certainly a challenge on long road trips, it's not the biggest source of stress for American families traveling the country by car. In fact, a recent survey of more than 1,000 parents with kids under the age of 18 found that "where to stop along the way" is actually the largest cause of anxiety and family strife.

Most surveyed parents cited clean bathrooms (98 percent) and fresh food options (88 percent) as crucial factors when selecting a gas station, convenience store or travel center at which to make a pit stop. If these amenities are also important to you, GasBuddy makes it easy to find them along with the stations with the cheapest gas prices, best lighting, friendliest service and more.
RewardExpert spoke with the company's Director of Public Relations, Allison Mac, about GasBuddy's history, newest features, and why you should use the app whether you're taking a long-distance road trip or just commuting across town.
Using Crowdsourced Data to Perfect the Pit Stop
Founded in 2000 by two childhood friends, Dustin Coupal and Jason Toews, GasBuddy was a crowdsourced data pioneer.
"Dustin and Jason were confused as to why gas prices varied at stations even within a couple blocks of each other," said Mac. "They were also frustrated by overpaying and decided to create a system where everyone could enter gas prices, access the shared information, and make the smartest decision on where to stop and fill up their tanks."
While it began as a web-based platform before the invention of smartphones, GasBuddy's usage—and functionality—has increased exponentially since its app became available.
"We're approaching 70 million downloads," Mac said. "And we receive 3 million data submissions from users each day in the form of gas prices as well as ratings and reviews."
A new feature launched in September 2016, ratings and reviews allow GasBuddy users to rate the gas stations and convenience stores they visit.
"We've become like the Yelp for gas stations and convenience stores," said Mac. "The reason we did this is because gas stations are evolving into true destinations. Some of them are beginning to look a lot more like Whole Foods than the traditional gas stations we're all used to. Now people can rate the lighting, customer service, coffee and cleanliness of a station as well as enter gas prices."
"Imagine you're on a road trip in an unfamiliar place and need to use the restroom," Mac continued. "You can open the GasBuddy app and find the next pit stop that has everything you need as well as a good star rating. You'll know before you go if the restrooms are clean or there are sandwiches and other food available. GasBuddy really is the smartphone app to connect drivers to their perfect pit stop."
An Essential Tool for Every Summer Road Trip
According to Mac, more Americans are planning to hit the road this summer than ever before.
"It's probably because gas prices are relatively cheap compared to years past," she explained. "Right now, the national average price for a gallon of gas is in the low $2 range."
However, she's quick to stress that road trippers should still use the GasBuddy app to maximize their savings.
"When prices are universally low, the spread between stations actually widens," Mac said. "This is because gas station owners have more flexibility to increase their prices and profit margin, something they can't do when prices are high. If the average is $2 and a station owner decides to charge $2.90, many people won't be thrown off by that. As a driver, you should watch out for that price spread. You can easily be overpaying when you don't have to."
She also encourages travelers to utilize GasBuddy's online Trip Calculator before they head out.
"It's an awesome tool," she said. "Enter your vehicle's year, make, and model along with your starting location and final destination and GasBuddy will estimate how much you'll be paying for gas. We'll also tell you where the cheapest gas stations are along the way."
And while on the trip, don't forget to use GasBuddy to find stations and convenience stores with the amenities you need.
"If you need to stop for a cup of coffee, put air in your tires and get a car wash, you can filter the results and find a gas station that offers it all," Mac said. "Or if you're a single woman traveling alone and it's getting dark, you can find the station with the best lighting. That's important information to know."