Planning for a vacation leads to a more enjoyable trip. You can pick out the best restaurants, attractions, and hotels at your destination. But should you trust a random website with biased reviews for the success of your vacation? Absolutely not! This is where TripSavvy comes in. They pick qualified writers that are actually from the city you want to visit. Then those writers use their expertise to write about the best things to do their town. This local's perspective gives you an insider's point of view and improves your overall vacation experience.

I had the pleasure of speaking with Molly Fergus, the General Manager at TripSavvy. She shared how TripSavvy works and what sets them apart from all of the other travel review websites.
The Story Behind TripSavvy
TripSavvy is the brainchild of the people behind Dotdash (previously About.com). They realized that readers wanted a more travel-focused experience, so they launched TripSavvy in May 2017.
Although TripSavvy is a new website, there are over 20 years worth of content, reviews, and answered questions that have been condensed into the foundation of TripSavvy. The effort behind TripSavvy has been rewarded with comScore ranking it as one of the top-10 travel information sites in the world. In 2018, TripSavvy has been recognized with multiple awards such as the Eppy Awards, the W3 Awards, and the Communicator Awards.
The website is focused on writing stories that appeal to readers who are planning trips and looking for inspiration for their next vacation. For example, a reader can get a complete guide to New York City or find the best fusion tacos in Los Angeles.
Why Using Local Experts Is Better
Have you ever read a review and come away unsure if the writer truly knows what they're talking about? The internet is one big anonymous message board and sometimes you don't know if you're getting good information or not.
TripSavvy recognizes those concerns and addresses them head-on. Rather than rely on anonymous reviewers for their content and reviews, TripSavvy works with experts who live in the communities that you want to visit. Don't rely on a New Yorker that's visited Dallas once tell you where to find the best Tex-Mex. You want someone that actually lives in Dallas shares that local knowledge.
Currently, there are over 50 writers on staff at TripSavvy, ranging from lifetime locals to licensed tour guides. These writers share useful travel advice and inspiration from destinations around the world.
How Does TripSavvy Benefit Travelers?
TripSavvy is a collection of city guides and reviews of hotels, restaurants, and attractions by experienced travelers, local experts, and licensed tour guides. This incredible knowledge is designed to improve the vacation experience of anyone that visits TripSavvy.
When you visit TripSavvy, you can search by destination or gain inspiration based on the type of vacation you'd like to have. For example, you can choose between beaches & islands, family vacations, spas & wellness, a golf vacation, or food travel.
And if you need help with trip planning, TripSavvy has you covered. They offer reviews of travel tech & gear, safety & insurance, cruises, and car rentals. And, since we all love airline miles and hotel points, TripSavvy offers some excellent tips on how to make the most of your travel rewards.
Where In The World Is TripSavvy?
TripSavvy's content is primarily focused in the United States, but they do have international coverage. You'll find a wide array of topics that will answer your questions about an upcoming trip and inspire you to start planning the next one.
Here are a few of their latest articles:
Whether you are looking for US destinations or planning trips around the world, TripSavvy has you covered.
TripSavvy Editor's Choice Awards
Each year TripSavvy curates the best of the best to recognize them for an Editor's Choice Award. The editors at TripSavvy work with their data scientists and engineering teams to score every hotel, restaurant, and attraction that has been reviewed by a TripSavvy writer. Once every business has been scored, the local experts help choose the winner based on their local knowledge and feedback from readers.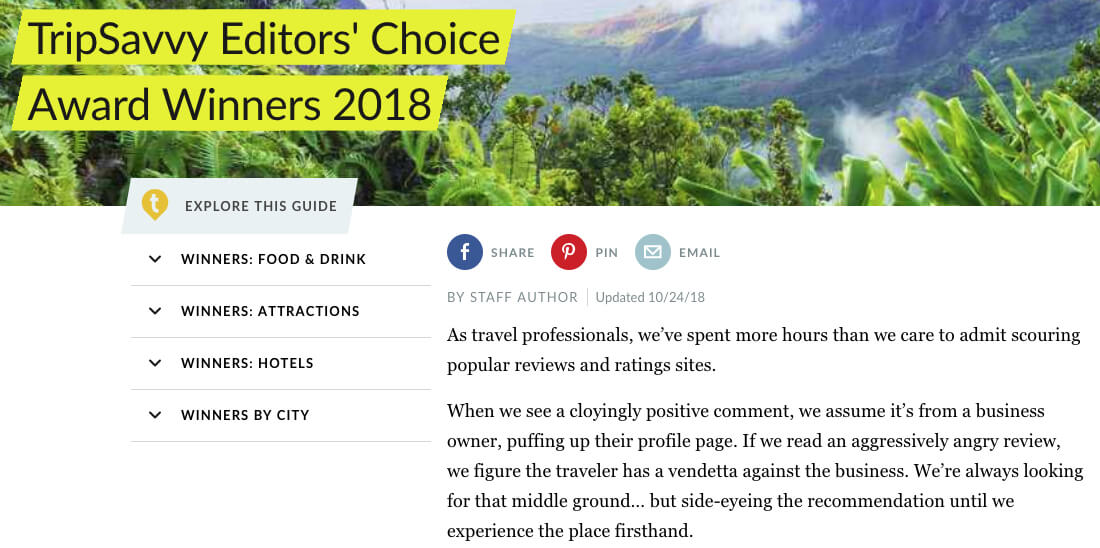 As travelers search out new places to visit, they can count on the TripSavvy Editor's Choice Awards. The winners help them find the best hotels, restaurants, and attractions for their next vacation.
What's Next For TripSavvy?
As we start 2019, TripSavvy will continue to write content that helps readers plan their vacations. The local experts are writing more guides and reviews so that readers will be inspired to travel. And you will know which businesses to visit and which to avoid.
TripSavvy is forecasting that they will be able to double the amount of content available for readers in 2019. They're constantly on the search for new writers and local experts that can improve the vacation experience. And even more locations around the world will be added to the library of content.
But that's not all, TripSavvy is also planning to expand the functionality of their maps to make them more useful for readers. The TripSavvy team has a lot of great upgrades in store, and I can't wait to see what comes next.
If you would like to find out more about TripSavvy, connect with Molly and her team at TripSavvy.com.