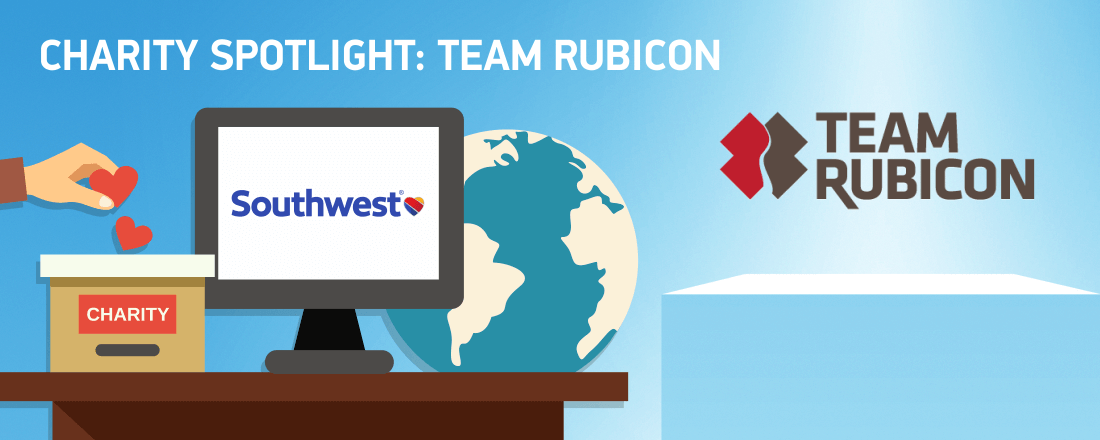 In 2010, U.S. Marines William McNulty and Jake Wood put together a small team of military veterans and first responders to head into Haiti after the earthquake. They were in Port-au-Prince three days after the quake, providing much needed medical services and supplies while many relief organizations were still waiting to enter the city.
Team Rubicon was born, and it has since grown its ranks to 40,000 volunteers who have participated in over 120 operations around the world. You can support their disaster relief efforts by donating your Southwest Airlines points.
Disasters Are Our Business
Team Rubicon's primary mission is to provide rapid relief in the wake of natural disasters and during humanitarian crises. The organization's goal is to be able to put a team in the field for any given mission in less than 24 hours. They get there first and bridge the gap between the disaster and when more traditional relief organizations can mobilize.
Military veterans are uniquely qualified for this type of work. They've been trained and have gained experience dealing with similar challenges during deployment. Emergency medical training, risk assessment, teamwork and leadership are all skills that help when faced with limited resources, patchy information and a wary population.
Team Rubicon has organized relief missions both domestically and internationally. They were in Nepal after the earthquake; they were in Sierra Leone during the Ebola epidemic; and they were in Pakistan after the country's worst flooding in over 100 years.
Current operations include firefighting and support in Santa Clara, California, relief and cleanup in the wake of Hurricane Matthew in North Carolina and emergency medical services for Syrian refugees in Greece. Team Rubicon volunteers are everywhere they're needed.
Veterans Are Our Passion
Team Rubicon does more than provide timely humanitarian assistance to the hardest hit places, it also offers military veterans support with their transition to civilian life. By volunteering, veterans gain three things that they typically lose when they leave the military:
Purpose through providing disaster relief
Community by serving with others
Self-worth by recognizing the impact an individual can make
Between relief missions, Team Rubicon offers a variety of programs to help members stay active and connected. Volunteers are encouraged to participate in service projects in their local communities. They typically last a few days and can be anything from removing debris after a disaster to helping a veteran with home maintenance.
Team Rubicon also offers advanced training to its volunteers. Not only do veterans gain important disaster relief skills, but they also remain connected to the Team Rubicon community. Programs range from certification to use tools and equipment to leadership and management training.
Team Rubicon also knows that it might not offer everything a veteran needs. It works to connect veterans with outside resources that can fill that role, such as Stop Soldier Suicide, Guard Your Health, POS REP and Team RWB. While disaster relief and service is its main focus, Team Rubicon works hard to create a supportive community for its veterans.
Team Rubicon and Southwest Airlines
Southwest's partnership with Team Rubicon is important to the success of the organization. Laura Atwell, Director of Development at Team Rubicon, put it bluntly: "We couldn't do what we do without Southwest."
The airline provides Team Rubicon with over 600 passes for flights every year. Without those passes, it would be very difficult to move volunteers around the country. Skilled members, such as medical staff, team leaders and specialized equipment operators, often have to travel great distances to get to where they're needed.
Team Rubicon's distinctive grey T-shirts emblazoned with their logo are quickly recognized by Southwest employees. Appreciation for their service isn't far behind, and Southwest does everything it can to make volunteers as welcome and comfortable as possible during their flights.
Southwest encourages members of its frequent flyer program, Rapid Rewards, to donate their points to Team Rubicon, too. Those points become much needed flights for volunteers. While cash donations are also welcome, airfare is always needed, plus you'll know exactly what your points will be used for. It's an easy way to support this worthy cause.
Serving Two Causes
Team Rubicon's mission is twofold: to offer rapid response relief during disasters and to support veterans with their transition from military to civilian life. Veterans' unique skills are indispensable in emergency situations, and volunteering offers a sense of purpose, community and self-worth that is often lost after serving. So donate your Southwest Rapid Rewards points and help both veterans and disaster victims.