When driving oneself isn't an option, and taking a bus, train or subway is either impossible or inconvenient, an increasing number of travelers are turning to ridesharing solutions to find transportation to where they want to go. But what if you could avoid the safety concerns of Uber and Lyft without sacrificing their convenience? You can—if you use Curb to hail a taxi instead.
RewardExpert recently spoke with Jason Gross, the company's head of product and marketing, about how Curb works, new developments expected this year, and his best tips for using the app on your next vacation.
Book a Taxi Instantly or Schedule a Ride in Advance
Run by Verifone Taxi Systems, which acquired the company in 2015, Curb connect travelers in more than 65 U.S. cities with the nearest available of more than 50,000 licensed taxis driven by background checked and insured drivers. To date, Gross says the free Curb app (available for iPhone and Android) has been downloaded 2 million times.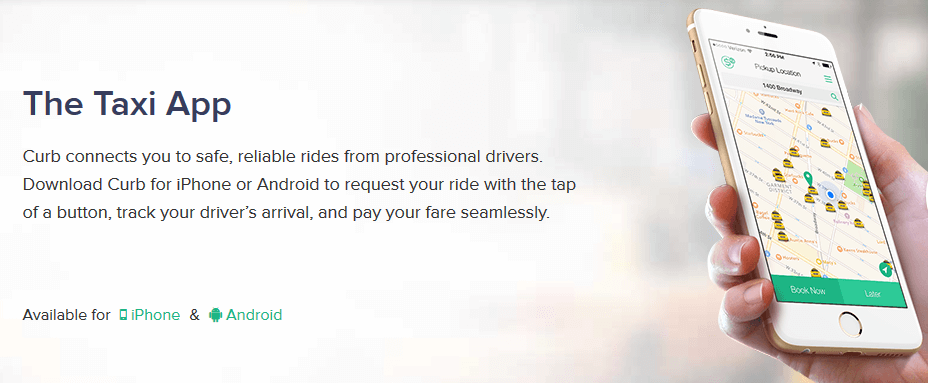 You can use Curb to book a taxi instantly or request a ride up to 24 hours in advance—an option that was previously unavailable in many metro areas.
"In some cities like New York," Gross said, "it has never before been possible to book a yellow or green taxi in advance. In some markets, that's a never-been-done thing and in others, it's just a real convenience. Right now, we're limited to 24 hours but we'll be expanding that timeframe as we move forward."
The company will also be expanding Curb's vehicle options.
"We've recently added the ability to request a wheelchair accessible vehicle in New York," according to Gross. "That's going to be coming to cities all around the country. We're working on some options to allow other types of vehicles as well as more convenient ways to use the app. I can't go into any detail yet, but there's a lot of exciting stuff coming over the next two or three months."
Pay for Any Taxi Ride Quickly and Securely
Whether you hailed a taxi on the street the old-fashioned way or requested one through the app, you no longer have to dig through your wallet for cash or hand your credit card over to the driver for processing. Curb stores your credit card information, email address, and the percentage you prefer to tip, allowing you to complete your transaction seamlessly and securely.
"When you get into a cab, look for the seven-digit code on the computer screen in the backseat," Gross explains. "Punch that code into the app to identify the ride you want to pay for. It already knows the credit card you want to use, what tip you want to give, and what email address to send the receipt to. When your ride is over, you can just hop out."
"Our typical rider is someone who sees the benefits of using a properly marked, licensed and insured taxi to get around but wants the convenience of being able to book and pay for that taxi with an app," Gross continues. "They get the efficiency and simplicity of mobile payments and booking along with the predictability of set pricing."
Unlike Uber, you don't have to worry about surge pricing when using Curb. You will, however, pay a small fee (currently $1.95) each time you book a taxi through the app.
Tips for Using Curb to Simplify Your Travel Experience
Use Curb in any taxi in a Curb city. "Even if they can't pre-schedule or book a cab through Curb at the airport itself, travelers should remember they can still use the app to pay for any taxi they hail at the taxi line," said Gross.
Pay attention to medallion numbers. When you do use Curb to book a ride, Gross suggests always confirming that the medallion number in the app matches that of the taxi that arrives "to make sure you're getting into the right cab."
Refer to Curb's digital records. If you happen to leave something behind in the cab, you can refer to the information stored by the app and contact the driver directly to retrieve it.
Make quick work of expense reports. "Curb makes for a much more efficient travel experience, especially for business travelers who are going to have to submit an expense report down the road," Gross said. "Whether they use Curb to hail the cab or book it in advance, or get into a cab on the street, all of their receipts and payments are stored in one place."