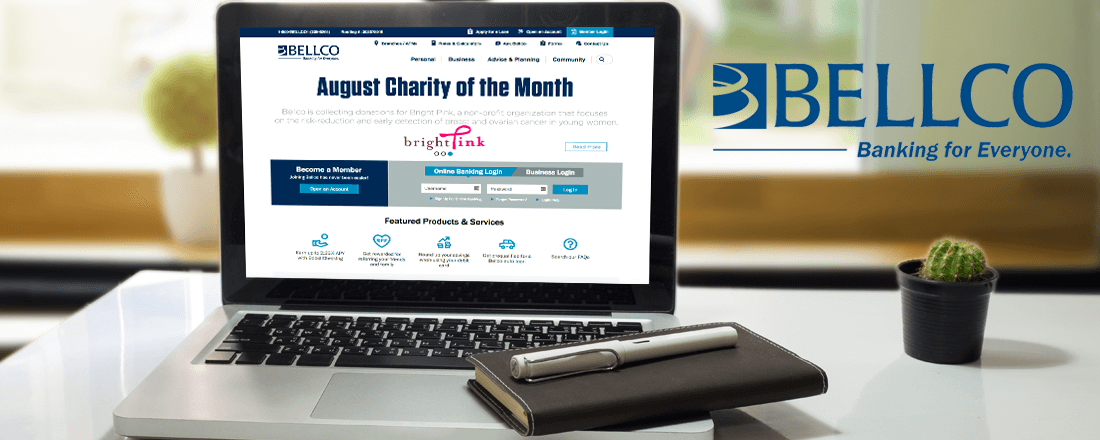 After more than 80 years in business and over 300,000 members, Bellco is more than just your run-of-the-mill credit union. It is a place to save for the future and an organization dedicated to serving its local communities and building relationships with its members. Jim Johnston, senior marketing manager of Bellco, spoke with RewardExpert about what sets Bellco apart from the competition and how the credit union looks to help customers manage their personal finances in the best way possible.

Credit Union vs. Bank
Bellco was founded in 1936 during the heart of the Great Depression after President Franklin D. Roosevelt signed the Federal Credit Union Act into law. This gave ordinary citizens access to affordable credit to cover expenses like their electric bills.
Last year, Bellco celebrated its 80th anniversary. Johnston credits its members for this. "Thanks to them that we've been able to achieve the successes we have – both in terms of our business, with $3.7 billion in assets and our philanthropic endeavors."
The credit union has exemplified its tagline of 'Banking for Everyone' by providing its members multiple ways to benefit from the broad range of services it offers. Johnston explained, "While banks focus on shareholders and stock value, Bellco exists to serve our members, which means we return our 'profits' to our members in the form of lower rates on loans, higher interest on deposits and better overall services."
Bellco is based in Colorado and for the past three years has been voted the Best Credit Union in Colorado by ColoradoBiz Magazine readers.
Offering Helpful Services to their Members
Bellco members can take advantage of many personal and business offerings, such as checking accounts, savings options, loans and credit cards. Consultation and planning services are also offered, as are insurance products, which are available through several partner organizations.
The Mobile Banking App allows members to deposit checks, pay bills, transfer money, get customized account alerts, check balances and find nearby branch and ATM locations. Bellco is part of a network of more than 4,500 branches and 30,000 surcharge-free ATMs nationwide. "Bellco works to ensure members can easily and conveniently service their banking needs while on the go," stated Johnston.
In addition, the credit union offers a high-interest checking account, which is a rare find in a low-interest world. "Whether you want to put away money for a large purchase – such as a down payment on a new home or to purchase a vehicle – or you need a secure way to generate a return on money you've already set aside, certificates of deposit (CDs) or high-interest checking accounts can be a solid option. Bellco offers some of the most competitive rates on CDs and checking accounts in the nation."
Giving Back to the Community
While Bellco does a lot to keep their members happy, the credit union also serves its surrounding communities. In 2017 alone, Bellco has donated to more than 100 local community organizations and sponsored more than 60 community events. Through its Charity of the Month program, it features local charities that play a vital role in the community by collecting member donations and creating awareness for worthwhile causes.
"Bellco takes great pride in giving back to different communities that have made us successful for more than 80 years," replied Johnston. "We aim to make small, but meaningful contributions to people in the communities we serve in simple, unexpected ways." It recently partnered with a local Meals on Wheels organization to help serve lunch at the community senior center. The credit union has a #BellcoGivesBack team, which has been busy popping up in random places to provide surprises to people in the community.
Becoming a Member of Bellco
To get started with Bellco, you can apply for an account online or in person at one of their branch locations. The only requirement is to pay a one-time $5 membership fee and $25 opening deposit. In addition, while you need to be a resident of Colorado or have a family member who is already a member to join, anyone in the U.S. who would like to become a Bellco member can join through the Bellco Foundation, a 501(c)3 organization.
High Quality Service for the Next 80 Years
As banking evolves, Bellco is evolving too, incorporating state-of-the-art digital services. The credit union's tradition of high-quality service and forward looking mentality "provides members peace-of-mind, knowing that Bellco is there to help them meet their short-term and long-term financial goals," said Johnston. "We look forward to the next 80 years and beyond, partnering with our members to ensure the ongoing growth and vitality of our credit union and the communities we serve."