When it comes to receiving one-on-one instruction, look no further than Wyzant, the nation's largest online marketplace for tutoring.
Abigail Hunt, senior brand director of brand and communications for Wyzant, said the company offers individuals the one-on-one help they need, when they need it most.
Hunt spoke with RewardExpert about the company's exponential growth in just a decade's time, as well as how offering a service that is affordable and accessible can lead to success for both the company and its customers.
Founded by tutors
It's no coincidence that a service that relies on tutors was started by tutors.
In 2005 CEO Drew Geant and his Princeton classmate, Mike Weishuhn, started Wyzant. Weishuhn is the technical co-founder and lead of digital marketing.
"Drew had been a tutor while in college, and loved working with students and seeing how one-to-one instruction positively affected the confidence of his students," Hunt said. "But he also realized it wasn't easy for students to locate quality tutors, and for tutors to find business. Hence, a marketplace was born."
The marketplace is open to everyone
Hunt said there are three main reasons that Wyzant stands out from the competition.
The first involves the community of instructors that provide comprehensive experience — that is, more than 80,000 instructors in 300-plus subjects.
"They understand the struggles of students because they have seen it all, and they know how to help learners move beyond their current challenge," she said.
The second is that it's truly a marketplace that gives the power to the people. Students can seek the type of instruction they desire. Students answer a few simple questions and then select from a pool of qualified candidates — many of whom are reviewed by users.
Students can also pick a price point that works for their own pocketbooks, along with the choice of meeting tutors in reality or online.
Finally, Wyzant's online learning tool gives students the flexibility to connect anytime and anywhere with an expert. It includes an interactive whiteboard, a text editor, a code editor, screen sharing, and other tools.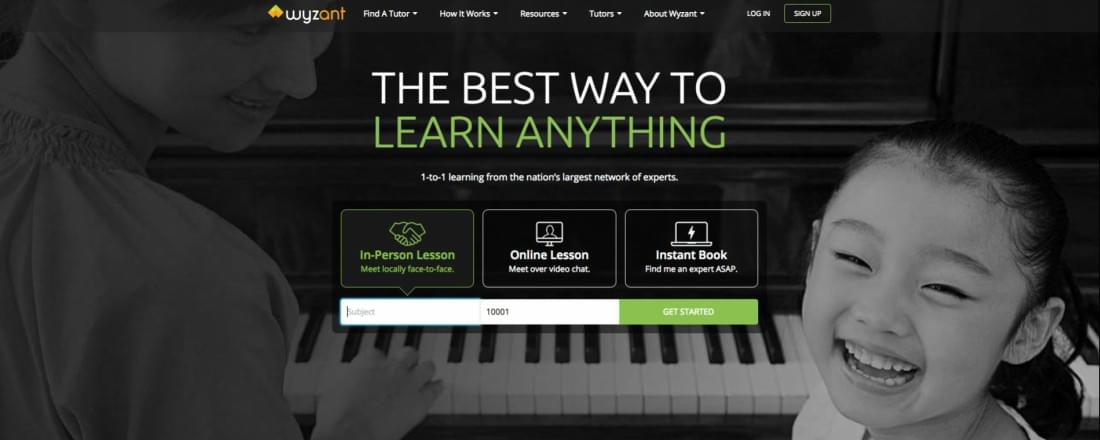 Industry adaptations related to tutoring
In the past, tutoring has been associated with traditional K-12 education, Hunt said. The industry has adapted, though. These days, the fastest growing audience is adult learners, who make up about half of the student database.
Learning new languages — either to connect with other cultures or to travel more easily — is one way adults are engaging. Others are looking for help with job-related challenges.
"For example, a marketing analyst may be struggling with a certain project in Excel, and they quickly book an online lesson with an expert who can help them solve their problem," Hunt said.
And then there are those who just want to advance their personal hobbies, from photography to piano lessons.
A shift in ideology
Hunt said people expect more from tutoring than they used to — things that asynchronous education platforms don't provide.
Wyzant sees an ever-growing adult audience that is attempting to overcome personal hurdles and achieve goals, and wants to do it on their own schedule, so the adult learning space is already the focus of the company, and will remain so in the future.
"With more people turning to our online learning tool to connect with experts, it literally opens them up to a world of experts that they wouldn't normally have access to," she said.
Visit www.wyzant.com to learn more.