In the evolving world of information technology, it's important to be in the know on new developments and innovations. With new markets and value networks constantly being created, a viable source for industry analysis is central to the success of emerging companies in the IT arena. 451 Research is a research and advisory firm that specializes in data-driven insight for technology and service providers, enterprise IT leaders and financial professionals to help gain a clearer vision into these emerging segments.

451 Research was started in 2000 by four tech journalists who were bent on providing a more imminent perception into the developing analyst world. At the turn of the millennium, the firm focused attention on startups and emerging technologies. While paying close attention to the venture capital community, it quickly built up a comprehensive M&A practice and database. Almost two decades later, through key acquisitions, expanded product offerings and supreme advisory services, they now employ over 100 analysts and consultants who bring priceless insights to more than 2,000 client organizations globally.
"451 Research continues to track emerging technologies," explained Cassandra Rowe, Content Marketing Specialist at 451 Research. "Our early and in-depth understanding of foundational tech such as virtualization and grid computing put us in a unique position to cover the transition to cloud computing, and now edge computing, as well."
Emerging Disruption
"Insight in the age of digital disruption" is the motto of 451 Research, as they currently concentrate on data-driven advising in the emerging, disruptive technologies industry. They continue to stay at the forefront of new research practices for digital economics, and enable technology vendors and service providers to achieve greater levels of success and efficiency, while capitalizing on their respective market opportunity.
"Beyond our regularly produced products like Voice of the Enterprise, Voice of the Service Provider and Market Insight, 451 Research offers comprehensive advisory services to our clients through our Strategic Advisory Service and Go 2 Market Services," further outlined Rowe. "This ranges overall strategic planning, content marketing support and even product development through roadmap validation by our consulting team."
When it comes to making self-assured investments and acquisitions, 451 Research's data and analysis is second to none. Their online M&A database is buoyed by well-informed IT market analysts and offers coverage on 650 tech sectors. Their tailored analysis affords comprehensive profiles and is changing the game for some of the most disruptive privately held companies in the market.
"Our Tech M&A Knowledgebase is a global database of 50,000+ transactions from around the globe and encapsulates detailed information across the lifecycle of privately held tech companies," stated Rowe. "This changes the game by arming subscribers—commonly in the investment banking, private equity and corporate development sectors—with the information they need to make investment, alliance and acquisition decisions with confidence. Regarding the disruptive private companies we track, the KnowledgeBase gets their names in front of our subscribers, but our insights are determined by the data we gained from these companies and the insights we draw from it."
In the Clouds
As cloud technology continuously sees exponential growth in the IT realm, enterprises look to utilize its resources in any way possible. 451 Research simplifies complex pricing models of public and private clouds with their Cloud Price Index (CPI) platform, an incredible resource for companies shopping for a cloud vendor.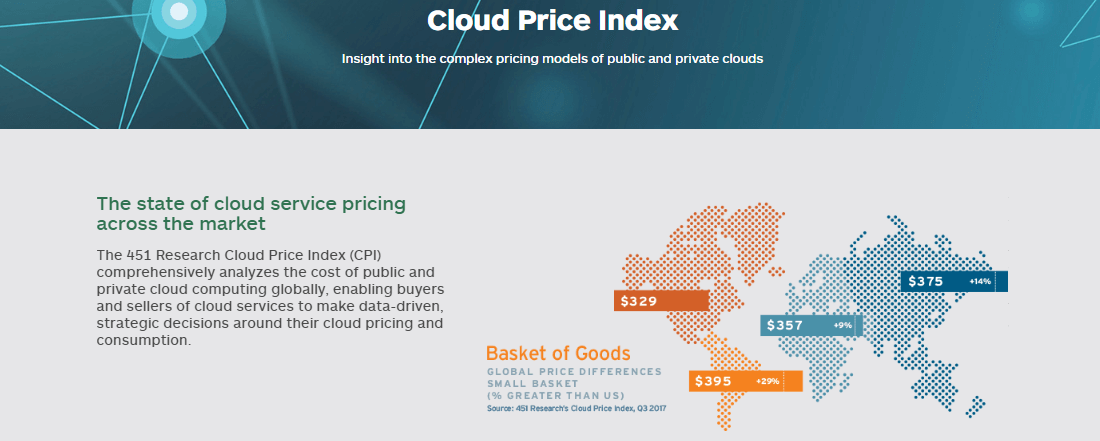 "Our Cloud Price Index (CPI) uses a "basket of goods" methodology to help buyers assess the value of the private, public and hybrid cloud options available and helps cloud providers and vendors build out a competitive pricing strategy," illuminated Rowe. "More generally, it also uncovers how the cloud industry evolves quarter to quarter and makes predicts future trends based on the data and insights gained from cloud users and providers that go beyond the final dollar amount on the dotted line."
There is constant newness in the works for 451 Research. More than ever before, their clients are able to recognize and apply the essentials of their top-tier research and data, while flawlessly assimilating that invaluable information into their day-to-day decision-making.
"We are constantly innovating at 451 Research, so there is always something brewing," assured Rowe. "Particularly, we just launched our new research dashboard which has completely transformed how our clients consume our research and data. Empowering them to get the content they need when they need it helps guarantee that our clients see value in our relationship and in the services we provide them."
To find out more about 451 Research's IT industry analysis and advisory services, and how they can help you take advantage of your particular market opportunities, go to 451research.com.