RewardExpert 2017 Mishandled Baggage Report
With millions of people traveling daily by air, it's inevitable that bags will go missing on occasion. In fact, the Department of Transportation reports that the highest number of complaints related to air travel is for mishandled baggage. Yet when it happens to you, it's no longer just a statistic, so it helps to be prepared.
RewardExpert looked at DOT domestic-system data to determine which airlines offer the best baggage experience and which ones miss the mark. We analyzed the performance of 13 airlines from October 2013 to September 2016 to see how they ranked based on reported numbers of baggage complaints compared to the number of passengers on board. We also looked at the time of year baggage blunders are most and least likely to occur across the board. The numbers representing mishandled baggage were based on reports carriers received from passengers concerning lost, damaged, or pilfered baggage.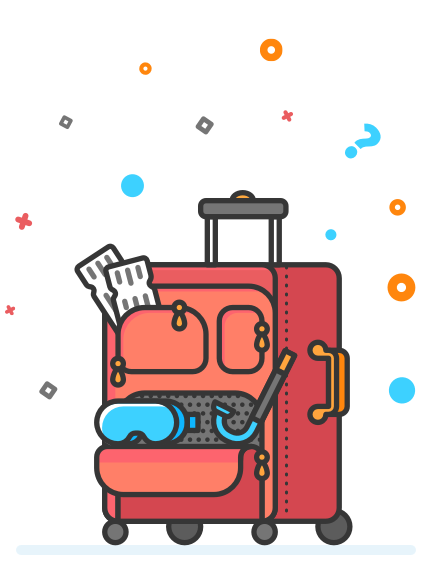 Key Findings
If you want to fly confidently knowing your bags will arrive with you, you can trust Virgin, the top-ranked performer based on baggage problems compared to the number of passengers flying with them.
Among the major carriers, Delta reigned supreme when it comes to getting your bags to where they need to be.
Winter months most frequently leave passengers stressed at the carousel, with January ranking as the worst month for baggage misfortunes. Actual numbers of complaints in winter and summer are highest and about equal per season.
If letting go of your precious cargo causes high-altitude anxiety, regional carrier Envoy Air is not your best choice. They ranked dead last, with baggage complaints being nine times more likely for passengers flying Envoy Air than Virgin.
When autumn leaves start to fall, so do reports about baggage problems. September is ranked as the least likely month for lost or damaged bags, and it had the fewest actual baggage reports. In fact, the entire fall season experienced the lowest percentage of claims.
Best to Worst Airlines for Suitcase Success*
*Percentage of mishandled baggage complaints based on total number of passengers
Source:
RewardExpert's analysis of US Department of Transportation data collected by the Bureau of Transportation Statistics

See here for a peer-to-peer assessment broken down by major, regional, and budget carriers
Best and Worst Months for Baggage Blunders
You may think baggage mishaps increase when there are more passengers on board, but that's not a hard and fast rule. In spite of the fewest number of people flying in January and February, claims were substantially higher than in October and November, when the numbers of people flying were just a small percentage higher. Let's see how all 12 months of the year stack up.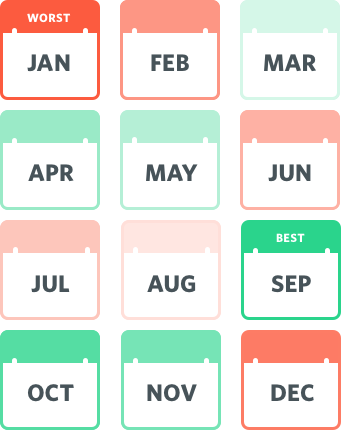 Percentage of complaints:

Whether it's the weather or the holidays, winter is the worst season for baggage problems. While January was ranked as the overall worst month based on number of complaints per traveler on board, December had the highest actual number of reported problems.
If spring fever brings on the travel bug, then you're in luck as it is the second-best season to fly without fear of baggage woes. Despite the showers, April ranks the best out of the spring months for baggage performance.
In summer, the temperature is not the only number going up — the number of people flying and baggage complaints are, too. July reported the most passengers traveling and the third highest number of baggage problems.
If you're willing to delay your summer vacation until September, it could be worth it to know your bags will be least likely to go astray. Rankings indicate that fall is the best time to travel problem-free, and September is the best month of the entire year.
If you've got the baggage blues, here's what to do:
If you see damage, check the contents right away and report it to the airline before leaving the airport. If you are home, call the airline immediately and record time and date of the call and the name and number of the representative. Follow up ASAP with a certified letter.
Make sure the airline creates a report and gives you a copy. Get names of employees contacted, and retain all documents, stubs and receipts for costs related to the problem. If you must turn in baggage stubs, take a photo of them, note it in writing on the report, and retain a copy. A prior photo of the bag can help identify it as yours.
Negotiate. Ask for checked bag fees to be refunded, and ask what the airline will cover for the cost of missing belongings and their delivery if and when found.
Ask your credit card company and travel insurance about what costs they cover for lost, damaged or delayed baggage.
If they provide coverage, credit cards usually require the entire cost of the flight to have been charged on that card. A flat rate per day or a portion of the difference between the airline's reimbursement and the cardholder's claim may be given. Money spent due to delayed bags may also be covered. Some cards reimburse the full cost of missing gifts purchased with their card.
We offer advice on preparing for problems with travel insurance.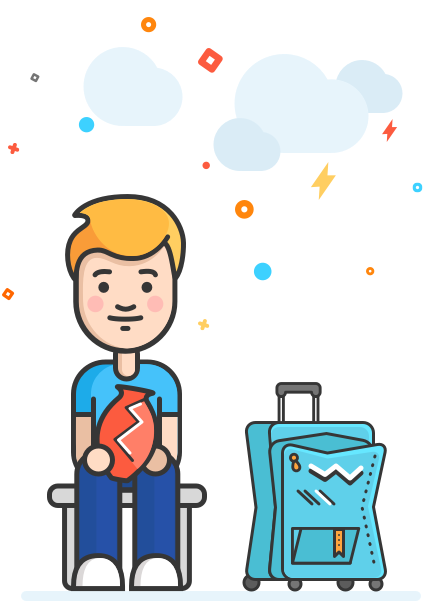 Source:
DOT Fly Rights, A Consumer Guide to Air Travel
https://www.transportation.gov/airconsumer/fly-rights

Methodology
Source: Data was collected from the US Department of Transportation Mishandled Baggage Report based on data collected by the Bureau of Transportation Statistics from October 2013 to September 2016 for all reporting airlines.
Airline rankings for mishandled baggage reports: The percentage of total baggage reported to emplaned passengers is used to drive the ranking for airlines. Total baggage reports and emplaned passengers was for the domestic system only. Baggage reports are passenger reports of mishandled baggage, including those that did not subsequently result in claims for compensation. Mishandled baggage refers to the total number of reports each carrier received from passengers concerning lost, damaged, delayed or pilfered baggage.