2017's Best Cities for Halloween
RewardExpert digs into the five best cities in each region of the country to find Halloween vacation spots that are so good, it's scary
Fall is a little bit of a middle child when it comes to travel. Summer vacation gets all of the headlines. Vacationers head to the airport and hit the beach so they can beat the heat unwind from work and school. After autumn is over, winter travel season starts. You get to go home for the holidays to see the family, roast chestnuts on an open fire, let Jack Frost nip at your nose – you know the drill.
With all of the hubbub surrounding travel during those seasons, it's easy to forget some of the great things about traveling during fall. And there's no better time to travel after the leaves have changed than Halloween. It's an exciting holiday and cities throughout the country pull out all the stops for citizens and visitors to have a spooky good time. Whether you're looking for a raucous Halloween costume bash, a hair-raising haunted tour or a family-friendly jaunt through a pumpkin patch, there are dozens of great cities all around the country to visit at the end of October.
RewardExpert dug into the top 20 most populous areas in each region of the country to determine the five best Halloween vacation destinations, based on Halloween activities, climate, safety, price and ease of transit.
Jump to a Region
Midwest
States in the Midwest: Illinois, Indiana, Iowa, Kansas, Michigan, Minnesota, Missouri, Nebraska, North Dakota, Ohio, South Dakota, Wisconsin.
1St. Paul, MN
St. Paul is a great place to go in the Midwest for Halloween travel. You can enjoy the crisp autumn weather just about every day, with highs staying strictly in sweater weather territory in the low 60s and lows seldom dipping below 45. The weather is textbook Halloween, it's safe and easy to get around and there's a surprising amount to do for visitors. On top of all of that, scare seekers can get some hair-raising fun checking out the Wabasha Street Caves: a haunted mobster hideaway.
2Lincoln, NE
Lincoln is a trick-or-treater's paradise, with high walkability and bikeability scores, and it's also the third-safest city in the region, for parents that are looking to let their children roam a bit. The city also has plenty of hayrides and corn mazes for group-family activities. As the home of the Nebraska Cornhuskers have, you can check out a raucous football game in Lincoln and a Halloween vacay in the city won't break the bank.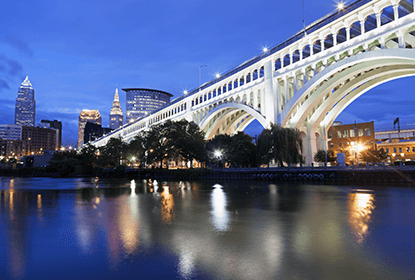 3Cleveland, OH
October weather in the Midwest can vary pretty drastically, from the near-80 degree highs in Tulsa to the sub-40 degree lows in Oklahoma City. Rest assured, you won't have that problem in the Rock and Roll city. Remarkably temperate autumn weather typifies Cleveland and it's a great city to walk. You'll also never run out of places to walk to, as the city has more to do than all but one Midwestern metropolis. The Rock and Roll hall of fame is a one-of-a-kind attraction, concert venues all throughout the city host Halloween shows and Cleveland Beer Week is sure to satiate the Halloween hop drinker.
4St Louis, MO
High prices are all that keep St. Louis from being the number one spot on our Midwestern Halloween travel destination list. The city ranks in the top half of all other categories and is a destination location for runners looking for a place to travel for Halloween. The Go! St. Louis Halloween race offers everything from a 5K fun run to a half marathon and the city at-large is eminently runnable for practice runs.
5Minneapolis, MN
Minneapolis is one of the largest cities in this region, and big city usually screams big budget, but this Twin City bucks the trend. You can go out for a meal for two for less than $45 and if you want to have a few drinks at a costume party at a bar, you'll only pay about $4 on average for a drink, lower than just about any city in the region. It also has some pretty quintessential autumn weather for foliage seekers.
South
States in the South: Alabama, Arkansas, Delaware, Florida, Georgia, Kentucky, Louisiana, Maryland, Mississippi, North Carolina, Oklahoma, South Carolina, Tennessee, Texas, Virginia, Washington D.C., West Virginia.
1Austin, TX
First and foremost, Austin TX is a solid place to travel for Halloween, no matter what you're looking for. It's fun, cheap, safe, temperate – just about everything you could want. The city scored in the top half of every category, except transport, and was top three in a number of other categories. With a lively downtown area and breadth of family-friendly options, there something for every Halloween traveler to do in Austin.
2San Antonio, TX
New Orleans seems like it might be the easy choice for the best place to go and get scared on Halloween, but San Antonio has swooped in and taken the cake for the best vacation destination for Halloween spook buffs. Highly reviewed ghost tours of The Alamo, one of the most purportedly haunted spots in the country, are available for those with the stomach for them. There's a lot to do in San Antonio, it has a pretty temperate climate and is easy to navigate by bike. All in all, it's a great spot for a Halloween trip.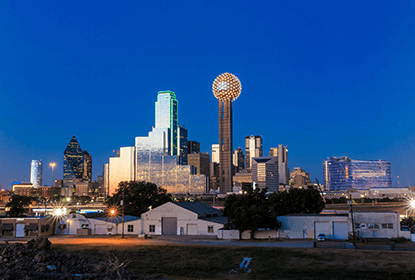 3Dallas, TX
Texas has a real stranglehold on the Southern region for Halloween travel and Dallas rounds out the third of its cities in the top five. It's in the top quarter of all southern cities in terms of price and it's by far the cheapest Texan city on our list. Overall, Dallas ranks in the top half of our rankings in every category except for climate and it's a top-flight spot for the autumn holiday, especially if you don't mind highs in the mid-80s. It doesn't necessarily scream autumn, but it's still a great destination.
4Raleigh, NC
The real rankings kryptonite for Raleigh is its transit scores. Its walkability is the second-lowest in the region and its public transit score is third-worst in the whole national list. It's in the top half of every other category and is by far the safest city in the Southern region. If you're willing to drive around instead of walking or bussing, it's a great trick-or-treat vacation spot. Raleigh also boasts some incredible fall foliage if you're interested in watching the leaves change in a new city.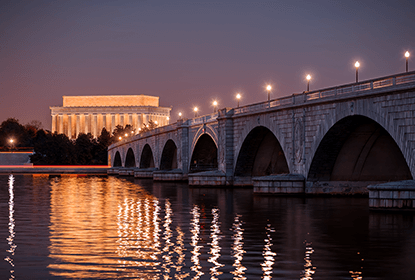 5Arlington, VA
Dinner for two in Arlington? About $20 per person. A couple of pumpkin beers to wash down your meal and get in the Halloween spirit? Just three bucks each. If you're looking for a city to celebrate the holiday in where your dollar will go a long way, it's Arlington. There's certainly less to do in Arlington to scratch your Halloween activity itch, but it does offer a cheap reprieve from the rest of these larger Southern cities.
West
States in the West: Alaska, Arizona, California, Colorado, Hawaii, Idaho, Montana, Nevada, New Mexico, Oregon, Utah, Washington, Wyoming.
1Portland, OR
"Keep Portland Weird" is a good slogan, but "Keep Portland Spooky" also wouldn't be too bad. There are more per capita family-friendly and adult-focused activities to do for Halloween in Portland than any other city in the region. To top that, it's a safe, cheap, and pleasantly climatic place to spend the holiday, if you don't mind the temperature fluctuations. There's plenty to do for families and the Shanghai Tunnels are an excellent spot for scare-seekers.
2San Diego, CA
This West Coast city is as safe as they get in the region. With a 64.5 safety index score, San Diego boasts the best safety rating of all 20 cities we examined. Its climate and things to do rankings aren't too far behind. Parents can feel safe with children trick-or-treating in San Diego. Its transit rating is nothing to scoff at and its price rating has actually risen every year over the past five. With so much to do, in such a safe place with a beautiful climate, a 13 price ranking really isn't so bad. The Black Pearl Halloween party, a costume get together on a three-deck yacht, is one of the coolest parties around the country, if you can spare the admission fee.
3Sacramento, CA
California is one of the most expensive states in the country. Cities like San Francisco and Los Angeles are world famous for the high price tag that comes with daily life. Sacramento bucks the Golden State trend, coming in in the top 6 in our Western Region rankings. Overall, the city is in the top half of every category and its climate ranking is dragged down slightly by its high temperature fluctuations and 80 plus degree high temperatures. However, draught conditions in California have made the California capitol's fall foliage a little less impressive than it used to be.
4Tucson, AZ
Enjoying Halloween in Tucson comes down to whether or not you can handle the temperature in Tucson. Of the 80 cities we examined, this Arizona hotspot has the hottest temperatures in October, with highs routines coming in above 90 degrees and lows rarely dipping below 70. Otherwise, it's an above average city in all aspects, save for safety, which has seen index rating increases in recent years. Families in particular have more than a handful of events to choose from for Halloween festivities, with the Carnival of Illusion ranking as one of the highest-rated events in the country.
5Colorado Springs, CO
Colorado Springs is top-notch for scare seekers looking for a place to spend Halloween. The Jail Museum, the Hotel St. Nicholas, the Imperial Hotel, and Colorado Springs Haunted Mines are just a few of the myriad scary spots for horror fans to check out. It's not a cheap place to be and the transport ranking is low, but it's also solid in every other category.
Northeast
States in the Northeast: Connecticut, Maine, Massachusetts, New Hampshire, New Jersey, New York, Pennsylvania, Rhode Island, Vermont.
1Bridgeport, CT
Pristine autumnal climate, low prices and high safety indices are to be expected for this seaport city. Overall, it's one of the best cities to spend Halloween in throughout the country, though it doesn't offer too much in the way of parties. However, the kid-friendly haunted attractions are some of the best rated in the nation. A night out for two only runs 40 bucks and the city's price indices are on the top half of affordability rankings in every category on our national list.
2Boston, MA
Boston is one of the largest urban centers in the region and, for many, that doesn't necessarily scream kid-friendly, but it's a haven for families traveling for the holiday. It's one of the safest major metros in the country and it's second in our nationwide rankings in ease of transport. It's safe and easy to get around and there's stuff to do for people of all stripes. Families can check out the Brick-or-Treat at the Legoland Discovery Center. Those looking for a party can head to Titanic Masquerade, a 4 deck costume party on a yacht. There's nothing but choice when it comes to Halloween parties in Boston.
3Buffalo, NY
The Northeast is probably what most folks thing about when fall foliage comes to mind and Buffalo, New York is the best place to take in a nice autumn day in the region. Winters can be brutal in Buffalo, but October is peak fall weather in the Nickel City. Temperature highs range from 65 to 51 and the thermometer seldom drops below 45 and rain is unlikely to ruin a nice walk through one of the many foliage trails in spots like Hoyt Lake.
4Elizabeth, NJ
One of the smallest cities we surveyed, Elizabeth doesn't have the name recognition of some of the largest cities in the region. Yet despite its size, there's plenty to do and it's a well-rounded vacation spot for a Halloween traveler. If you're looking for a more party-focused Halloween, New York City is a short train ride away, but Elizabeth is an awesome place for families to spend the holiday. It's extremely safe and affordable. The small city's underdeveloped transit system keeps its transport rating low, but otherwise, it's in the top half of every ranking. Warinanco Park is the perfect spot for a quaint autumnal walk, too.
5Pittsburgh, PA
The Steel City is a great spot for Halloween travelers of all stripes. It's a relatively cheap place to live and visit and it's attracted a whole lot of investment in recent years. A slew of bars, restaurants and event locales have set up shop in Pittsburgh, offering many activities for families, couples and solo travelers. Pittsburgh has more to do than any other cities, with the exception of the much larger Boston. The Congelier House on the North Side is great for spook seekers, the Halloween bar crawl is an incredible party and the HalloweenTown event has something for the whole family.
Methodology
First, states used in the official government-sanction domestic regional breakdown were gathered from the Census and divided up. From there, census population figures were collated to find the top 20 most- populated cities in each region of the country. Each of these 20 cities in each region were ranked on a number of criteria. Walkscore.com' scoring matrix was used to gather walking, biking, and transit scores for each city. Numbeo and FBI data were used to gather a safety index score used to judge the safety of each city. User-gathered Numbeo figures were also used to determine the price of meals, drinks and movie and event tickets for each city to gauge cost-effectiveness. Accuweather figures were used to determine average rainfall in October for each city and these figures were cross-referenced with National Climatic Data Center figures, which were also gathered to determine average October temperatures. Finally, Yelp and Eventbrite data was used to determine Halloween activities in each city, such as pumpkin patches, costume parties, parades and hayrides pertaining to each city. A weighted average of the rankings for these metrics were used to rank each city in the region.
Sources: